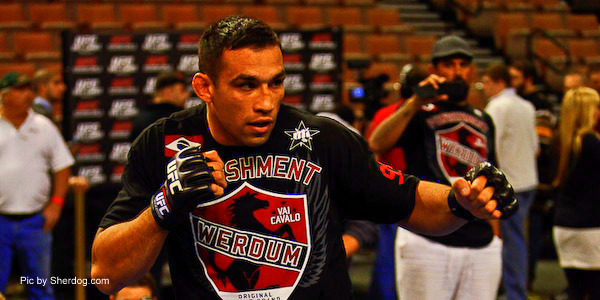 "TUF: Brazil" was the first-ever international edition of the long-running reality competition series. The show, which featured Wanderlei Silva and Vitor Belfort, debuted in March and aired on Globo in Brazil (with solid ratings). UFC.com and FUEL TV carried it in the U.S. and are now ready for round two.
Lyoto Machida and Mauricio "Shogun" Rua had campaigned for "TUF: Brazil 2" coaching slots, but it appears the UFC has gone another direction. Antonio Rodrigo Nogueira and Fabricio Werdum reportedly have agreed to serve as coaches on the upcoming second season of "The Ultimate Fighter: Brazil." According to the report, contracts haven't been signed, but verbal agreements are in place for the traditional coach vs coach fight between Nogueira (5-3 UFC) and Werdum ( 4-2 UFC).
"TUF: Brazil 2," which is expected to feature welterweight fighters, begins filming in early 2013 with an expected debut in March 2013.
The fight between the two heavyweights actually marks a rematch between the two fighters; Nogueira handed Werdum a decision loss at a 2006 PRIDE event in the opening round of an open-weight grand prix.
Since then, Nogueira has won a UFC interim heavyweight title but has bounced back and forth between wins and losses in his past seven fights. He most recently submitted Dave Herman at UFC 153 in Rio de Janeiro after Herman claimed "BJJ doesn't work."
Meanwhile, Werdum signed with the UFC after PRIDE, then moved to Strikeforce where he holds upset wins over Antonio Silva and Fedor Emelianenko. With those wins on his shoulders and proving he is a changed fighter, Werdum then returned to the UFC earlier this year. He's on a 5-1 run, which included a TKO win over Mike Russow at UFC 147 in Minas Gerais, Brazil.
Both fighters have TUF coaching experience, Nogueira was a head coach on "TUF 8" and Werdum was an assistant coach for Wanderlei Silva on "TUF: Brazil." So you can bet that we will get a good show and a great war after it's all over.