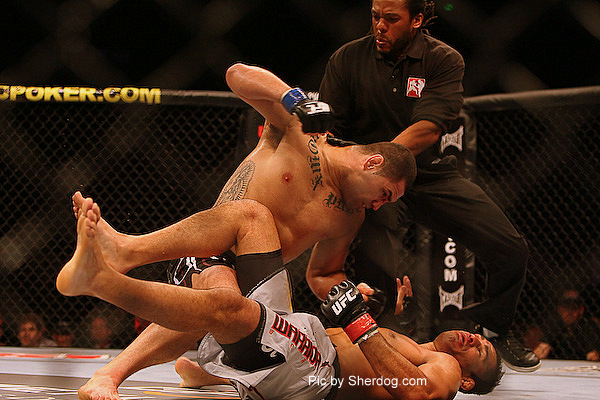 It's that time again mma fans! Grab your morning coffee or your after work beer and settle in for another edition of the MMA Weekend Recap.
Major Headlines:
Resurrection Fighting Alliance 5 results:
Jared Downing def. Jordan Rinaldi via unanimous decision (no scores announced) – to become RFA's first-ever featherweight champion
James Krause def. Joe Jordan via submission – Round 3, 0:19
Mirsad Bektic def. Doug Jenkins via unanimous decision (30-27, 30-27, 30-27)
Pedro Munhoz def. Bill Kamery via submission (heel hook) – Round 1, 2:27
Marty Usman def. David Glover via TKO (strikes) – Round 2, 4:50
Matt Manzanares def. Kevin Gray via TKO (knee and punches) – Round 1, 0:48
Legacy FC 16 card complete for Dec. 14 show in Texas: The full Legacy FC 16 card includes:   MAIN CARD (AXS TV)
Will Campuzano vs. Jimmy Flick – for inaugural flyweight title
Steven Peterson vs. Matt Hobar
Chas Skelly vs. Rey Trujillo
Joseph Sandoval vs. Ryan Benoit
Nelson Salas vs. Eli Tamez
Charles Byrd vs. Derrick Krantz
Quaint Kempf vs. Darrion Caldwell
PRELIMINARY CARD
Klayton Mai vs. Alex Russ
Russell Brewer vs. Aaron Culpepper
Bobby Moore vs. Evan Thompson
Lisa Lamb vs. Amber Stautzenberger
Sidney Cawdrey vs. Joseph Salas
Alfredo Leija vs. Alex Madrid
BAMMA 11 results: 'Professor X' downs Marshman in thriller:BAMMA 11's main-card results include:
Xavier Foupa-Pokam def. Jack Marshman via split decision (30-27, 28-29, 30-27)
Tom Breese def. Warren Kee via submission (rear-naked choke) – Round 1, 3:06 – to become first-ever BAMMA Lonsdale British welterweight champion
Max Nunes def. Kevin Thompson via knockout (punches) – Round 1, 1:40
Steven Ray def. Dale Hardiman via unanimous decision (30-27, 30-27, 30-27) – to become first-ever BAMMA Lonsdale British lightweight champion
The banning of Dan McGuane via www.mmajunkie.com
Fight News:
Barnett vs. Guelmino now official for 'Strikeforce: Marquardt vs. Saffiedine'
John Michael Sheil vs. Jack Mason booked for Cage Warriors 51 in Ireland
Matt Riddle meets Che Mills at UFC on FUEL TV 7 in London
Michael Chiesa ill, scratches from Saturday's UFC on FOX 5 event; card shuffled
Caio Magalhaes replaces Thiago Perpetuo, faces Michael Kuiper at UFC on FX 7
Lavar Johnson suffers pulled groin, out of UFC on Fox 5 prelim bout with Brendan Schaub
Lorenz Larkin now meets "Jacare" Souza on Strikeforce's January 12 card
Quotables:
UFC on FOX 5's Nate Diaz on possible title: 'Maybe it's my turn'
UFC on Fox 5's B.J. Penn says no one says his name amongst the greatest fighters anymore – "It really bothers me"
UFC 155's Cain Velasquez: "There's nobody better than me, especially Junior dos Santos"
UFC's Johny Hendricks makes himself clear: "I'm not going to fight unless it's for a belt"
Alistair Overeem wants to fight Junior dos Santos, but says "Cain Velasquez is going to take care of him for me" at UFC 155
UFC on Fox 5's Alexander Gustafsson thinks he'll "take home the belt" if he gets to fight Jon Jones
Michael Bisping on Anderson Silva: "A champion needs to defend the title or he needs to vacate it"
Misc:
TUF 16 Finale headliner Roy Nelson still unclear what a Blackzilian actually is
Chris Weidman undergoes successful shoulder surgery, promises to come back better than ever in 2013
Question of the Week:
Should Nick Diaz be the No. 1 contender over Johny Hendricks in the UFC's welterweight division?