While Pat Healy has been suspended for failing a post fight drug test for marijuana, Nate Diaz was suspended today for a tweet he posted on the subject.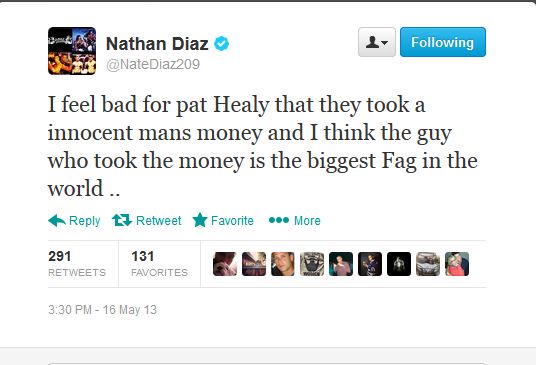 "We are very disappointed by Nate Diaz's comments, which are in no way reflective of our organization," said UFC officials to mmafighting.com. "Nate is currently suspended pending internal investigation and we will provide further comment once the matter has been decided."
Diaz has yet to respond publicly on anything that's transpired since his tweet.
"We are going to fine, suspend or cut him. One or two of those three will happen," said UFC president Dana White (reported by Dave Meltzer, mmafighting.com).
~Final Thoughts~
The man is probably not alone in his obvious distaste for situations such as this. When a fighter of Healy's caliber is stripped of a hard fought victory over traces of pot in his system, witch burning comes to mind.
But I think we all know, It didn't really matter what the subject matter was in the tweet. In fact, it rarely matters what is being said when words like 'fag' are added to the mix in a public forum.
Matt Mitrione was suspended for two weeks recently for referring to transgender fighter Fallon Fox as 'a sick sociopathic disgusting freak.' 
Not only should MMA fighters hold themselves to a higher standard in front of the public, but the UFC must enforce a strong code of conduct as they continue to pioneer forward in their endeavor to cement MMA as a major global sport.
But there's a second solution available in my opinion. What if fighters were allowed to say whatever they want? Wouldn't you rather know which fighters were ignorant bigots, or chauvinistic douche bags? I know I would. Hell, it would make rooting for the good guy an easier task when watching a Saturday night PPV event.
Where the UFC has the responsibility to suspend fighters for being grossly inappropriate and fighters have a responsibility to conduct themselves professionally, shouldn't the public have a responsibility of accepting people for who they are?
Here's my only concern in all of this: I don't want the UFC to turn in to 'American Idol.' A place where all the stars are fake, and all the dialogue is scripted.
So if fighters want to make rape jokes (Miguel Torres, Forrest Griffin), bigoted remarks, or even racially charged statements, I say let them. At least we know who to cheer against come fight night.