Former MMA fighter and amateur sumo wrestler Emmanuel Yarbrough has passed away on December 21st at the age of 51. He was certified by Guinness World Records as the world's heaviest athlete at 704 lbs., reportedly peaking at as much as 882 lbs.
Emmanuel Yarbrough's entry into the world of sports started by way of judo where he was coached by Yoshisada Yonezuka, achieving brown belt status. He found success in his amateur wrestling career when he wrestled for Morgan State University, earning All-American honors once each in Division-II and Division-I in the heavyweight class.
Yarbrough made his way onto the international scene by way of amateur sumo wrestling, becoming the openweight champion at the 1995 Sumo World Championships. He was the first and currently the only amateur sumo wrestler from the USA to have won a title at the Sumo World Championships.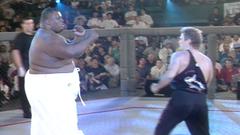 Thanks to Yarbrough, MMA saw representation of sumo in the early days of the UFC. Yarbrough fought against Keith Hackney at UFC 3 in what matched sumo versus kempo, losing to Hackney by way of TKO after being knocked down and suffering a ground and pound.
His next match would be in Japan against Tatsuo Nakano for the promotion Shooto. Yarbrough easily caught Nakano and brought him to the ground, and after a reset submitted Nakano by way of smothering (laying on top of him). His third and final MMA match would also be in Japan against Daiju Takase for Pride Fighting Championships. Facing an opponent one third his size, Yarbrough did not have the speed or the skills to keep up with Takase and was eventually TKO'd. His final MMA record was 1-2 with one submission.
Yarbrough's manager Beatrice H. Davis posted the following statement to UFC.com:
"Emanuel's passion was to travel. Even though it was not an easy task for him, it never stopped him from following his dreams, and bringing smiles to the faces of all he would meet. He was to be the subject of a new reality show, and would have continued to bring smiles to all those who had the opportunity to be blessed by his infectious, compassionate, loving presence. He will be missed by his millions of fans around the world, friends and family."