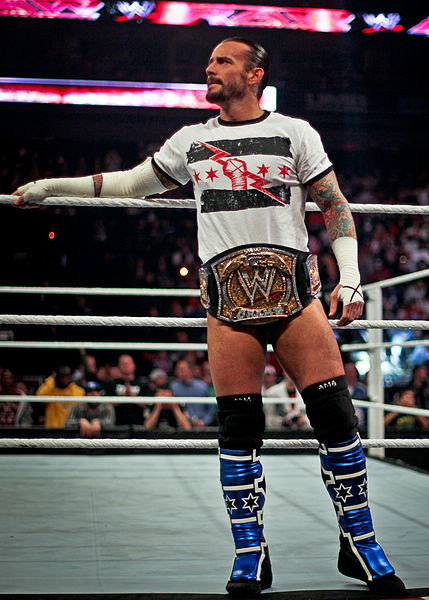 It's been over a month since we have seen "The Best in The World" after he "took his ball and went home." CM Punk was unhappy with the way his character was being handled and walked out on the WWE. There are no secrets that he doesn't like the way Triple H is handling business. Vince McMahon was the one responsible for getting Punk to return. Some believed that Punk was gone and wouldn't even resign his contract come July. That is still un-announced.
WrestleMania 30 is the biggest event ever and we all know Punk wants on that card. He has earned the main event spot two years in a row only to be denied to part-timers like The Rock and Batista. I personally don't blame him for standing up for himself. He was rumored to "be done" with the WWE.  He was removed from house shows, WrestleMania axxess weekend and even Comic-con. This didn't look good for the return of Punk.
Now, it seems that CM Punk will return tonight on Monday Night Raw in front of his hometown of Chicago. There were plenty of rumors of the hostile crowd taking over tonight. There has even been a hashtag that grew bigger than the WWE expected. The hashtag #hijackraw has been buzzing all over the internet. Is this reason for Punk's return or was this a plot of Punk's all along? He knew the crowd would have his back. They love Punk. Remember when they almost rioted when he fought Cena?
Punk is a loyal hometown hero. You always see him at Chicago Blackhawk's (hockey) games and Chicago Cub's games. You can bet he didn't want to leave his loyal fans high and dry. Whatever kind of deal the WWE and Punk were able to make, you can bet it had to do will tonight's Raw. McMahon is all about pleasing his fans and keeping them happy. They have a big show planned tonight, especially being on the road to WrestleMania, and being Punk'less would have ruined everything. The WWE was smart to get Punk back for tonight and I personally can't wait.
The question now, is what are the WWE Punk/Mania plans? Tune in tonight to find out!
Ben McPhee (@mmawriter1 Twitter)