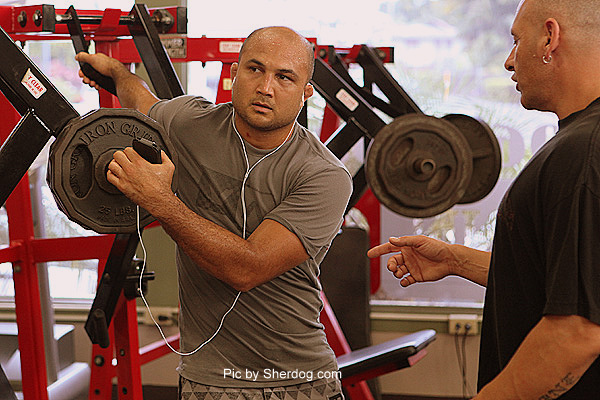 The feud between Rory and BJ began before these two were even aware of each other's existence. It started the first time BJ met Georges St-Pierre in the cage at UFC 58 where The Prodigy dropped a split decision loss to the current welterweight champ back in 2006.
Since then the two met again at UFC 94 as champions in their respective weight class yet once again, the former light weight champ BJ Penn was unable to defeat GSP. Their rivalry has been over for a while now and yet, BJ decided a year ago to come out of retirement to fight GSP's protégé and training partner, Rory Macdonald.
It began with an innocent statement on the MMA Hour with host Ariel Helwani when Rory announced his desire to fight BJ before The Prodigy had officially set in to his retirement. BJ responded that he would take the fight and expressed a desire to get another shot at the Tri-star gym and his former rival in GSP through taking on their brightest star in Rory.
With ten weeks out of their match in late September, Rory sustained a large cut above his eye due to a careless elbow thrown by a team mate in training and he immediately pulled out of the fight. Needless to say, the war of words kicked off in full swing at this point with BJ voicing his doubts on Rory's resolve to fight him.
"I know the reason why Rory pulled out on September 22," Penn said to Sherdog.com. "The cut is a detail, but I know the reason why he pulled out is because he knew he wasn't going to win. If he let the cut heal, tried to train, whatever it was, brother he should have been in shape already by the time he came in. For sure now, 10 weeks—10 weeks, I never heard of a guy pulling out of a fight 10 weeks from a cut."
To be fair, the first month out of those 10 weeks would be spent away from training to ensure the cut wouldn't become infected and would heal properly. For Rory to still take the fight at their original date, he would almost have to respect Penn less since he wouldn't be able to train nearly as much beforehand.
Rory didn't let BJ's comments go without sharing a few of his own with Tim and Sid on sportsnet.ca.
 "That's just a bunch of [BS] because not only do I know I'm going to win, I'll probably end up killing him. He can't rile me up. I just think he's a joker. He's trying to get attention and his fans hyped up. He can do what he wants. I just want him to accept the fight for December."
Since then their fight has been rescheduled for the UFC on FOX show on December 8th. I feel it's safe to say that most critics will be expecting to witness the passing of the guard as BJ Penn will most likely lose to the young hungry contender in Rory Macdonald.
Yet BJ Penn has been training harder than he ever has. For him this fight isn't about earning a title shot, it's about ending his legacy on a high note and getting back the honor he felt he lost way back when he fought another hungry contender in the now super star Georges St. Pierre.
A shredded BJ Penn posted a picture of himself at bjpenn.com and provided this statement. "180 pounds … Told myself I'd give it an honest effort if I come out of retirement…funny thing is that rory thinks this is gonna be an easy fight lol..how stupid (: "
Watch the video below to hear Rory's most recent thoughts on BJ Penn, his inevitable move to middle weight, and his refusal to ever fight GSP.

Video courtesy of MMAFighting and the UFC.