Opinions shared by contributors of MMA Freak are not those of MMA Freak or it's other contributors. The opinions conveyed on any article are solely those of the listed author. 
Ultimate Fighting Championships held its first ever event November 12, 1993 at the McNichols Sports Arena in Denver, Colorado.
Promotional material leading up to UFC 1 put clear emphasis on the event not having any rules for its participants except two: no eye gouging and no biting. Referred to incorrectly as a Mixed Martial Arts event on it's Wikipedia page, UFC 1 was a No-Holds-Barred (NHB) combat event. The term Mixed Martial Arts would not become popularized until after the airing of the debut event.
Partly in charge of organizing UFC 1 were the Brazilian Jiu-Jitsu patriarchy the Gracies. The Gracies are a family from Brazil who descend from the late Helio Gracie. Helio Gracie is generally considered to be an innovator of martial arts and coined the initially informal term "Brazilian Jiu Jitsu" in order to differentiate it from it's traditional Japanese counterpart; Brazilian Jiu Jitsu is also commonly known as Gracie Jiu Jitsu.
Most notably involved in organizing the event were three of Helio's sons Rorion, Rickson, and Royce. Rorion Gracie had already hosted a series of instructional videos teaching Gracie Jiu Jitsu. Rickson Gracie was known as the family prodigy and served as the referee for the evening of UFC 1. Royce Gracie, youngest of the three, competed representing Brazil and Brazilian Jiu Jitsu. Rorion hoped the event would serve as a proof-of-concept for similar events he might organize in the future.
The cage itself was, at least in part, designed by John Milius.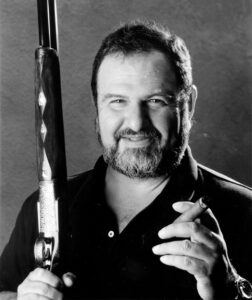 Milius was a director of Hollywood fare such as Conan the Barbarian and Red Dawn starring Patrick Swayze.
The inaugural event featured fighters who competed in eight different fight disciplines: Brazilian Jiu Jitsu, Sumo, American Kenpo, Savate, Shootfighting, Tae Kwon Do, Kickboxing, and Boxing.
Representing the "Sweet Science" on the night of UFC 1 was American Professional Boxer Art Jimmerson. Jimmerson infamously wore only one boxing glove to compete on the night of the event. Prolific UFC ref "Big" John McCarthy, in an article for FIGHT!, said Jimmerson was unsure going in to the fight. McCarthy claimed Jimmerson said, "Oh my God, he's going to break my arms and legs, isn't he?"
Another future icon of the sport in attendance, participating aside from those of Gracie notoriety, was Ken Shamrock. Shamrock was an American Shootfighter who by UFC 1 had already competed in similar tournaments in Japan. In case you're curious what a Shootfighter is, it's a term derived from pro-wrestling that pretty much means "non-kayfabe Bad-Ass" or "isn't just faking it and can kick your ass in real life." Ken Shamrock couldn't get past Gracie in the semifinals at UFC 1 but went on to win the main event at UFC 7 and have a successful professional wrestling career.
The fights weren't pretty and at the evenings end, with relative ease, Royce Gracie proved victorious. Having defeating Dutch-born Savate practitioner Gerard Gordeau, Royce and the Gracies breathed a sigh of relief as Gracie Jiu Jitsu prevailed.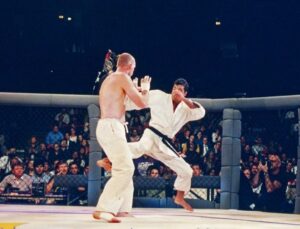 This, of course, captured the imagination of many combat sports fans. Gracie had literally won one for the little guy and a phenomenon was born right on U.S. soil. Almost immediately, several competitors emerged, including some organized by other members of the Gracie's extended family.
A success at the time, the pay per views saw serious buy rates and a the arena had a respectable attendance. The sport was pushed into the lime-light in the States and would consequently draw the ire of many politicians and community activists.
Former Republican Presidential candidate, war hero, loser, and square John McCain notably referred to the sport as "human cockfighting" in 1996. With such compelling political rhetoric, it's perplexing to wonder why McCain didn't have any success in his Presidential bids.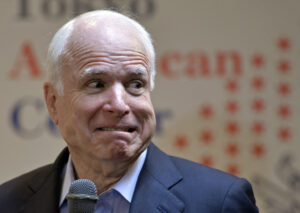 After this night, though, Pandora's Box was open. In the following years, MMA becomes a multi-billion dollar industry with the UFC still firmly atop the mountain until the present day. Merchandising opportunities prove lucrative for the UFC, as well as competitors and imitators vying for the MMA organizations throne.
Perhaps most importantly, it helped popularize a sport that was considered too brutal for American audiences up until then, a sport that's been around for thousands of years in some form or another, and a sport that will continue to entertain as long as there's a willing audience ready to enjoy fights.
It's important to note that Zuffa (the Fertittas and Dana White) would not take over operations of the UFC until 2001, nearly a decade after the first event. They purchased the organization from Sephamore Entertainment Group.
Read the last Today in MMA History post.
Follow Edson on twitter.