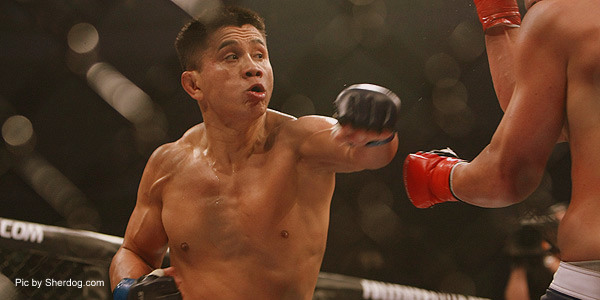 The UFC is heading back to Asia for their second event this year, and their first televised event on Fuel TV. Last February, the promotion held UFC 144 in Japan at the Saitama Super Arena just north of Tokyo when Benson Henderson was crowned the new lightweight champion after defeating Frankie Edgar.
The event will take place at The Venetian Macao Resort Hotel. The property, which is modeled after The Venetian hotel-resort in Las Vegas, features the world's largest casino and is one of Macau's most popular tourism attractions.
Official fighter weigh-ins for next week's "UFC on FUEL TV 6: Franklin vs. Le" event takes place Friday, Nov. 9, at Macau's Venetian Macau Resort Hotel, and the ceremony is free and open to the public. Fans are invited to a UFC on FUEL TV 6 press conference and demonstration event earlier in the week. The fan and media events take place in advance of the UFC on FUEL TV 6 fight card, which takes place Saturday, Nov. 10, featuring Rich Franklin vs. Cung Le as the headliner.
The Nov. 7 press demonstration session and conference takes place at Hong Kong's Harbour City Mall. The press conference starts at 3 p.m. CST local time (2 a.m. ET). UFC on FUEL TV 6 headliners Franklin and Le join UFC on FUEL TV 6 fighters Dong Hyun Kim and Tiequan Zhang as well as UFC Asia executive Mark Fischer on the dais. Following the press conference, the UFC hosts an MMA demonstration session and autograph signing. Doors to the Nov. 9 weigh-ins open at 2:30 p.m. CST local time (1:30 a.m. ET).
If you're a mma fan, then don't miss a chance to mingle with fans from all over the world and converse with some of your favorite fighters from past to present. UFC Hall of Famer Chuck Liddell, former WEC featherweight champion Urijah Faber and current UFC heavyweight  Travis Browne will be their signing autographs for the fans. The first fighter then hits the scale at 6 p.m. CST local time. The official UFC on FUEL TV 6 card includes: MAIN CARD (FUEL TV, 9 a.m. ET)
Rich Franklin vs. Cung Le
Stanislav Nedkov vs. Thiago Silva
Dong Hyum Kim vs. Paulo Thiago
Mac Danzig vs. Takanori Gomi
Alex Caceres vs. Kyung Ho Kang
Jon Tuck vs. Tiequan Zhang
PRELIMINARY CARD (Facebook, 7:15 a.m. ET)
John Lineker vs. Yasuhiro Urushitani
Tom DeBlass vs. Riki Fukuda
Jeff Hougland vs. Takeya Mizugaki
David Mitchell vs. Hyun Gyu Lim