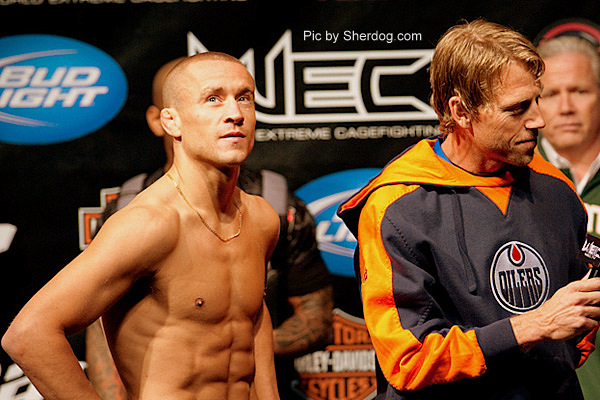 Mark Hominick has put everything he has into his career as an mma fighter for over ten years, and now it's time for him to set his sights on future endeavors. The 30-year-old Canadian and Shawn Tompkins protege announced on Tuesday's new edition of FUEL TV's "UFC Tonight" that he's hanging up the gloves in favor of chasing other options.
"I truly got to live my passion and follow my dreams by competing in mixed martial arts, especially under the Zuffa banner, but UFC 154, that's the last fight I'll be in the octagon, as I'm retiring and looking to move on to the next phase of my career," Hominick said.
Hominick started his career at UCC 10: Battle For The Belts 2002, and actually won the Canadian Super-Lightweight Title in his mma debut. Hominick started his career 3-0 before suffering 3 straight losses. After 4 years of fighting in circuits all around, he made his UFC debut at UFC 58 where he choked out Yves Edwards.
He returned in June of that year with a decision win over Jorge Gurgel. Hominick then transitioned to the WEC, where he fought five times before returning to the UFC octagon. Hominick versus Leonard Garcia at WEC 51 and his fight against Yves Jabouin at WEC 49 are some of my favorite fights of his.
Hominick's best moment in his UFC career came at April 2011's UFC 129 event, where he fought in front of a Canadian crowd during a failed title bid against UFC featherweight champion Jose Aldo. Despite sporting a massive hematoma, Hominick gave everything he had until the final bell, and a UFC record 55,724 fans rose to their feet in appreciation of his effort.
Hominick returned to action at December 2011's UFC 140, but a reckless attack led to a surprising seven-second loss to Chan Sung Jung. Hominick would go on to drop decision losses to Pablo Garza and Eddie Yagin and finish his career on a disappointing four-fight losing streak. The former top featherweight contender said a commitment to family helped drive his decision.
"As a family, I have young daughter," Hominick said. "I have another daughter on the way, and I think that's the next phase of my life. I need to put focus into that."
Hominick didn't reveal what is next in his life path, but he insisted that MMA will remain a big part of his life. Hominick has always been a humble guy and will be missed. Thanks for all your hard work and for being a true role model for mma fans everywhere.
Watch Mark Hominick officially announce his retirement in the video below.
Video courtesy of Fuel TV