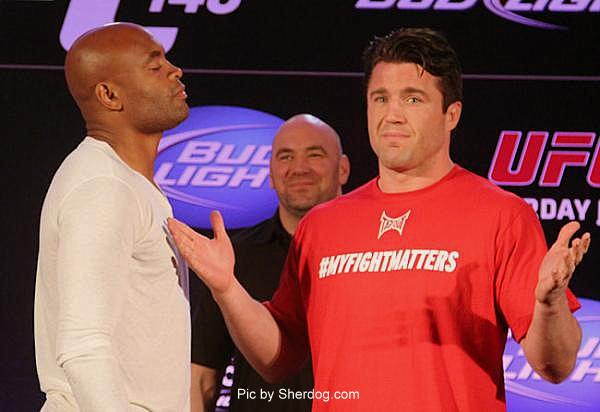 Anderson Silva is without a doubt the #1 pound-for-pound fighter in mma, but is he really that good? I personally don't like Silva and his attitude, but I do have a decent amount of respect for the current middleweight champion. That being said, I personally don't think he is as good as everyone says. Silva has two sides, so let's discuss them.
The first time I saw "The Spider" fight I was 19 and I witnessed him dethrone a well known fighter at the time Hayato Sakurai for the Shooto middleweight champion. Silva came onto the scene with great reach, determination, and won two more fights before joining Pride.
At Pride 25 I thought we were all about to witness the birth of a new breed as Silva knocked out Carlos Newton in the first round. So obviously I was very excited to see his next fight after telling all my friends about this badass Brazilian, and instead my friends and I witnessed "the next big thing" get tapped out by Daiju Takase in the first round at Pride 26. After that one loss, Silva disappeared from Pride and my memory for three years.
At Pride Shockwave 2004, Silva made his return to Pride after defeating names like Jeremy Horn and Lee Murray ( defeated Murray for the Cage Rage Middleweight championship) in other organizations. So naturally I was very excited to see Silva back in action to only watch him lose again to Ryo Chonan. If you missed this fight, be sure to look up Chonan tapping out Silva with a flying heel hook in the third round.
From there, Silva migrated back to Cage Rage to successfully defend his title 2 times against Jorge Rivera and Curtis Stout before losing to Yushin Okami by illegal upkick at Rumble On The Rock 8 in the WW Tournament opening round. One of Silva's greatest knock outs was 3 months later at Cage Rage 16 where Silva not only knocked out Tony Fryklund with a reverse elbow, but also got the UFC's undivided attention.
Chris "The Crippler" Leben was on a 6 fight winning steak (5 in the UFC) since his stint on the first season of TUF, known for a wicked chin and was ready for "The Spider" as Silva made his UFC debut June 28, 2006. Silva surprised a lot of fans/spectators as he ran through Leben and knocked him out in the first round with punches, kicks and knees.
Remember when I said Leben was on a 5 fight winning streak? Well apparently that wasn't title worthy. Silva came into the UFC 3-2 in his last five fights winning only one in a row before defeating Leben, and was granted a title shot against champion at the time Rich Franklin.
Silva didn't deserve a shot at the time but we all know he destroyed Franklin and his nose with a brutal knock out via knees to the face. Silva has not lost a fight in the UFC since, but is the most inconsistent, disrespectful fighter in the UFC in my opinion.
Silva's "first title defence" was horrible and should have shown all the fans what was to expect from the man we all claim is "the best fighter" in the world. Travis Lutter won TUF 4 after defeating Patrick Cote in the finale and earned himself a shot against the champ and couldn't even make weight.
Lutter took Silva down early and had the upper hand before Silva was able to wear down the gassed fighter and secure a triangle choke of his own. It was a very sloppy fight and was unimpressive on both ends in my eyes.
Silva will always be known as the greatest, but does he really think that he should be paid %50 of the UFC to fight Jon Jones? He didn't need much to fight Bonnar, pathetic. Silva's track record speaks for itself:
Nate Marquardt was defeated by tko in the first round. Marquardt was too cocky and should have used his wrestling. He basically ran into Silva's hands. The results were due to Marquardts faults, not Silva's win.
Silva then took out Franklin again. Silva fighting Franklin is like Trigg fighting Hughes, you just can't win. Unfair match ups and Silva knows it. Then Silva beat Dan Henderson for the unified UFC/Pride middleweight championship.
It's the first time Silva lost a round and was dominated. Silva was able to recover and defeat Hendo by rear naked choke in the second round. Did we all forget that Hendo came into the UFC and fought Rampage then he battled Silva? Again, not giving that one to Silva.
In his next four fights, Silva would defend his middleweight title twice and disrespect fighters at 205 and 185. Silva (for no reason) went up to fight James Irvin at light heavyweight. Irvin, who should have fought Silva at 185, got knocked out in the first round and then tested positive for illegal substances after the fight.
From there, Silva attacked Patrick Cote's knee to purposely hurt him and take him out for awhile. Silva succeeded as Cote's knee blew out and he was unable to finish the fight. Silva was known as a mean striker at the time and claimed his BJJ was top notch and told Thales Leites he would roll with him at UFC 97 if he had the opportunity.
Leites laid on his back waiting to see if "The Spider" would put his money where his mouth is, but we all learned that Silva was a joke and a liar. Silva instead danced around the octagon and was booed over and over for talking crap and not backing it up.
Silva disrespected Forrest Griffin and Demain Maia in his next two fights by jumping/dancing around and in critics eyes, didn't take those fights seriously. Silva has since proved he can talk smack with the best up them. Silva was actually on the verge of losing his first fight at UFC 117 to Chael Sonnen before he pulled a triangle choke out of his butt at the end of the 5th and final round. Silva has since beaten Belfort, Okami, Sonnen and Bonnar (all four guys didn't look ready for the champ at all).
Silva will always be known to me as one of the first fighters to grab my attention and also one of the fakest fighters in mma. I can have my opinions, but he will always have and be known for his records, not what I think of him. That's what will always make him the greatest, as of now anyway.
UFC Middleweight Championship (One time, current)
Unified UFC Middleweight and Pride FC Welterweight Championship
Fight of the Night (Three times)
Knockout of the Night (Seven times)
Submission of the Night (Two times)
All-time leader in Post-fight Bonus Awards (Twelve)
Most consecutive title defenses (Ten)
Most successful title defenses (Ten)
Most wins in UFC title fights (Eleven)
Most finishes in UFC title fights (Nine)
Most finishes in the UFC (Fourteen)
Most consecutive wins in the UFC (Sixteen)
Tied (Georges St-Pierre, Chuck Liddell, Randy Couture) for second most wins in the UFC (Sixteen)
Longest UFC title reign