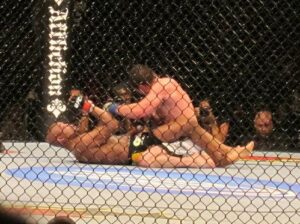 Chael Sonnen recently made statements about Jon Jones's Nike deal that were oddly self-serving. He went as far as hyping up his fight with Forrest Griffin as the fight he needed against a top contender to earn him a shot at the current champ.
What's difficult for me to understand is how Sonnen continually achieves the ability to conjure tangible mixed martial arts plot points out of hype. Within the span of a single minute I went from watching Sonnen discuss the Jon Jones Nike deal to hearing him trump up Forrest Griffin as a top contender. He went as far as touting Griffin's last bout against Tito Ortiz as a huge success. He then blatantly stated his bid for the light heavy weight title should he beat Griffin.
Watch below as Chael Sonnen hypes himself up like never before.

VIDEO COURTESY OF FUEL TV ON FOX AND THE UFC..
Let's evaluate his chances at the champ. Well he will struggle with the striking ability of Jon Jones. He won't have the benefit of being the big man in the cage with his recent move to a bigger weight class.
His main strategy in past outings has been to out muscle his opponents and dictate where the fight takes place. Jon Jones is a world class wrestler with a dynamic striking ability which has been compared to Anderson Silva's style at times. Of whom Chael Sonnen lost to twice.
His last fight was his latest loss was against the middle weight king pin and in the current situation with the light heavy weight division cleaned out by Jonny "Bones," his strategy to conjure a top contendership position out of thin air might pay off quickly for him.
I don't want to see a hyped of pitch for title fight that really isn't between the top contender and the current champ. These types of situations take time to make it to fruition. I understand Sonnen is a solid fighter and top contender in the UFC. But he hasn't fought in the light heavyweight division and he's coming off a loss. I don't want to watch something where we all know what the outcome will be.
Here is one tantalizing aspect though. In the way the sporting world has been comparing Floyd Mayweather and Manny Pacquiaoa, based on the way they fared against opponents they had both faced, so can Silva and Jones be compared if they end up having shared the same opponent in Chael Sonnen.
I would personally enjoy watching to see if Jones can stifle the wrestling ability of Sonnen. To me that would be a clear indication of Jones's ability to impose his will in the wrestling department against Silva.
It's an interesting concept and will provide a new angle to analyze the potential matchup between Jon Jones and Anderson Silva. They have stated before they will never fight each other and so this might provide us fans an interesting plot point on a burgeoning argument of what would happen if the two champs squared off in the Octagon.
I like Chael Sonnen, I think he is the reason Anderson Silva is still undefeated. Let's face it; Silva almost got dethroned by Sonnen. It was a time in his career where the champ seemed unmotivated to finish his opponents or even take them serious to begin with.
Sonnen made Silva care, and we all enjoyed the ride. I would like to see Sonnen fight at least three times in his new weight class, gain some momentum, and then fight the champ. I think that's fair. Give others with descent win streaks like Alexander Gustafsson a shot first.