On Saturday night Nate Diaz took home the most prized scalp in all of MMA when he submitted Conor 'The Notorious' McGregor at UFC196. The result was a huge shock for the majority of MMA fans and prayed for by the rest, but should McGregor's defeat stain the current featherweight champion's legacy? The answer is no, not one bit.
The following is an extract taken from Conor's Facebook account which the Irishman posted shortly after his loss to Diaz: "I stormed in and put it all on the line. I took a shot and missed.  I will never apologize for taking a shot.  Sh*t happens.  I'll take this loss like a man. I will not shy away from it. I will not change who I am. If another champion goes up 2 weights let me know". 
I feel this statement pretty much sums the whole situation up; this should not be a time to make excuses for a hero's unexpected loss or to celebrate a loud-mouth's comeuppance.  Instead, we should congratulate Conor McGregor for his desire to fight, for keeping UFC196 alive, for putting it all on the line when he certainly didn't need to, for once again raising the bar, for considering the fans before himself and most of all for daring to be great.
Conor has said many times that he is humble in both victory and defeat and that sentiment was evident in abundance on Saturday night. Conor was quick to acknowledge that he gassed too easily and that he underestimated what it would take to beat a bigger man. He accepted that he could no longer rely on one punch KO power in the higher weight classes and that he would need to be 'more efficient with his energy', having fought nearly 25lbs heavier than his body is accustomed to. It was a very honest an accurate appraisal of how the fight was won and lost.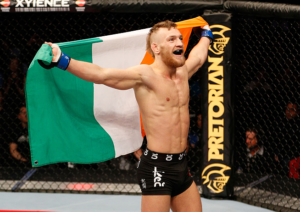 So when the dust finally settles, Saturday will go down as nothing more than a school day for Conor whereby valuable lessons were learned.  As Conor suggested in the quote above, no other champion would dare jump two divisions for one fight and certainly not for what was arguably a meaningless contest to keep a card alive. It is easy to say with hindsight that he made the wrong decision to fight at welterweight but the gamble was worth the risk; a victory would have been epic and yet another entry under the name Conor McGregor in the UFC's history books.
The reality is that in only three short years with the UFC, McGregor has made more of an impact on the sport than any man before him. He is still the undisputed featherweight champion and his dream of being the first two division champion in UFC history is still alive.
McGregor's long time coach and friend John Kavanagh said after the Diaz fight: "Couldn't be prouder of my kid brother. He's raised a sport to a global level and put a small island on a MMA map. People have no idea how hard he pushes himself".
MMA fans and athletes alike should embrace the fact that the sport has this once in a generation character, a man that understands that with no guts comes no glory. If only more fighters took inspiration from McGregor as opposed to offence then maybe they would be driving home in a Rolls Royce too.
@heffiejr