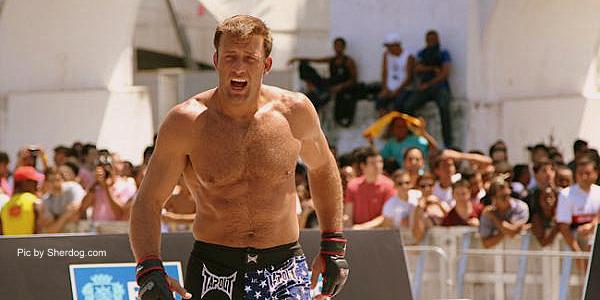 Stephan Bonnar popped on his UFC 153 prefight drug test for the anabolic steroid drostanolone, first reported today by mmajunkie.com. In his defense, I would've taken a strong dose of grizzly bear steroids myself before entering the cage with "The Spider" Anderson Silva.
In Silva's defense, he's fought four opponents before Bonnar who also failed drug tests in the past that I can recall. Not to mention those who fought him while utilizing the rampant use of steroid's slightly less ugly brother known as testosterone replacement therapy. Fighters may become approved for it through the Nevada State Athletic Commission if a fighter is found to have a hormone deficiency by a licensed physician and is then granted a therapeutic use exemption.
I have to wonder what Silva must be thinking at this point or if he even cares at all by now. The truth is everyone embraces the cheaply hyped anti-heroes thrown at him these days. Subpar fighters such as Chael Sonnen, Forrest Griffin, and Stephan Bonnar may have been interesting matchups for the champ at certain points during his reign, but why does Silva become the bad guy when his opponents are the ones on drugs?
I guess when it comes down to it; people love their characters in mixed martial arts more than the honesty behind their personalities when cameras aren't staring them in the face. Statistically, I wonder how likely the chance is that Silva will lose his belt to someone who will end up failing the drug test? I wouldn't be surprised if the number hovers around 50% these days.
Characterize Silva's reign as anything less than inspiring, and you aren't a true fan of the sport. People who gravitate to Sonnen's on screen charisma and choose to ignore his lack of skill and all the losses that painfully point to not only a deficiency in his fighting ability, but also his moral and ethical code, do not understand mixed martial arts.
When the UFC says they are putting on a fight between Jon Jones and Chael Sonnen because the fans want to see it, shouldn't we be ashamed of ourselves? Sadly I'm probably just as bad since I will watch Jones vs. Sonnen at the end of the coaching stint on The Ultimate Fighter (TUF) 17 Show. But that's mostly because I've always been a fan of Jones, unlike many fans who harbor a misplaced awe of Chael Sonnen and believe the fight will be competitive.
The worst aspect of Sonnen fans is listening to them trump up his fighting abilities through reciting characteristics that are very abstract and generally delivered in an ignorant tone through chicken wing spittle and heavy beer breath.
Sonnen is a grinder they say. He has heart and he will fight anyone. Well Sonnen is one of the most submitted fighters in the UFC, Sonnen is 5-5 in there as well, he's 0-1 at light heavyweight, and he lies on top of his opponents until the bell stops "the action" and he's granted a win by decision.
But I'll give Sonnen this: he's definitely seduced more meat head MMA fans than Arianny Celeste has. The weakness in that statement is also its most sobering point since it's fairly accurate and not nearly sensationalized enough to shock anyone these days.
Sonnen's latest 'rabbit in the hat trick' was accomplished in a highlight reel when his lack of knockout highlights were deftly replaced with a story about how he told his father on his death bed that he would become a champion one day. To those who believe him at this point, that's too bad, because the lies we tell others aren't nearly as dangerous as the ones we tell ourselves.
Until fans can start paying attention to the sport and the simple task of gauging who can really fight and who can't, we will continue to see Jon Jones fighting middle weights and Anderson Silva fighting chumps.
Watch the highlight video below of Sonnen vs. Jones, where not a single highlight from Sonnen's career is show cased.

Video courtesy of youtube uploader CletusDamVan and content by the UFC..
By Gabe Keith ~ Senior Editor
Follow the FREAK on Facebook!