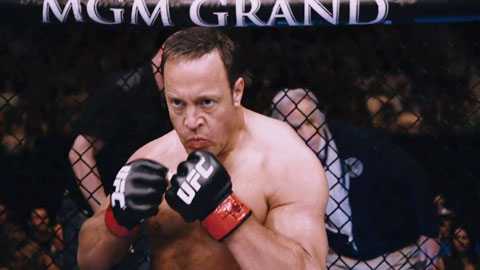 I've seen a couple MMA movies over the past few years. Aside from 'Warrior' and 'Haywire,' most of them have been pretty terrible. Never Back Down 2 is currently ranked on my list of the all-time worst movies ever. As a general rule, I refuse to watch movies altogether if they incorporate MMA fighters in to leading roles.
'Here Comes the Boom' was good. I actually really enjoyed the movie. It didn't force the MMA angle too hard, and yet maintained the feel of the sport throughout the entire cinematic experience. My favorite moments were all the times Kevin James kept shamelessly hitting on Salma Hayek throughout the movie. Which by the way, Salma is still a total babe! Who woulda thought!?
Henry Winkler (Happy Days) was great since he had no idea what the sport of MMA was all about and off set Bas Rutten's character perfectly. It was fun watching a couple cameo appearances in the cage from fighters such as Mark Munoz, Jason Miller, and Krzysztof Soszynski.
Here's the basic premise of the movie. Kevin James plays an uninspired high school biology teacher who is clearly uninterested in taking his job serious. Henry Winkler's character plays a music teacher for the same school.
In a faculty meeting at the high school, the principle lets the staff know there would be serious cut backs happening in an attempt to meet budgetary goals. One of the unfortunate aspects of the plan which will be implemented at the end of the year will see the music program closed down.
With Winkler's character out of a job, Kevin James steps in to raise money to preserve the music department and save his coworker's career. At some point, James meets Bas Rutten, decides to fight in MMA events, and eventually after some hard fought losses and wins, actually makes it in to a bottom level fight in the UFC.
That's pretty much the story line in a nut shell. If anyone was wondering about Bas Rutten's skills as an actor, they were actually pretty good. Of course his character was a very similar version of himself throughout the movie, which must've helped him play the role convincingly.
If anyone was as clueless as I, the phrase, "Here Comes the Boom," was taken from a song lyric within the walk out music chosen by Kevin Jame's character before each of his fights in the movie. The song, "Boom," performed by the band P.O.D ., was a big hit back when I was in high school and definitely added to the nostalgia I felt while watching a movie about a sport I have followed and enjoyed for years.  
Watch the video below to see the trailer for, "Here Comes the Boom."
VIDEO COURTESY OF SONY PICTURES..
By Gabe Keith ~ Senior Editor
Follow the FREAK on Facebook!