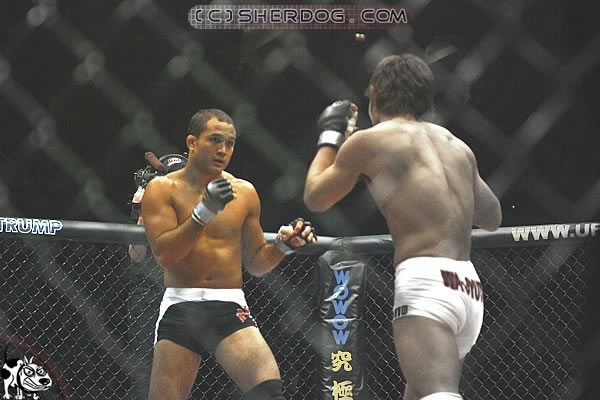 Jay Dee "B.J." Penn is a future hall of famer and a very dangerous opponent, especially when motivated. After losing to Nick Diaz back at UFC 137, Penn announced plans for retirement saying into the microphone, "I don't want to go home looking like this." Certain fighters think that "The Prodigy" is washed up and that the "old Penn" isn't as good and motivated as the "young Penn".
Penn (12-7-2 UFC) was called out and was expected to face Rory MacDonald (4-1 UFC) on September 22, 2012 at UFC 152. However, MacDonald pulled out of the bout after sustaining a cut to the forehead while training. Penn vs. MacDonald is now expected to take place on December 8, 2012 at UFC on Fox 5 next Saturday.
The two have been at each others throat with the trash talk ever since Rory's injury. Rory is still young and has a lot to learn in this sport. Some think he is the next big thing and I won't argue with that, I just wouldn't want to piss off Penn. Apparently MacDonald doesn't really care, which could be a problem.
"I don't really care, I just see a body in front of me to tell you the truth. It doesn't matter if he's in shape or not. It's gonna be best for you guys if he's in shape, cause it will probably be a better fight," MacDonald said recently at the UFC 154 Q&A.
MacDonald has made it very clear that he thinks he is the better fighter, but is he just taking the fight for that reason thinking he is just going to bully "The Prodigy"?
"I just think that I'm a better fighter. I'm not really scared to fight him anywhere. He's obviously very good on the ground, and a good striker; you have to be competent in all areas of mixed martial arts, and I am," MacDonald said. I feel I'm a better striker, a better wrestler and better on the ground as far as MMA jiu-jitsu. Probably not straight jiu-jitsu because we all know what he's done there, but I feel in a straight mixed martial arts fight, I'm a little more well rounded than he is."
The two have exchanged words via Radio shows, twitter, and other social networks as well. I understand that Rory doesn't want to be a considered "a punk" if he doesn't talk back to Penn, but all he is doing is throwing fuel on the Penn fire. Maybe MacDonald should ask Kenny Florian, Joe Stevenson, Diego Sanchez, Jens Pulver (the second time) or Sean Sherk what happens when you fire up "Baby Jay", it's never good.
I think Rory has great potential to be a future champion, but he might have to recover after is first serious lost when Penn runs through the young Canadian prospect. I love that MacDonald has that "I'm not scared of anyone" mentality, I used to have a "My Buddy" Doll but he still had to sleep in my parents room when he turned in "Chucky" every night. The point being, Rory can't put on his "tough face", but what's a facial reaction when you're knocked out?
Watch highlights from BJ Penn's career in the video below.

Video courtesy of TheEmperorMMA and content by the UFC.