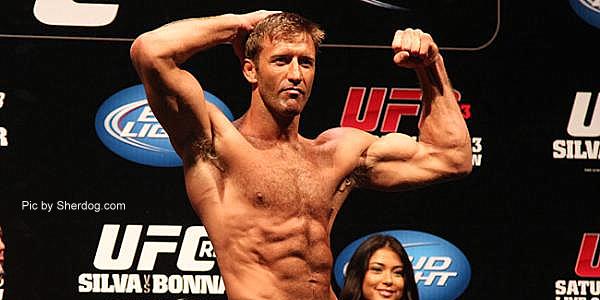 After an illustrious pro career that spanned 11 years, including 7 of which that took place within the confines of the UFC octagon, "The American Psycho" Stephan Bonnar is officially hanging up his 4oz. gloves for good.
Bonnar made the confirmation via Facebook after it was announced by UFC President Dana White during a Metro PCS chat Tuesday night. Bonnar stated via Facebook "Huge thanks to every UFC fan out there! All I ever wanted was to bring ya'll some fun…hope u were entertained. Peace, love, & violence! #ufc."
Of course the announcement was of no surprise to anyone in or around the MMA world. He had already been leaning towards retirement after a layoff that spanned almost a year following a three fight win streak in which he had chalked up wins over Krzystof Soszynski (in a rematch of a loss due to a cut), Igor Pokrajac, and Kyle Kingsbury. Happy to be semi-retired he couldn't resist the opportunity of a lifetime to step in earlier this month as a short notice replacement to take on dominating middleweight title holder Anderson "The Spider" Silva.
The hype surrounding the fight was astonishing and it was clear that the UFC had put a lot of faith in the abilities of Bonnar to put on an exciting fight. But just as so many others before him Bonnar stepped in versus the champ (who had moved up to 205lbs for the contest) and was handled with ease tasting defeat by way of TKO in round 1 after Silva landed a knee flush to the chest that brought Bonnar to the mat. Silva followed up with strikes causing the referee to stop the match. It also marked the first time in 23 pro fights Bonnar had been stopped by anything other than a cut.
Stephan Bonnar made his way to the UFC via The Ultimate Fighter Season 1. It was there that he met Forrest Griffin in the finale and the two men put on a fight that is considered by many to be the key element which saved the UFC through boosting it's popularity into mainstream entertainment. Although Bonnar lost the razor thin decision in that contest his performance solidified his spot in the UFC forever.
After the Griffin fight he went on to have a 15 fight career inside the UFC's octagon in which he pulled a record just above .500 going 8-7 while taking on some of the biggest and most recognizable names in the sport including Griffin (2 times), Rashad Evans, Mark Coleman, Jon Jones and Krzystof Soszynski (2 times).
Bonnar's quirky and often times hilarious personality also paved the way for new opportunities as we often saw him hosting UFC branded shows and also serving as a commentator for the WEC including the calling of WEC 53 where we witnessed the amazing Anthony Pettis "Showtime Kick" versus now UFC lightweight title holder Benson Henderson.
While its not known yet as to what the next move for Bonnar will, it's safe to say we haven't seen the last of him on UFC televised broadcasts.