There will always be upsets in any sport when a heavy favorite faces someone who is seen as an underdog. In MMA, there have been many upsets over the years, and there always will be. However, there are a few that standout and I would like to talk about those on this list. Also, I'll be limiting this list to one entry per fighter, so if a fighter has made a living as an underdog, they'll only appear on this list once. So here we go:
~10 ~
Alistair Overeem vs. Antonio "Bigfoot" Silva
Going into his fight with Antonio "Bigfoot" Silva on February 2nd of this year, Alistair Overeem was considered by many to be one of the most dangerous heavyweight strikers in the current era. He'd been on a 11-0-1 streak over the previous six years in MMA, winning the Strikeforce and Dream heavyweight titles and winning the 2010 K-1 Grand Prix in kickboxing. However, he'd also spent most of 2012 serving a suspension for elevated levels of testosterone.
Silva on the other hand was 1-2 in his previous three fights and was looking for a chance to get back into the title picture. For the first two rounds, Overeem dominated using his highly rated striking, then in the third round Silva caught the then overconfident Overeem on the chin, and was able to rush in for the kill, winning a title shot in the process.
~ 9 ~
Randy Couture vs. Tim Sylvia
Randy Couture has made his career out of being an underdog and this fight was no different. Couture had retired thirteen months previously following his second loss to Chuck Liddell at light heavyweight and was coming out of retirement feeling the heavyweight division lacked any real talent (at the time that statement was not far from accurate).
Meanwhile UFC Heavyweight Champion Tim Sylvia was on a six fight win streak with two title defenses, was bigger and younger. Many people (including myself at the time) felt Couture was an underdog and would probably lose. However, not even ten seconds into the fight, Couture clipped Sylvia and proceeded to dominate Sylvia for the next five rounds.
~ 8 ~
BJ Penn vs. Frankie Edgar 1
BJ Penn had gone on a five fight win streak at lightweight since the UFC reinstated the weight class. He'd defended the championship three times against former champion Sean Sherk, Kenny Florian, and Diego Sanchez. Not many people were giving the undersized Frankie Edgar a chance at beating Penn as Edgar basically walked around at the weight class and Penn had defeated three former welterweights.
However, the whole fight was a long counter punching derby and it seemed extremely close when it went to the judges. Some could argue that Penn won the first fight but he definitely lost the immediate rematch, solidifying Edgar's title reign and leading to his longtime string of rematch title fights.
~ 7 ~
Cain Velasquez vs. Brock Lesnar
Brock Lesnar basically burst onto the scene of MMA and in only his second fight (UFC debut), he fought former UFC Heavyweight Champion Frank Mir and lost in a fight he was dominating up to that point. Within another two fights Lesnar was UFC Champion and the next fight avenged his loss to Mir.
Going into UFC 121, Lesnar was on a three fight win streak and had defended the title twice, and was smack talking about how after his next fight, he would go out for a taco and corona. Undefeated Cain Velasquez was confident though and come fight time let his skills speak for themselves. Velasquez immediately bounced up from a Lesnar take down and proceeded to punch Lesnar until the fight was finally stopped.
~ 6 ~
Mirko "Cro Cop" Filipovic vs. Gabriel Gonzaga
Mirko "Cro Cop" Filipovic went into UFC 70 having successfully won the 2006 Pride Open Weight Grand Prix and his UFC tuneup match against Eddie Sanchez. Gabriel Gonzaga was on a six fight win streak and worked his way through the thin talent of the UFC heavyweight division to the contender fight with Filipovic.
The one advantage Gonzaga had in his favor was his size which he utilized against Filipovic by taking him down and bashing him in the head with elbows before they were stood up. Gonzaga then proceeded to use Filipovic's own move against him in arguably one of the most brutal knockouts in UFC history. Gonzaga got the title shot against Couture who once again pulled off an underdog win against the younger stronger opponent.
~ 5 ~
Forrest Griffin vs. Mauricio "Shogun" Rua 1
Going into his UFC 76 fight with Forrest Griffin, Mauricio Rua was on a four fight win streak and was ranked by many sources as the number one light heavyweight in the world. Griffin on the other hand was having an up and down UFC career after winning the inaugural season of The Ultimate Fighter which included a brutal loss to Keith Jardine two fights previously.
At the time there was some tension as Pride had just merged into the UFC and fighters were still getting settled. While people were expecting Rua to have a little trouble adjusting to the UFC environment (cage, rules, etc.) they didn't expect him to be dominated the way he was by Griffin. The match resulted in Griffin's being selected to coach opposite at the time UFC Light Heavyweight Champion Quinton "Rampage" Jackson and eventually pulling an upset against Jackson.
~ 4 ~
Dan Henderson vs. Wanderlei Silva 2
Dan Henderson and Wanderlei Silva fought the first time at Pride 12 while both fighters were still getting established in the promotion. In the six years it would take for both fighters to meet again, Silva won the the Pride Middleweight Championship (Unified Rules Light Heavyweight equivalent) and the 2003 Pride Middleweight Grand Prix while Henderson won the 2005 Pride Welterweight Grand Prix and the Pride Welterweight Championship (Unified Rules Middleweight equivalent) in the process.
Silva had already set several Pride records including the record for most wins at 22, the longest undefeated streak at 20, the most knockouts at 15, and the most title defenses at 4. The reality was that Silva was a more dominant fighter in a larger weight class with everything going for him. However, that didn't deter Henderson who fought Silva into the third round where one flurry ended with Silva on the ground and Henderson walking away as the only double weight class champion.
~ 3 ~
Georges St Pierre vs. Matt Serra 1
Georges St Pierre came into UFC 169 having dealt Matt Hughes one of the worst defeats up to that point of his career while Matt Serra had just won The Ultimate Fighter Comebacks Welterweight Division to get the title shot against St Pierre. Serra was a heavy underdog as St Pierre was accurately considered the future of the welterweight division.
Behind the scenes St Pierre was going through several personal issues and motivational problems that kept him from concentrating and being 100 percent ready for the fight. At the same time no one was expecting Matt Serra to hit that one spot on St Pierre's chin to send him wobbling around the Octagon and going in for the kill, ending the fight with strikes to the downed and rocked St Pierre. The two would meet again at UFC 83 where St Pierre pulled off a dominating performance.
~ 2 ~
Fedor Emelianenko vs. Frabricio Werdum
Leading up to their fight at Strikeforce: Fedor vs. Werdum, there was no doubt "the Last Emperor" was the favorite in the match up. Fedor Emelianenko was riding a 28-0 (1) win streak and had been the pound for pound and heavyweight king since taking the championship from Antonio Rodrigo Nogueira seven years prior at Pride 25. The likely winner would probably face Strikeforce Heavyweight Alistair Overeem for the title.
Frabricio Werdum was on a two fight win streak since getting cut from the UFC and felt he didn't have anything to loose. The match quickly went to the ground and despite knowing better, Emelianenko went to the ground with the BJJ expert and found himself in Werdum's arm triangle to which he submitted. Emelianenko's career would further skid with two more losses ending his relevance in MMA and Werdum would loose to Overeem in the first round of the Strikeforce Heavyweight Grand Prix before returning to the UFC and reestablishing himself as a title contender.
~ 1 ~
Anderson Silva vs. Chris Weidman 1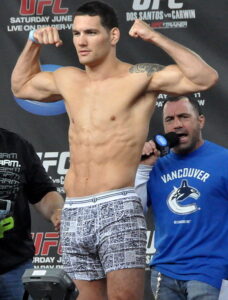 The most recent upset on this list and arguably the greatest upset of all time in the world of MMA, describing Anderson Silva as great, doesn't even do his UFC career justice. Silva owns nine different UFC records held exclusively by himself and is tied for another three records. He is without a doubt a future UFC Hall of Famer, but at the same time many believed that current UFC Middleweight Champion Chris Weidman was the man that could dethrone the longtime king.
This turned out to be true when Silva resorted to showboating as he's done before but this time worked against him as he was knocked out by Weidman in the second round, ending several recording setting runs in Silva's UFC career. Even going into their rematch this coming December at UFC 168, Silva is still the odds on favorite while Weidman's still considered an underdog.
Agree with this list? Feel free to leave a comment about any other MMA upsets.