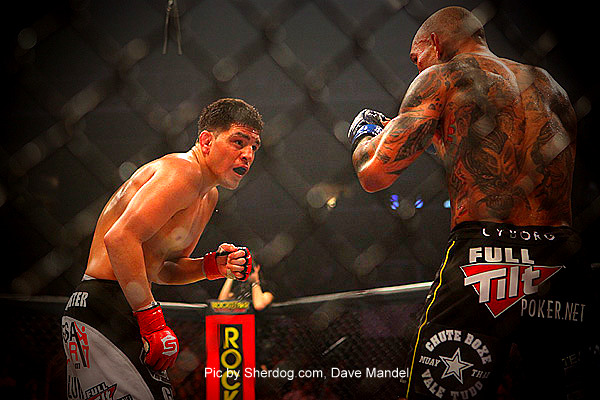 Nick Diaz will step in to the cage at UFC 158 on March 16 as the first of three UFC title challengers in 2013 who will be coming off a loss, and yet find themselves fighting for gold. Whether Nick Diaz, Chael Sonnen, or Frankie Edgar have earned legitimate arguments for their status in their respective weight classes, at the end of the day, all that matters is the fight.
Diaz will follow his younger brother's footsteps as the second Diaz to fight for a UFC title. Just like his younger brother Nate, he will be out-wrestled, out kicked, and worn down over five rounds by the champ.
In a recent interview with Fuel TV, St Pierre thanked UFC lightweight champ Benson Henderson for "showing him the formula for beating Nick Diaz" in the way Henderson himself routed Nick's younger brother Nate in their lightweight title bout at the UFC on FOX event recently.
Yet everyone knows there is no mysterious formula, including GSP. The champ will simply take Diaz down and grind out a victory in the same way he handled business against Condit in his last title defense at UFC 154. Only this time he won't be faced with the danger of a one punch knockout that Condit possesses, or arguably the  number one welterweight contender in Johny Hendricks as well.
Just take a peak at the statistical pairing of the two combatants provided by fightmetric.com in the figures below.
TALE OF THE TAPE

Georges St-Pierre/Nick Diaz

Wins/Losses/Draws                       23-2-0 / 26-8-0

Average Fight Time                        12:09 / 10:38

STRIKING (Significant Strikes)

Strikes Landed per Min.               3.71 / 6.03

Striking Accuracy                              54% / 43%

Strikes Absorbed per Min.          1.19 / 3.45

Defense                                               75% / 64%

GRAPPLING

Takedowns Average/15 min.      4.3 / 1.52

Takedown Accuracy                        78% / 33%

Takedown Defense                        86% / 64%

Submission Average/15 min.      1.23 / 1.13
What stands out most is the disparity between the striking and wrestling. Sure Diaz is obviously capable of landing a serious amount of strikes per minute at 6.03 to GSP's 3.71. That's impressive if he can manage to stay on his feet long enough to land any number of strikes effectively.
GSP's 78% takedown accuracy says Diaz will be taken down more than he ever has been in the past. What may make matters worse for Nick is if he winds up hunting for submissions off his back throughout the fight.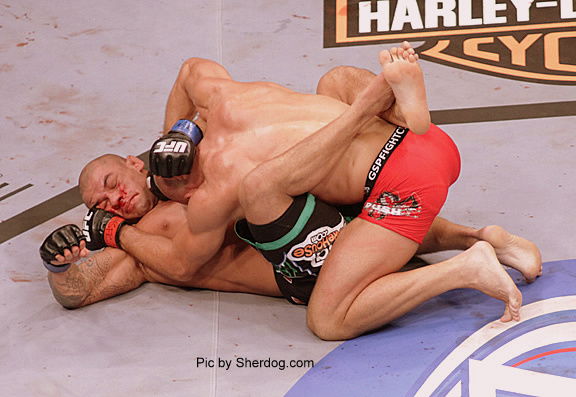 In the past, both Diaz brothers have complained about the scoring system in MMA and how wrestling is unfairly weighted higher than any other ground fighting practices. Their argument is valid. It's a shame that fighters with strong wrestling pedigrees can lay and pray on their opponents, coasting to victory without ever really attempting to improve threaten their opponent. Especially when said opponent is a Diaz brother who hunts relentlessly for submissions from the guard on any given night.
Nonetheless, the Diaz brother's valid sentiment won't help Nick win a decision against the pound-for-pound greatest decision winner in the history of mixed martial arts. So Diaz's task will be simple on March 16th. He must stop the takedown, or even more reasonably, end the fight early with a knockout or submission.
When watching GSP fights in public these days, it's difficult to avoid noticing how everyone seems to cringe ever time the champ takes a punch on the chin. Apparently no one has forgotten the greatest upset in UFC history.
At UFC 69, Matt Serra landed a hail mary over hand right with his head down (and probably eyes closed) right on GSP's chin which proved to be the end of the champs night as he stumbled around the cage from the punch until Serra ran him down with strikes, forcing the referee to stop the bout and earning Serra the TKO win and the belt. That night Serra also became the man responsible for the current ongoing phenomenon promoted by fans and critics alike to forever over hype every one of GSP opponents through awarding them with a punchers chance for the remainder of GSP's career.
Let me explain. Stopping GSP is tough. The overall statistics for stopping the champ from avoiding number one contenders in his weight class may not be, but stopping him in the cage is almost impossible. Forget about the Serra fight for a moment. Statistically mind you, Diaz will have a 25% chance at landing a solid shot on the champs chin, while a 23% chance at taking him down and once on the ground, he has only been submitted by one man in the UFC early on and that was Matt Hughes at UFC 50. Both those losses are the only two in his career as well.
Hopefully my summation of the GSP vs. Diaz bout won't take anything away from the true-hearted warrior and world class fighter Nick Diaz has proven himself to be over a very impressive career in MMA. He probably just woke up the other day and was told GSP wanted to fight him.
In fact I would love to see him smash the champ and make him regret calling out Diaz in the first place, much too all our chagrin and drunken tomfoolery on March 16th's Saturday night.
Watch Nick Diaz light up his opponents with impressive boxing skills in the sick fan made video posted below.
Video courtesy of YouTube uploader MorrowProduction