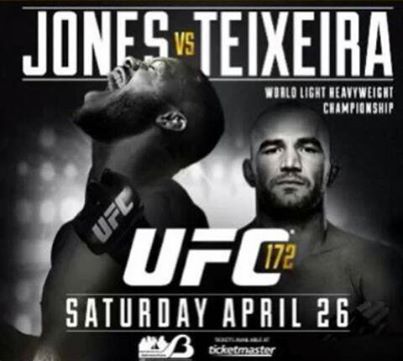 So we had a layover of multiple fight cards a week but there was still a good card in UFC 172 which delivered. Let's delve into the results:
UFC 172: Jones vs. Teixeira
Main Event: Jon Jones #1 Light Heavyweight vs. Glover Teixeira #3 Light Heavyweight
Prediction: Jones by strikes. Result: Jones by decision. As usual Jones used his lengthy limbs, funky striking and wrestling ground game to control Teixeira all the way through the fight. It was very comparable to Velasquez versus dos Santos three and silenced critics out there.
Co-main Event: Phil Davis #5 Light Heavyweight vs. Anthony Johnson
Prediction: Davis by decision. Result: Johnson by decision. Johnson has clearly improved to the point that he is a light heavyweight force to be reckoned with.
Luke Rockhold #6 Middleweight vs. Tim Boetsch
Prediction: Rockhold by submission. Result: Same. I would almost argue that Rockhold's submission is a submission of the year candidate and at minimum submission of the month. After his toes recover he may just get his rematch with Vitor Belfort depending on many factors.
Jim Miller #6 Lightweight vs. Yancy Medeiros
Prediction: Miller by submission. Result: Same. Miller's submission was so quick that Medeiros didn't have time to tap before passing out.
Max Holloway vs. Andre Fili
Prediction: Fili by strikes. Result: Holloway by submission. This was initially a back and forth affair ending with Holloways submission.
Overall score: 3/5; 0.6 prediction percentage. 1 for Miller's submission, 1 for Rockhold, 0.5 for Jones, and 0.5 for Johnson's decision win.
Bellator 118
Main Event: Joe Warren vs. Rafael Silva
Prediction: Silva by submission. Despite the fact that Silva is coming in on short notice he hasn't lost in almost three years of competition. At the same time Warren has been preparing for a fight and has been known to pull upsets throughout his career, so don't count him out.
Co-main Event: Andrey Koreshkov vs. Sam Oropeza
Prediction: Koreshkov by strikes. Koreshkov is the superior striker in this match up and with no Ben Askren he may become champ after.
Marcos Galvao vs. Thomas Vasquez
Prediction: Galvao by decision. He certainly isn't known as a finisher but Galvao does know how to win fights. Also he's Dantes teammate.
Liam McGeary vs. Mike Mucitelli
Prediction: Mucitelli by submission. Both men are undefeated and are now getting a chance at a tournament, however Mucitelli has ground.
Are you going to watch Bellator 118 this weekend and how did you think UFC 172 went? Feel free to leave a comment!