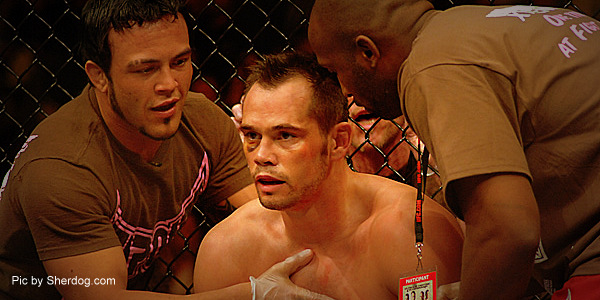 The UFC has a big weekend planned and I plan on being up at 7 a.m. my time to watch what I think will be a great card for UFC on Fuel TV 6 in China. Only the hardcore fans are going to be up at the break of dawn to watch these fights, so these are my quick picks for all you true fans. And if you like picking fights, then join the best in mma fantasy at MMAVictor.
~Rich Franklin vs. Cung Le~
This is probably the best main card a Fuel TV event has seen and it should deliver. Both guys are great strikers and I expect a finish, but that doesn't mean it's going to happen. Franklin is too smart to just keep it standing with Lee. Yet Lee's take-down defense is top notch.
Unfortunately for Cung he's coming in to this fight sitting at %65 due to a nagging foot injury. Sadly I see his kicking game lacking in this fight unless he wants to be at the press conference in a wheel chair again.
I honestly see cardio being the x-factor in this fight and Lee looked tired in 3 rounds when he last fought Patrick Cote. Franklin can and will go 5 and that's the difference maker for me in this fight. Prediction: Franklin by Unanimous Decision
~Thiago Silva vs. Stanislav Nedkov~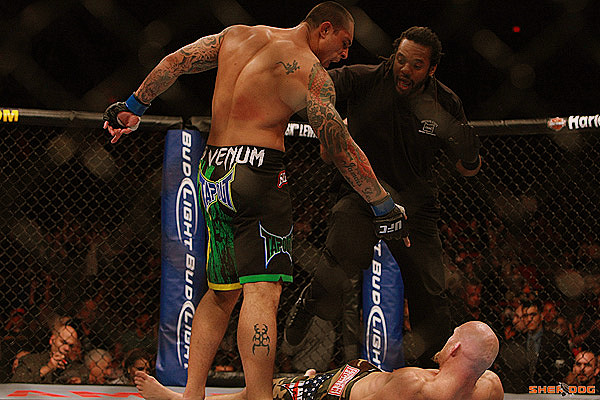 This fight has KO written all over it, but could Silva be on the other end? Nedkov hasn't fought since his debut in August of 2011. He was scheduled to return at UFC 142 against Fabio Maldonado, however alleged visa problems forced Nedkov to withdraw from the bout.
Silva has struggled to earn a victory in the octagon as of late, suffering his last loss to Alexander Gustafsson. In his last 5 fights he is 1-3-1. This is a big fight for both fighters and the guy who wants it more is going to lose.
Let me explain. Both guys are mean strikers, and the one who comes out too aggressive is getting Ko'ed. This fight is very hard for me too call as there is a part of me that thinks Silva is going to get Ko'ed, but I think I'll play it safe and go with experience, plus Silva's back is against the wall. Prediction: Silva by TKO 2nd round
~Dong Hyun Kim vs. Paulo Thiago~
This is very thrilling fight and fans should be in for a treat. Oh wait! Did I actually just say that? So many "fans" are pumped for this fight, but I don't see it at all. Thiago is 1-3 in his last 4 fights holding a win over David Mitchell. Kim has beat grappler's like Nate Diaz and TJ Grant but also almost lost to Matt Brown. Neither fighter is as good as everyone wants them to be. I expect the grappling to be cancelled out and for this fight to stay standing. Prediction Thiago by TKO 2nd round.
~Takanori Gomi vs. Mac Danzig~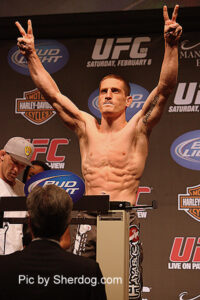 "The Fireball Kid" has largely disappointed in his UFC career thus far, going 2-3 with his best win a couple of years ago with a KO of  Tyson Griffin. Losses to Kenny Florian, Clay Guida and Nate Diaz have pushed him far away from title contention at 155lbs.
He did find a way to win in his last bout against Issei Tamura in a sloppy performance. Danzig has been slowly trying to prove to the fans he is the real deal in the lightweight division, having earned wins over fellow Ultimate Fighter winners Joe Stevenson and Efrain Escudero over the last two years.
Danzig has a decent chin and a dominate ground game. I see him being able to weather the storm, get takedowns and work this fight on the ground. I do see Danzig possibly getting dropped early, but if he can recover and take it into the later rounds, it's his fight. Prediction: Danzig by Unanimous Decision
~ The Rest of My Picks~
Tiequan Zhang vs Jon Tuck- Tuck Unanimous
Takeya Mizugaki vs Jeff Hougland- Hougland Unanimous
Alex Caceres vs Motonobu Tezuka- Caceres Sub triangle 2nd round
Yasuhiro Urushitani vs  John Lineker- Urushitani Unanimous
Riki Fukuda vs Tom DeBlass- Fukuda Split decision
David Mitchell vs  Hyun Gyu Lim- Lim Tko 2nd round
Watch the video below to view a teaser trailer of Rich Franklin vs. Cung Le.

Video courtesy of the UFC..