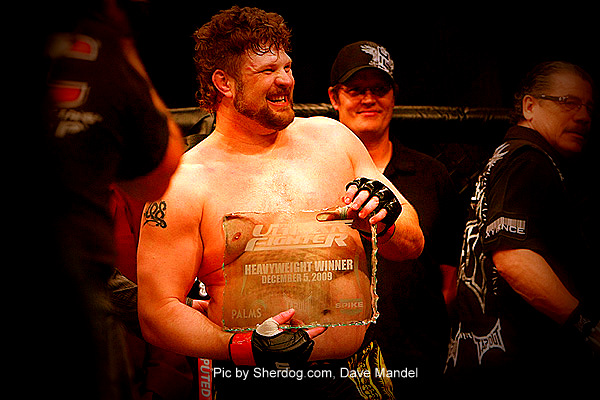 It's been awhile since we have received this much UFC in one weekend! I still wish Carwin/Nelson was on the card but you can't have everything I guess. This is special edition of picks as I'm going to keep it short and sweet because of the two cards. Here's your quick picks for UFC on FX 6 & The Ultimate Fighter 16 Finale.
UFC on FX 6
Date: December 14, 2012
Location: Gold Coast, Queensland, Australia
Venue: Gold Coast Convention and Exhibition Centre
Broadcast: FX, FUEL TV
MAIN (FX, 9 p.m. ET)
Watch the TUF 16 Preview in the video below
Video courtesy of UFC.com
Main Event:
Ross Pearson vs. George Sotiropoulos: George's wrestling will get the better of Pearson despite all the bad blood. Sotiropoulos Unanimous
Brad Scott vs. Robert Whittaker – "TUF: Smashes" welterweight-tournament final: Whittaker's will stay on a roll with his heavy hands. Whittaker via KO 1st round
Colin Fletcher vs. Norman Parke – "TUF: Smashes" lightweight-tournament final: It won't be an easy fight for either guy, but Fletcher is the more motivated guy and will take home a victory. Fletcher Sub 2nd
Hector Lombard vs. Rousimar Palhares: Lombard will shine if he can keep off the ground, but he won't be impressive like everyone thinks. I could see an early KO, but Palhares isn't afraid to strike to set up the take-down. Lombard will have to work for this won. Lombard TKO 2nd round
PRELIMINARY (FUEL TV, 6 p.m. ET)
Chad Mendes vs. Yaotzin Meza- Mendes UD
Joey Beltran vs. Igor Pokrajac- Pokrajac UD
Seth Baczynski vs. Mike Pierce- Pierce TKO 2nd
Ben Alloway vs. Manuel Rodriguez- Rodriguez UD
Brendan Loughnane vs. Mike Wilkinson- Wilkinson sub 2nd
Cody Donovan vs. Nick Penner- Donovan UD
The Ultimate Fighter 16 Finale
Date: December 15, 2012
Location: Las Vegas, Nevada
Venue: The Joint at Hard Rock Hotel and Casino
Broadcast: FX, FUEL TV, Facebook
MAIN (FX, 9 p.m. ET)
Main Event
Matt Mitrione vs. Roy Nelson: Nelson will impose his will and be the bigger man, literally. This fight will be a battle but "Meat Head" will get finished. Nelson KO 1st round or UD
Watch Mitrione discuss his upcoming fight with Nelson in the video below.
Video courtesy of HDNetFights
Mike Ricci vs. Colton Smith  – "TUF 16" tournament final: Ricci is the better overall fighter, but he still belongs at 155 and that will be his down-fall. Colton Smith is a solid 170 lb. wrestler, like a young Jon Fitch, he will come with the pressure and lay and pray for 3 rounds to become the new TUF winner, but Ricci will drop down to 155 and be around longer than Smith. Smith UD
Patrick Barry vs. Shane del Rosario: I see this being a stand-up war, and if it goes to the ground I see Rosario being the more dominant man. I will personally be rooting for Barry to throw leg kick after leg kick and get the KO, just not sure how confident I am on that one, but I have to take my boy. Barry TKO 2nd
Melvin Guillard vs. Jamie Varner: I see this staying standing for the majority of the time and if Guillard can catch Varner he will go night-night. I know Varner isn't that dumb and will try to utilize his wrestling and I see him doing just that. Varner UD
Jonathan Brookins vs. Dustin Poirier: Poirier will be put to the test again after his loss, but I see him returning in style. Brookins lost his last fight via Submission (anaconda choke) which is one of Poirier's favorite chokes. Poirier lost his last fight to his favorite choke, so what a better way to redeem himself. Poirier sub choke 2nd round
PRELIMINARY (FUEL TV, 7 p.m. ET)
James Head vs. Mike Pyle- Pyle TKO 1st
Johnny Bedford vs. Marcos Vinicius- Bedford TKO 2nd
Rustam Khabilov vs. Vinc Pichel- Khabilov Ko 1st
Nick Catone vs. Anthony "T.J." Waldburger- Waldburger sub 2nd
PRELIMINARY (Facebook, 5:30 p.m. ET)
Reuben Duran vs. Hugo Viana- Duran UD
John Cofer vs. Mike Rio- Cofer TKo 2nd
Timothy Elliott vs. Jared Papazian-Elliot TKO 2nd
And don't forget MMAVictor fans, anyone can create his/her own leagues on MMAVictor.com leagues for any of the upcoming UFC, Strikeforce, Bellator and XFC events!  Don't be left behind! Get in the fight!!