The UFC Middleweight title lit up Brazil for near seven years between 2006 and 2013. Anderson Silva made it his own, crushing everyone in his path until he was dethroned by the current champion in Chris Weidman in July.
However, there is no doubt in my mind that the title will return to it's homeland of Brazil in 2014. It is filled by rich talents within the division. There are three men who I believe could very possibly dethrone the champ and bring the title back to South America.
Vitor Belfort will be the first Brazilian to become an even bigger star than what he is in his native country and become a national hero. He always had the biggest potential as a fighter, however what really let 'The Phenom' down was that he never had a stable camp. Belfort knew he was talented but tried to coast his way through MMA, and when in previous years he met top level competition like Chuck Liddell and Tito Ortiz, he fell at the final hurdle.
Since his UFC return, Belfort has looked a beast. He's 6-2, with both losses coming in title fights for the middleweight championship and light heavyweight title at very short notice. Since his loss to Jon Jones, Belfort has moved to the monstrous Blackzillians camp training with the likes of Rashad Evans, Thiago Silva and Allistair Overeem. As we've seen from camps like Team Alpha Male and Jacksons MMA, iron sharpens iron. Belfort is pushing himself consistently now on a daily basis.
To this, his arsenal has to improve. Whilst 'The Phenom' has always been known for his quick slick boxing, it was one dimensional. Now working with Henri Hooft who has trained legendary kick boxers Peter Aerts and Tyrone Sprong, Belfort has added more kicks into his game – and very successfully. Head kick knockouts of Michael Bisping, Luke Rockhold and most recently Dan Henderson have earned Belfort a shot at Weidman.
What Belfort offers against the current middleweight champion is a more aggressive striking game than Silva. Whereas Silva loves to throw single shots, using his perfect timing, Belfort puts combinations together mixing his hands and kicks. Weidman in his short 11 fight career is yet to face this in an opponent.
The next one up for a title shot who could return the title to Brazil is Ronaldo 'Jacare' Souza. The former Strikeforce middleweight champion since losing his title to Luke Rockhold has went 5-0.
Souza brings an elite Jiu-Jitsu pedigree to Weidman, which could really trouble him. Although the current champ did face this against Demian Maia, Souza has what his fellow Brazilian does not have though – striking.
Yes, Jacare was one dimensional. However the loss to Luke Rockhold was a turning point in his career. Since then he has worked hard in improving his striking and finished two of his fights by strikes including the well rounded Yushin Okami.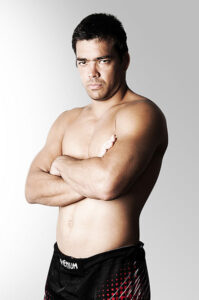 The final challenger, who I believe has the very best chance of beating Weidman, is former UFC light heavyweight champion Lyoto Machida. When fighting at 205lbs, many thought Machida was fighting above his weight class, however this may have been due to training partner Anderson Silva being champion at the weight.
Now with Silva out of the frame, Machida has every right to go for 185lbs gold. He made a very successful debut against top contender Mark Munoz. It was a one sided contest with 'The Dragon,' forcing Munoz out of his comfort zone and not allowing him to use his superior wrestling.
Machida's distance is what makes him a mystery in MMA. Many fighters like Rashad Evans and Thiago Silva have struggled with his. His speed to get in and out along with his unorthodox style makes it hard to just get hold of him never mind hit him.
And Machida has seeming turned from a counter striker into more of an aggressor. He has the best of both for when fighting Weidman.  Machida frustrates his opponents to make a silly move like against Ryan Bader and that is the only opening the Brazilian needs to end the fight.
Could Weidman figure a way to use his striking to get close to Machida and drag him to the mat? I just feel that Weidman's hands are not that great and he would end up walking into a cross like Bader or a head kick like Munoz. Machida still has Gegard Mousassi in his path however, who could provide a massive test for him.
Whether it is Belfort, Souza or Machida, I'm not on the Chris Weidman hype train. I see holes in his game that all three could take advantage of. Whoever it is, the UFC title will be back in the South American country by this time next year.