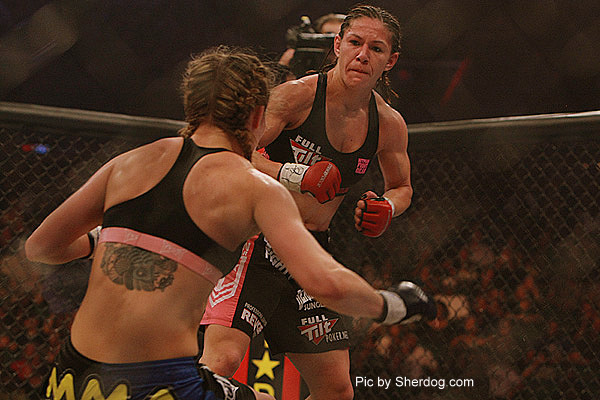 Cyborg has been a household name in women's mixed martial arts since she knockout out Gina Carano in a Strikeforce main event in 2009. Carano was only one of many victims who eventually fell prey to Cyborg's brutal reign over the WMMA landscape since she began her patented one sided slug fest back in 2005.
On the last Strikeforce event of 2011, Cyborg only needed 16 seconds to knockout Hiroko Yamanaka and further stake her claim as the leading fighter in female combat sports. Unfortunately it was eventually revealed that the women's Strikeforce Featherweight champion had failed her prefight drug test for the anabolic steroid known as stanozolol.
I don't know what is more aggravating . The fact that she has been taking a steroid that is basically a heavy dose of male hormones which is predominantly used by body builders to gain muscle and reduce water weight, or what she did after the fact.
Instead of apologizing for taking steroids that allowed her to effectively give us all flash backs of Chris Brown vs. Rihanna throughout her career; she claimed the drug was accidentally ingested through a dietary supplement she thought was safe. Yet she never released any information past a brief statement because as everyone knows, steroids aren't found in supplements so there was no way she could ever prove to us she was telling the truth.
Here's the back ended apology her manager must have crafted for her that was released to the public via Facebook. I highlighted the part where she flat out lies.
"I would like to sincerely apologize to StrikeForce, the Zuffa organization, Hioko Yamanaka and my fans for my failed drug test. I am ultimately responsible for everything I put in my body, and at the end of the day, there is no excuse for having a prohibited substance in my system. I do not condone the use of any performance enhancing drugs by myself or any other professional athlete, and willingly accept the penalties and fines that have been handed down to me by the California State Athletic Commission and those of the StrikeForce/Zuffa organization. While I was preparing myself for my last fight I was having a difficult time cutting weight and used a dietary supplement that I was assured was safe and not prohibited from use in sports competition. It was never my intention to obtain an unfair advantage over Hiroko, mislead StrikeForce, the Commission or my fans. I train harder than any fighter in MMA and do not need drugs to win in the cage, and I have proven this time and time again! My only mistake is not verifying the diet aid with my doctor beforehand, and understanding that it was not approved for use in the ring. Unfortunately in the end I suffer the consequences and must accept the responsibility for my actions. I will do everything I can to show my fans that I can still compete at the professional level without the use of any prohibited substances, and ask God's forgiveness for my mistake."
Now she is claiming she can't make 135lb's to fight the current WMMA superstar to take her place in the sport as the leading female attraction, in the current women's Strikeforce Bantamweight Champion Ronda Rousey.  She even produced a doctor's statement to corroborate her claims of not being able to make the 135lb limit.
"Is this the same doctor that was giving you the steroids?" said Rousey to Sherdog radio. "What do you think he tells his other girls when you're pumped full of roids, pummeling them in the face? It just sounds so hypocritical to me. I can't stand it."
If Cyborg wont fight her at 135, she won't take the fight. What's comical this time is that initially she had agreed to meet Rousey at a catchweight of 140lb's until Rousey turned it down at that weight as well.  So now she is saying that an extra five pounds is too dangerous for her to cut?
"I could [fight at 145]," Rousey shared with Sherdog radio. "But I'm choosing not to. Because honestly, I don't trust any of the drug testing. I've been doing this a very, very long time and I was in the Olympics with the most stringent drug testing in the world. You know a lot of those people are doping. There's new advances in drug testing every single year because people find new ways to cheat. The only way I can really feel like it would be a fair fight is if it's down at 135. If she's doped to the gills and making 145, it's not really that far-fetched for me to think that someone not on steroids could move down a division."
 But don't hold your breath on Cyborg's latest story, since it won't last with WMMA now on the verge of making history by breaking in to the biggest show in the business. UFC President Dana White recently stated he would be bringing over the women's Strikeforce Bantamweight division and Ronda Rousey will wind up defending her belt in the UFC for the first time as the first Women's Champ in UFC history.
So if Cyborg wants that fight after her suspension, she will have to make the 135lb weight limit or Rousey won't take the fight, and Cyborg will be forced to watch the sport grow past her. Not to mention I doubt she is capable of willingly passing up the first opportunity for a women to collect a decent pay check in the sport for once.
Most of the rules in society that seem to hold the most weight are incentive based at their core at least. If Cyborg wants to win, she takes steroids. If she wants to make money at winning, she will join the UFC.
For her to redeem herself in my eyes, all she needs to do is stop trying to come up with make believe stories of honor and misfortune. Don't give us doctor's notes and lies. Just tell the fans the truth. The reason I believe she won't tell the truth, is because she most likely plans on continuing to cheat and lie.
It's important for her to stop lying and start telling the truth so that fans and competitors can forgive her. I'm sure this time she will opt out on the tedium of storytelling, drop the ten pounds necessary, and meet Ronda Rousey in the center of the UFC cage and make history.
Hopefully after she loses a couple inches on her neck and biceps, she will be ready for her first fair fight in her life.
Watch the video below as Ronda Rousey tells the truth about the drug Cyborg took and also introduces her boyfriend in the interview.

Video courtesy of FighthubTV