I previously made a top 10 list on the great gifts that the world of MMA could bring us as late Christmas presents. Since we are now approaching New Years and it is traditional to make resolutions for the upcoming year, I thought it was appropriate to compile a top 10 about resolutions that the world of MMA can make that would benefit the industry. This is speculation but would be nice so here we go:
~ 10 ~
ONE FC should try to ink a US TV deal
This is maybe just wishful thinking but it would definitely get the promotion some wider exposure. At present ONE FC is available on PPV in America through most major cable providers but only the most die hard MMA fans would be willing to buy such a fight card.
A basic TV deal to broadcast basic replays would do well for the promotion for the American market. However, it's quite possible that ONE FC is content with dominating the Asian MMA market and doesn't want to go head to head with the UFC in their domain. Just the same it could work.
~ 9 ~
Showtime needs to stop sitting on the fence and either commit to MMA or abandon it
Showtime executives around the time of the end of Strikeforce were quoted as saying they'd like to keep MMA on the network. While there were comments made here and there, nothing concrete has been inked. One promotion that has been thrown around by name as a potential candidate is all women's Invicta FC and another possibility is the Florida based Xtreme Fighting Championships whose TV deal with AXS TV supposedly came to an end with XFC 27.
However, with the networks programming primarily focused on their boxing it becomes a question of whether Showtime is really serious about MMA programming. Either way the network needs to make a choice and not tease their fans.
~ 8 ~
Pick women as coaches for TUF 20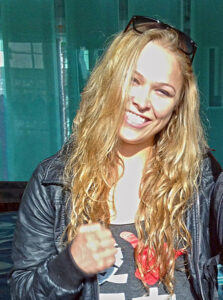 There was a large amount of drama between Ronda Rousey and Meisha Tate during this last season of The Ultimate Fighter. However, the reason for that was because the two genuinely dislike each other (to put it mildly) and because of that it was easy for the two to push each other's buttons.
Rousey indicated that had she actually coached opposite original coach Cat Zigano things would've been more professional. Being that season 20 will be all women and no one coaching will be in the same weight class, it isn't unreasonable to put two contenders for a shot against Rousey as opposing coaches. If the right personalities are chosen we could get a professional season like season 17.
~ 7 ~
Fighters should resolve to cut weight smarter and healthier
As of right now there are no weight cutting regulations for MMA and while it would be nice if they were enforced, it probably won't happen. However, there are alternatives to cutting weight in an unhealthy manner such as starving one's self and cutting large amounts of water weight. For the best way one simply has to look at the results of clients working with Mike Dolce, who has a track record of getting fighters on weight in a healthy way and having them perform to their potential.
Also of note is the fact that Dolce does not agree to work with fighters whom he thinks are endangering their health by fighting at a weight class they shouldn't be cutting to. For those who'd prefer not working with Mike Dolce there are nutritionists who would be willing to work with fighters to get them on weight and small water cutting isn't harmful.
~ 6 ~
Alistair Overeem needs to stop being overconfident
Alistair Overeem lost both of his matches this year to fighters he was dominating before he made the mistake of leaving his chin open to a strike. Both Antonio "Bigfoot" Silva and Travis Browne kept in the fight and when they saw the opportunity capitalized on Overeem's overconfidence that developed once he knew he was dominating the fight.
He now has to face Frank Mir in a fight where the looser will go home. Overeem has the ability to out strike many fighters in the UFC and build himself back to contender status. If he goes into every fight to pick apart his opponents and not underestimate his opponents he can put a string of wins together and maybe get a title shot.
~ 5 ~
Ben Askren needs to work on his striking
Both Bjorn Rebney and Dana White said that Ben Askren is a one dimensional fighter and that is the reason why he was cut or not signed respectively by both executives. As a result Askren is signing with ONE FC instead of going into the UFC to really challenge himself.
While Askren's wrestling is what has allowed him to dominate all of his opponents, it wouldn't hurt him to develop a striking game. If nothing else it would show he is well rounded as we already know he has a submission game, sloppy as it is. A stand up game may get him in the UFC.
~ 4 ~
TUF: India needs actual fighters
This became an issue when The Ultimate Fighter: China started airing. When the cast was announced it turned out that the majority of the fighters selected for this inaugural season had no professional experience and fighter Li Jinying had only recently gotten into MMA and voluntarily quit.
This is honestly a little embarrassing considering there are more then a few MMA promotions in and around China for the UFC to find it's talent for a TUF season. If TUF India is to be successful then this cannot be repeated. With India's Super Fight League in swing and giving fighters more exposure, there is no reason why all the TUF India fighters shouldn't have at least one professional fight.
~ 3 ~
Bellator should continue to utilize 4 man tournaments
Bellator finally found a way of filling their fight cards with good quality matches by running 4 man tournaments in lower roster weight classes. This came after Bellator had experimented with running seasons with both 4 eight man tournament seasons and 5 eight man tournaments. The problems with both of those formats was the five tournaments was too much and four tournaments were too little.
With one of two 4 man tournaments running in addition to the large eight man tournaments, the fight cards are all filled with quality fights for Bellator. Overall it came out to a good idea and though season 10 details have yet to be announced they'd be foolish not to have 4 man tournaments.
~ 2 ~
UFC needs to hold their champions accountable
Dominick Cruz has been UFC Bantamweight Champion since the UFC-WEC merger when he won the belt on December 16, 2010. However, he only defended his title twice before injuries sidelined him for over two years. Though he's finally defending his belt at UFC 169, the issue of inactive champions has become an issue and Dana White recently said the UFC will be instituting time limit requirements on title defenses.
The issue has become really important because of the fact that UFC Lightweight Champion Anthony Pettis and UFC Heavyweight Champion Cain Velasquez both had injuries that will put them out for long periods of time. While an injury cannot be helped, UFC champions do need to be held accountable and need to make an effort to defend their titles in a reasonable amount of time.
~ 1 ~
Dana White needs to take anger management classes
This is a given. Dana White has a tendency to go on rants whenever someone makes a comment and he gets angered with it. While there are some traits that have actually helped White as President of the UFC, his temper is not one of them.
Also penning up all that anger and then unleashing it cannot be healthy for him. If White wants to see progress into his senior years it's best for him to find ways to cope.
Without a doubt it has been an exciting year in MMA and we hope the next one is even better. Feel free to leave a comment!