Cali women's boxing product fighting 8-round battle for respect, equality and a cause with no room for pause
"Told me Loveless is a mad man, but I don't fear that. Got mad weapons too, ain't trying to hear that. Trying to bring me down, this champion? When y'all clowns going to see that it can't be done. Understand me son."
(Photo by boxingsocialist.com)
That quote is synonymous with one of the most recognizable songs of the '90s: "Wild Wild West" by actor, recording artist and entertainment mogul Will Smith. One word associated with the context of the lyrics is descriptively accurate when it comes to one of the most feared and accomplished women's professional boxers: champion.
Who are said "clowns" trying to bring one down? While subjective in context, some would say media pundits and boxing promoters who gauge at the notion of female fighters in the ring. The champion? That is a bit easier to answer, none other than former 3-time WBO Female Bantamweight Champion and current, reigning, defending IFBA Super Bantamweight Boxing World Title holder Kaliesha "Wild Wild" West.
The first world champion of the Inland Empire to both fight at the Staples Center in Los Angeles (male or female) and headline for Sugar Shane Mosley Productions, the ever flowing success West has experienced in her illustrious career has molded her into the person she is today.
West will make even more history on Aug. 15, becoming the first ever women's boxing champion to headline an-all female card in North America. She will make her return to the ring in an 8-round non-title main event against Dayana Cordero for Nordic Coliseum Women Boxing at the Crowne Plaza Hotel in Gatineau, Quebec, Canada.
She defeated Christina Ruiz to capture the vacant belt via unanimous decision victory in 2010.
Standing a lean and mean 5'4, West holds a 16-1-3 record with four knockouts and having never been on the receiving end of a 10-count in her professional career.
Being plastered on a billboard to represent her sport as the face of an event that will etch her name in history forever might be more than enough of an accolade for some, but not the South Haven, Michigan native turned California women's boxing sensation.
She wants much more. That is, more action taken by promoters to put her side of the sport back on the map. West has been long known to be an advocate for the equality, respect and recognition for women's boxing. Many of her attempts to do so fell on deaf ears, but that never stopped her from getting her point across and letting her voice be heard, loud and crystal clear.
The 26-year-old veteran did just that in an open letter to the boxing community for Right Cross Entertainment on Feb. 2, 2009.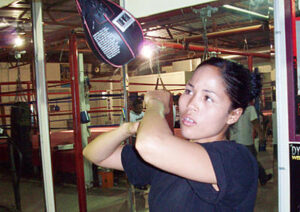 (Photo by girlboxing.org)
"I was basically letting everyone know, we're not getting paid. We're not making much money. We're being taken advantage of. Why is it this way," West says adamantly about promoters, sponsors and networks that undervalued women's boxing. "People assume that you're rich because you're champion but with women, it's just not true," West says.
"When I won the world title, it was a 'pat on the back and a good job' and it was just empty. I had to go back to work. I made $2,000 for a 10-rounder and it was one of the greatest fights of the night. Nothing ended up happening. It was real bad. No one really highlighted on it. At the time, I really didn't feel like I accomplished anything because nothing much changed except people did recognize me more."
That extra effort to get respect must start somewhere. Her training base resides in the sweltering temperatures of southern California. Preferring to sweat out every drip of perspiration in her coach and manager dad's garage is how the champion rolls. The Moreno Valley-based training facility has no air conditioner and reaches a boiling point in the summer, but that's her preference.
"I like to sweat it out. I like to feel like I'm really working hard. I don't know what's wrong with me, but it's really hard for me to sweat. I've always been that way. Some people easily sweat quickly. I don't. I have to work so, so, so extra hard."
All that attempted perspiration, hours in the gym and merciful pounding on bags and pads though have essentially gone unnoticed over the years. West's desire to elevate her sport through her superior ring skills and unique personality is still present. The more she trains, the more she amazes even herself. She wants the world to recognize not only the evolution of her own talent, but all elite-level women's boxers as well. With age comes both wisdom and frustration.
"The older I get, the more I'm thinking 'wow Kaliesha, you're really good. That's really spectacular.' At the time it was still happening in 2010, I thought 'cool.' Now that I'm getting older, I'm saying 'no, that's not cool. That's damn good. That's damn great.' There's no reason why the world is not able to witness my talent and anything of the females' talent that is at the caliber of my own."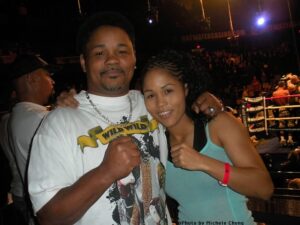 (Photo by myboxingfans.com)
The former hit star of The CW's 2013 reality television show "Capture" received that talent and wisdom from training with her manager, coach and father, Juan West (pictured above), a former professional boxer himself. West contends that having him as a coach is much more difficult than one might lead themselves to believe.
"It's actually a lot harder having him as my coach because he always feels like he can't favorite me. He always feels like he has to be extra hard or extra mean or extra rugged. It ends up helping me in the long run, but it's still a lot harder having him be my coach. He doesn't baby me at all," West says of her father's coaching style that brings the best fighter out of her.
"He doesn't show sympathy. If anything, when I go back to the corner in my fights, he's a lot more emotional than if I was a regular fighter. And I could tell, because I'm his daughter, not just a fighter. So if I get beat up when I go into the corner, it's like I'm getting scolded at as if I ditched school or something," West admits of Juan's "tough love" coaching method.
That added emotional motivation from Juan to light a fire under West to come out swinging in the next round is almost guaranteed, but satisfaction of her performance after the final bell is not.
"I feel like there's always going to be something that's not good enough to satisfy him and what he expects of me, similar to Oscar De La Hoya's father where he was just so hard on him but that's what makes champions. That personality, that drive, that attitude where you're not good enough or you're only as good as your last fight."
"So it's sort of bitter sweet because I can look at it as the glass being half empty and say 'you're never satisfied' or the glass half full saying 'if it wasn't for you being this way, I would never be a champion.' So I always like to look at life as everything happening for a reason and the way that my dad is, there's always something he finds that's incomplete. So I really, really like that because that's what keeps me being better than my last [fight]."
Next: Kaliesh-ing the Beast (2 of 3: Promoter Talks and the Accident)
Later: Kaliesh-ing the Beast (3 of 3: Near WMMA Jump to Invicta and Fight Bound)