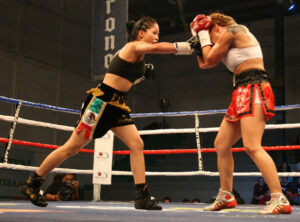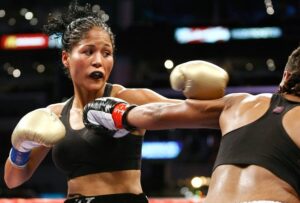 (Photos by stylezmakefights.com & wombatboxing.wordpress.com, top to bottom)
The standard day-to-day operations for 26-year-old West consisted of emergency room host duties at Loma Linda University Medical Center in California. Though she quit after six years and is now employed at a local bank, the trials and tribulations she experiences in the arena when a belt is up for grabs pales in comparison to what she witnessed firsthand when someone's life was on the line.
"I grew up really fast working at the hospital from age 18 to 25. It made me realize what was important in life real quick because families were running in my face, screaming at me. Telling me 'I want to see my daughter. I have to see my daughter' and they're daughter is dead or their leg is chopped off or her face is "smashed in" West speaks of the difficult and traumatizing experience.
"I would have to walk back there and talk to the doctor, look down at the daughter, calm them down and ease their emotions. It taught me a lot about how much emotionally, mentally, physically, the human body can really take and how support plays a huge factor in what happens to everyone in life. It opened my eyes, too."
"To not being afraid of anything because some people would come in and their whole body was crushed by a semi-truck while they were screaming, dying in pain but still alive. So compared to what I've seen in the emergency room, there's nothing in boxing that would ever fright me. Whether it's an eye that's swollen or a detached retina or a broken jaw or hand, all that is small time compared to what I've seen patients go through in the emergency room."
Akin to her hospital background, West likens the lack of exposure of her art in the ring not being recognized to 'a doctor going to medical school for 10 years, graduating but not being allowed to test for their official license.' She believes women's boxers are in the men's shadow and it greatly disappoints her. West believes promotions should start giving females a decorated face on the main card.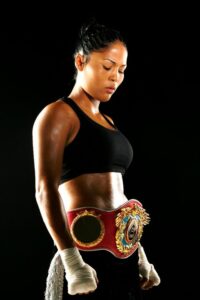 (Photo by fightweek.com)
"With society today, gays are able to get married. The racism days are over. So the last step is sexism. That last discrimination title needs to end. It needs to end now."
The IFBA champion admits the issue upsets her to the point where she's red in the face at the fact that there are no televised women's bouts showcased on ESPN's Friday Night Fights, HBO or Showtime Boxing cards.
West also feels that "old school" boxing pundits, historians and members of the media are too old fashion, conservative and stuck in their ways to inspire any kind of immediate, noticeable change. She contends that promoters in power positions highlight her male counterparts on cards all the time yet adamantly ignore the mere notion of female fights, specifically noting a conversation she had with a prominent promotions figure.
Thus, not only is she discontent with the figures associated with women's boxing on a monetary scale, but also towards the fact that females by default do not receive the same television opportunities as men. Still, she made her attempt to try and understand why.
"I talked to Bob Arum directly and I asked him 'what do you think about women's boxing' and he specifically said that 'my wife would kill me.' He made it very clear that no one wants to see women box, that he's old school in a nice way," West says of the founder and CEO of Top Rank Boxing promotions. "Then I asked one of the Watsons, who's directly [linked] to [American boxing adviser] Alan Haymon,and they said that 'women don't sell. Women don't make money. So we're not interested.'"
"Then Golden Boy, they're not gonna give it a fighting chance because they believe women don't sell," West predicts. "When in reality, the power is in their own hands. They can make a woman sell. If they have a great female fighter who's marketable, beautiful and good in her craft and they promote it the right way, we're a guaranteed sell."
In terms of the equality, those in power, specifically boxing promoters in America, might not see the dollar signs in promoting the women's side of the sweet science, but that sentiment is no longer shared in all of combat sports. West pointed to potential growth of promoting women's boxing to that of women's mixed martial arts, which has since seen an exponential and meteoric rise in popularity within the last year in the octagon alone, one that almost did not occur had it not been for one woman changing a nay-saying promoter's mind. That woman was UFC Bantamweight Champion Ronda Rousey. The promoter? UFC President Dana White.
"It's just like Ronda thing with in the UFC. Dana said 'I would've never promoted a female fighter in my life' and he ended up doing it. Now, the women get more views than any other Ultimate Fighter past shows there have been," West stated about the ratings success of this past 18th edition of the Fox Sports 1 reality series that saw female cast members showcased for the first time in history.
Women's boxing has had its fair share of notable stars in the past with the likes of Mia St. John, Christy Martin, Lucia Rijker and Laila Ali. Yet outside of their own personal and individual success, there has not been much push for their sport in the eyes of the mainstream media, dismissive fans and historians alike. West defends the World Boxing Commission (WBC) for putting women on their title belts but adds there's a lot more that can be done.
                                                (Photo by beatsboxingmayhem.com)
"I think it's all about someone not being afraid, positive about women's boxing and what we are and believe in it as well. Really, it could go both ways because if there were somehow promoters out there who started [us] out with a small TV network. It doesn't have to be primetime HBO like Ronda was [with the UFC] in the big lights. It could be small time Fox channels, Fox Vivo, Fox Deportes, one of these smaller networks. A showcase for women and let's see how it goes. Don't just burn it and then never give it a chance because once TV gets involved, everything changes from there."
Suffering from gender discrimination is not the only set back the Moreno Valley boxing product has faced in life. In 2010 near her home town, West was involved in a minor car accident. Luckily, she did not sustain any serious injuries, broken bones or required surgery but did strain some muscles. She was also in sleep mode for a couple of weeks. Nonetheless, the super bantamweight champion admits the whole situation put everything into perspective.
"Yeah, I was actually on bed rest for about four months. I was really, really tore up. I was on Vicodin. After that, I had to drive a truck for two years because I was very paranoid of driving in a small car. Still to this day, I have real anxiety on freeways."
"When I was holding the stirring wheel and I hit the first wall, I remember letting go of it and saying 'I'm dead, I give up' because first I was holding onto dear life. Then I thought, 'I'm not gonna make it. I'm gonna tumble over the mounts. This is it. This is the end.' I let go and for the first time in my life I thought: is this how I'm going to die?"
On her way to a photo shoot and getting ready for a big meeting to be featured on Fox for boxing, the accident caught her completely off guard. As it happened, she questioned whether or not if this truly was the end and if no one was going to remember her as the greatest female boxer ever. Thus, there were many life lessons West took with her that day and has kept in mind.
"I realized that there's no time to waste. Don't underestimate yourself. Believe in yourself and don't be afraid to speak about it."
Previous: Kaliesh-ing the Beast (1 of 3: Equality Stance and Coach Dad)
Next: Kaliesh-ing the Beast (3 of 3: Near WMMA Jump to Invicta and Fight Bound)