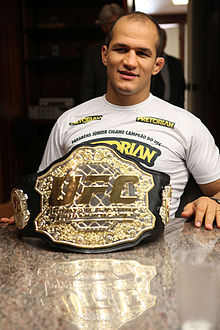 Since UFC 146, the heavy weight division seems to have reached a new high in the history of MMA. If Daniel Cormier makes it past Frank Mir and Alistair Overeem completes his suspension, both men will enter the UFC and immediately challenge the big boys on the biggest stage in the sport of MMA.
Junior "Cigano" Dos Santos is not only the heavy weight champ, but easily the best heavy weight to enter the cage. He rocketed to the top of the division with lightning quick hands and an uncanny ability to knock people out with a single devastating hit.
The only man that seems to have the best chance was put away by the champ in one minute when Cigano dropped Cain Velasquez and took another belt back to his home country in Brazil.
Watch the champ's incredibly highlight real of dominance along with plenty of viscous knockouts. Unfortunately the soundtrack is some sort of sped up remix of the Rocky theme song. I apologize.
….

VIDEO COURTESY OF ZUFFA LLC AND THE UFC..
Cain Velasquez was not happy when he found out Cigano wanted to fight Alistair Overeem as soon as possible. He definitely believes his injury in their first bout made the difference. His bid for the crown may be threatened by the current champ's wishes to fight Alistair, but he definitely deserves the second spot on this list.
Alistair Overeem is out of the UFC on a steroids suspension. No one seemed surprised with the news more than Dana White, who stated his anger and frustration when he found out Alistair had lied to him in a private meeting where Dana said Alistair had reassured him, he was the most drug tested man in all of sports. Alistair may be back in Dana's and the UFC's good graces, but I don't see him dethroning the champ or even taking out Cain Velasquez anytime soon.
Daniel Cormier is the last of the men on this list I believe has a shot at becoming the heavy weight champion in the future. I don't see Mir giving him trouble, and when he enters the UFC, I would love to see him fight at least once on the big stage before getting a shot at the champ.
Shane Carwin will face Roy "Big Country" Nelson on The Ultimate Fighter Show this season, yet they have been verbally sparring for a while now. Even though I would love to see Nelson nock the steroids out of Carwin, of whom's name appeared on a list of people who have purchased them in the past, I don't think he is capable of the task. Carwin is too big, too fast, and definitely too strong.
Fabricio Werdum
Travis Browne
Stephen Struve
Roy Nelson
Cheick Kongo