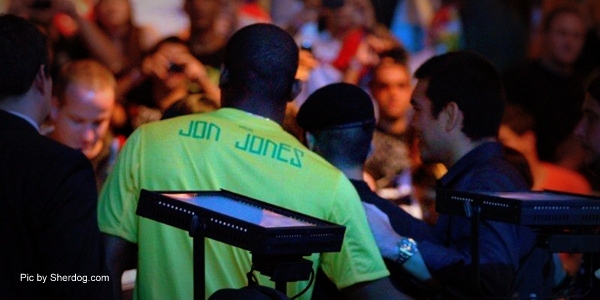 And still, the UFC Light Heavyweight Champion of the World, Jonny Bones Jones!!! That right there is a sentence that we have grown accustomed to hearing. It is also a sentence that will follow all of Jon's fights, so we better get used to it. Four years into his MMA career and Jon Jones is already amongst the best fighters on the planet and quite possibly of all time. What separates him from a perfect 18-0 record is that ridiculous DQ loss to Matt Hamill, a fight that was over before the illegal elbows were even thrown.
Let's go back to December 22, 2000. On that night Fedor Emelianenko "lost" his first fight due to a cut caused by an illegal elbow. He then went on a nearly 10 year and 29 fight unbeaten streak, which included 28 wins and 1 no contest. I bring this up to make my point that Jones' loss to Hamill could very well be his Fedor moment. You heard it here first. With a record of 17-1, which includes 8 knockouts, 6 submissions and a record of 5-0 in title fights; there's no denying that Jones is the #1 light heavyweight on the planet. In my opinion, Jones has already surpassed Chuck Liddell, Tito Ortiz, and Shogun Rua, as the best light heavyweight of all time. When it's all said and done, Jones could be considered the best of all time.
Watch the video below of Jon Jones as he chokes out Machida in dominate fashion and walks away like a lion on the Serengeti after a fresh kill.

Video courtesy of the UFC..
At #2 we have a man that should do more talking instead of fighting in order to secure a title fight. That man is Dan Henderson, who was a victim as we all were, of Chael Sonnen's latest shenanigans. At the age of 42, it is safe to say that Hendo's window to capture the light heavyweight title is rapidly closing. He is not getting the next title shot, and he is one unanimous decision loss to Lyoto Machida away from possibly never getting a title shot again. The crazy thing is that despite his last fight taking place nearly a year ago, he is the most worthy to challenge Jon Jones. This of course is a testament to how great a fighter he is and has been for many years.
At #3 we have Rashad Evans, who finds himself in a very interesting spot. He doesn't possess the skills necessary to dethrone Jon Jones, so a move to 185 would have been ideal for him. As it stands, he is staying at 205, where he will try to climb the ladder back up to the top. Rashad is without a doubt one of the best light heavyweights on the planet, so getting back to the top shouldn't be much of a problem. I honestly find myself hoping he drops to 185 where there are many interesting match ups for him. Aside from Jon Jones, I believe that Evans is the most interesting opponent for Anderson Silva to fight. Don't get me wrong, I believe that Evans would suffer a huge defeat, but it would be interesting for as long as it lasted, due to Rashad's championship pedigree.
At #4 is a guy that has been in one too many wars lately, Mauricio "Shogun" Rua. At only 30 years old, I truly believe that we have seen the very best of Shogun at this point. As crazy as that seems, if you take the time to really look up all of Shogun's fights and read about all of the injuries he has suffered, you can make sense of this. Shogun is another fighter I would like to see at 185. He isn't particularly muscular, so a cut down to middleweight shouldn't be impossible. But being as though that's not going to happen, we are left to watch the shell of what was once a great fighter, play rock-em sock-em robots with guys that are going to tag him plenty of times. Now, Shogun can and will win a bunch of fights from now until he retires; but for me it is sad to see a man who was once the best light heavyweight in the world get tagged as often as he has been lately.
At #5 we have Lyoto Machida; a man who recently felt the dreadful wrath of Dana White. Machida as we all know, turned down a fight with Jon Jones at the event that never happened, UFC 151. His reward for doing so was that Uncle Dana not only removed him from title contention, but also put consecutive middleweights in his place in Vitor Belfort and Chael Sonnen. Let me just say that after Dan Henderson, Machida is the most worthy opponent for Jon Jones. I understand that Jones choked him unconscious, but how many light heavyweights have the resume that Machida has? Next up for "The Dragon" is a possible fight with Dan Henderson, which seems awfully similar to a loser leaves town WWE match.
At #6 we have "Mr. Wonderful" Phil Davis. I can honestly say that I do not know how far up Davis can get with his current skill set. If he gets his opponent to the ground, he can and will dominate them. But if he can't take his opponent down, most light heavyweights will pick him apart like Rashad Evans was able to do. I believe that the UFC is doing damage to Davis by matching him up with Forrest Griffin. There is no doubt in my mind that Davis is going to be able to take Griffin down whenever he wants. The problem with this is that although Davis will win this fight in that manner, it leads us to think that he is further along in his evolution as a fighter than he really is.
At #7 we have a fighter who gets better and better each time he steps inside the octagon, Alexander Gustafsson. Since his loss to Phil Davis, "The Mauler" has reeled off five consecutive victories. He now finds himself closing in on a title shot, which he should earn if he gets by Shogun Rua at UFC on Fox 5 on December 8th. Gustafsson is as talented a striker as any fighter at 205. He is a nightmare match-up for any fighter that cannot get him to the ground. Eventually, Phil Davis is going to be sorry that he helped Gustafsson improve his wrestling.
At #8 we have the scariest fighter in the light heavyweight division, Glover Teixeira. Apparently everyone is ducking Glover, and can anyone really blame all of the fighters that have turned down a fight with him? We still don't know how well he would do against an elite wrestler nor how he would do against a dangerous striker, but man has he been impressive thus far. His combination of great striking and solid BJJ should have the division worrying about the prospect of fighting him down the road. Dare I say that the UFC has a future title challenger on their hands?
At #9 we have Ryan Bader, a fighter that was last seen running into the parked car that is Lyoto Machida's fist. Bader clearly has a ceiling that he cannot break through. It doesn't appear as though he can beat the upper echelon of fighters in the 205 pound division. So what do we have in Ryan Bader? Perhaps we have a fighter that will roam around the middle of the pack for the entirety of his career, which isn't necessarily a bad thing. What Bader needs to do is get back to using his wrestling. If ever there were evidence to prove what I just said, it would be when Tito Ortiz dropped him. Think about that one for a few minutes.
At #10 we have Antonio Rogerio Nogueira. In 2+ years, "Lil Nog" has only fought 3 times, which doesn't bode well for him because many have forgotten all about him. The baffling thing is that it was announced that he will fight Rashad Evans on February 2nd. Just to be clear, even though he has lost two of his last three fights, he was given a shot at a man whose last fight was for the title. Rogerio certainly has the talent to hang with most light heavyweights, but unfortunately he can't stay healthy long enough to actually step inside the octagon.
Fight Fans, Sound Off: Who's in your light heavyweight top 10?!?
This article was written by Israel Gonzalez – Staff Writer for The Freak
Follow me on twitter @izzys_mma_input