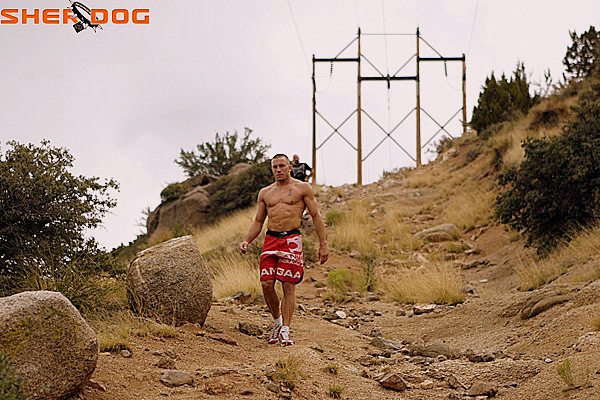 April 30, 2011 in Toronto was the last time UFC welterweight champion Georges St. Pierre graced the Octagon. During his time on the shelf due to a serious ACL injury, the landscape of the welterweight division completely changed for the better.
We've seen contenders emerge in Johny Hendricks and Martin Kampmann. We've seen a hype train derailed by perfectly timed knees (Kampann's KO of Jake Ellenberger). We've seen the crowning of an Interim Champion, a title won by a man who is known as The Natural Born Killer. We've even seen Jon Fitch get knocked out in 12 seconds! But, what we haven't seen is someone rip the number one welterweight ranking away from GSP, even after him being inactive for what will be 16+ months come 11/17/2012.
The gap was so big between GSP and everyone else that I couldn't possibly justify dropping him down in the rankings or removing him all together. This is why GSP remains the #1 welterweight in the world in my book. But fear not, he will defend that ranking and his welterweight title against #2 in the world and Interim Champion, Carlos Condit at UFC 154 on November 17th.
If you don't think Condit stands a chance against GSP on November 17th, then watch this UFC 154 Promo, and think again.
VIDEO courtesy of jhazizi21..
Making an appearance at #3 is everyone's favorite enigma, Nick Diaz. Diaz is currently under suspension and has contemplated retirement. I fully expect him to return for future bouts with GSP and Carlos Condit. The latter being a rematch of a controversial fight which he lost via a highly debatable decision.
Next up at #4 is Johny Hendricks; and his 'how the hell do I make weight with this beard?' All joking aside, Hendricks has been on a tear as of late. Johny has won four fights in a row, which includes big wins over former title challengers in Jon Fitch and Josh Koscheck. I don't know about you guys and gals, but I'm still wondering how Johny lost to Rick "The Horror" Story. I guess it had something to do with that horrible nickname.
Ok, enough of my horrible attempt at humor. At #5 we have Martin "Hitman" Kampmann; and boy does this guy take his nickname seriously. His last fight against Jake Ellenberger saw him get badly hurt in round one only to comeback in round two to stop Jake in devastating fashion. How's that for dramatic?
Coming in at #6 is Jon Fitch; and dare I say that he is no longer a boring fighter? I know a lot of people that picked Fitch to win his last fight over Erik Silva via his usual boring unanimous decision. Needless to say, no one envisioned that there would be a fight of the night performance from Fitch. Jon not only did that, with the help of Silva of course, but he also derailed a hype train, at least for the moment.
At #7 we have Jake Ellenberger, who after suffering a huge setback against Martin Kampmann, won his last fight against Jay Hieron. Although Jake won that fight, he did so in an unJuggernautic kind of way (yes, I am aware that isn't a word).
At #8 is everyone's favorite cabbage patch kid Josh Koscheck. Kos was last seen losing a fight I thought he'd won against Johny Hendricks. Although Josh hasn't won a meaningful fight in quite some time, he remains a formidable opponent for any fighter at 170. He is definitely worthy of his ranking.
At #9 is super prospect Rory Macdonald. Can we still call Rory a prospect after seeing the destruction he has left behind inside the Octagon? This guy has a ton of potential as he has shown in his young MMA career. His fight with BJ Penn could be a passing of the torch. When GSP retires, his protégé Macdonald could be the Welterweight Champion for years. He is that good!
Finally, at #10 we have former middleweight turned welterweight, Nate Marquardt. After going through his own TRT controversy and enduring the wrath of Dana White (cue the scary music), he has reinvented himself in the Strikeforce welterweight division. His fight with Tyron Woodley was an extremely exciting fight. The end result was a 4th round KO win for Marquardt, who became the Strikeforce Welterweight Champion in the process. The 170 pound division is now officially on notice.
MMA Freak Welterweight Rankings:
1)  Georges St. Pierre
2)  Carlos Condit
3)  Nick Diaz
4)  Johny Hendricks
5)  Martin Kampmann
6)  Jon Fitch
7)  Jake Ellenberger
8)  Josh Koscheck
9)  Rory Macdonald
10). Nate Marquardt
Fight Fans, Sound Off: Who's in your Top 10 in the Welterweight division?!?
This article was written by Israel Gonzalez.
Follow me on twitter @izzys_mma_input!