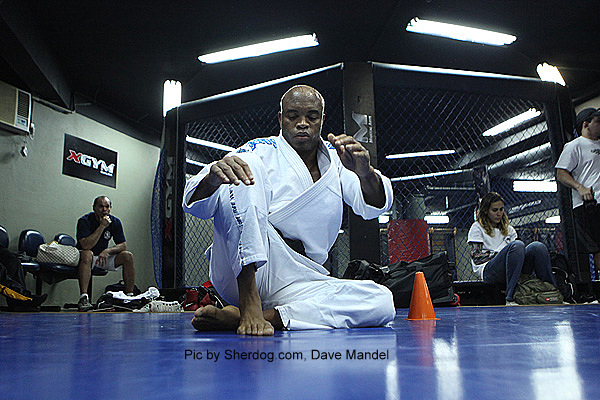 There have been many fighters that have come and gone in the UFC. The best pound for pound fighters are always controversial because opinions are biased and ever-changing. In order to stand out above the rest, a fighter must always train with the best, do their best, be their best, and beat the best. These five fighters have proven themselves to be some of the best mixed martial artists in the world.     
~Anderson Silva (33-4)~
Known as the most dominant 185 pound champion ever and arguably the greatest mixed martial artist in history, he holds remarkable victories in the 185 and 205 weight divisions. His last outing resulted in a 1st round TKO (Knee to the body) against the always durable Stephan Bonnar. Silva liked the idea of a super fight with welter weight champGeorges St. Pierre, a fight in which the UFC and spectators would love to see. However, it seems as though he will not get his wish just yet.Silvais renowned for his Muay Thai striking ability in which he has accumulated 20 KO/TKO victories. That's an impressive 61% of all his fights.  Anderson Silva recently turned down an 8 fight contract with the UFC and requested a 10 fight contract instead. While many were questioning whether or not Silva was nearing the end of his career, he had other plans and is coming back for more! Expect to see "The Spider" back in the octagon mid-2013.
~Georges St. Pierre (23-2)~
Considered the greatest welter weight champion of all time, he has notable victories throughout his career in the 170 pound division. GSP recently faced the Interim UFC welter weight champion, Carlos Condit, in which GSP won by a unanimous decision.  St. Pierre has Olympic level wrestling that he uses to control the direction of the fight and displays some of the best ground and pound in the sport today. After St. Pierre'sdominant victory over Condit, the talk of a super fight between Anderson Silva and GSP was all the buzz. In spite of this, GSPhas stated if he goes up in weight to fight Silva, he will have a rough time returning to the 170 pound division in which he is currently dominating. Instead, GSPhas his sights set on his long time challenger Nick Diaz. For anyone wanting to make a name for themselves in the welter weight division, GSP is the man to beat.
~Jon Jones (17-1)~ 
The UFC Light Heavy Weight Champion Jonny "Bones" Jones seems virtually unstoppable in the 205 pound division. "Bones" just fought in what many people considered the biggest challenge the young champion has ever faced, going toe to toe with Vitor Belfort in September. During this fight, Jones proved he was resilient to Belfort'sbrazilian jiu-jitsu and was able to counter-attack with his wrestling to control the octagon en route to an almost perfect record. His only loss came by illegal elbows which was very controversial. "Bones" just finished filming the latest season of The Ultimate Fighter. He will fight the opposing coach, Chael Sonnen, at UFC 158 in April 2013.
~Junior Dos Santos (15-1)~
He is the longest running UFC heavy weight champion in recent time. JDS faced former UFC Heavy Weight Champion Frank Mir last at UFC 146. The match ended in the second round via TKO (Punches). Junior Dos Santos is the best boxer in the UFC heavy weight division and perhaps the best boxer in the UFC today. JDS relies on his boxing to win fights; his speed, accuracy, and power are unmatched in the UFC heavy weight division. JDS is set to face off for a rematch against former UFC heavy weight champion Cain Velasquez at UFC 155 on Dec 29th.
    ~Nick Diaz (26-8)~
Nick Diaz has fought around the globe for multiple organizations holding the welterweight championship belt for the IFC, WEC, and Strikeforce. Diaz has fought for two weight classes, lightweight and welterweight. He also has fought two catch-weight fights at 179lbs and 180lbs. Nick Diaz just suffered a very controversial loss to Carlos Condit at UFC 143. He is a Cesar Gracie black belt in brazilian jiu-jitsu; however, relies on his boxing as part of his strategy to wear out his opponent. Nick Diaz's key to success is the mind games the fighter often uses in the ring to get inside of his opponent's head. Nick Diaz is a triathlete and his extreme cardio and unorthodox method of boxing allow him to drag fighters into deep waters and the fight eventually goes to the ground where he is able to dominate and normally end the fight. Nick Diaz currently has a standing offer to fight Georges St. Pierre, the current UFC welter weight champion, in UFC 158.
The sport of MMA will have many champions come and go over the years. Regardless of their weight division, training camp, fighting styles, or strategies, some fighters naturally stand out above the rest. When these warriors are able to prepare for and win the challenges set before them, they sometimes get set up with super fights and therefore become deemed as one of the best pound for pound fighters to have ever stepped in to the octagon. These five fighters have all made their mark in MMA and will forever be remembered as legends to the sport.
Watch Randy Couture share his top five pound for pound list in the video below.
Video courtesy of ufc.com