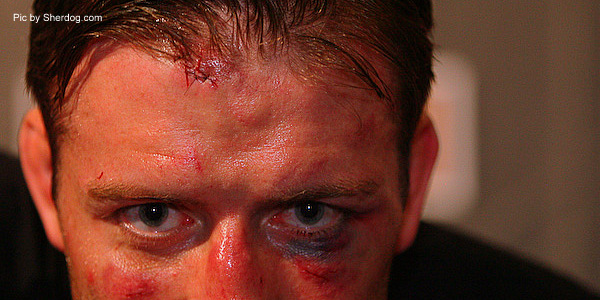 I'm back! This weekend I was out of town and of course all hell broke loose with mma news. So this is a special edition to get everybody caught up if you missed out like I did:
Stephan Bonnar and Dave Herman admit to taking the banned substances that prompted their failed drug tests at this past month's UFC 153 event.
Antonio Rodrigo Nogueira and Fabricio Werdum were named "TUF: Brazil 2" coaches, and Chael Sonnen named Dan Henderson one of his assistant coaches for "TUF 17."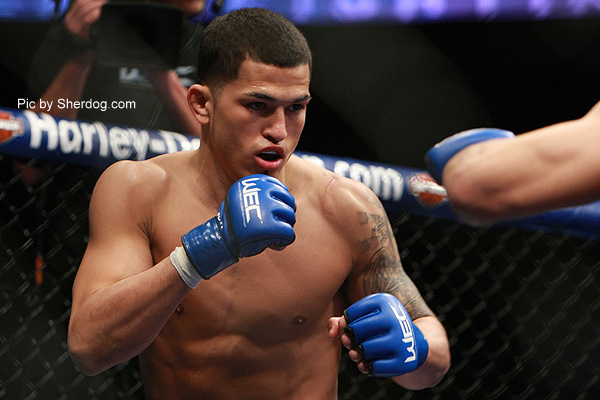 Anthony Pettis vs. Donald Cerrone targeted for Jan. 26, possibly UFC on FOX 6
The full Resurrection Fighting Alliance 4 payouts include:
Tyson Griffin: $16,000 (includes $8,000 win bonus) def. Efrain Escudero: $5,000 Chidi Njokuani: $6,000 (includes $3,000 win bonus) def. Phil Dace: $2,000 Marcio "Pe de Pano" Cruz: $12,000 (includes $6,000 win bonus) def. Joe Yager: $2,000 Lance Palmer: $3,400 (includes $1,500 win bonus)* def. Fredson Paixao: $1,600 James Krause: $8,000 (includes $4,000 win bonus) def. Guilherme Trindade: $1,500 Dakota Cochrane: $4,000 (no win bonus) def. Derrick Burnsed: $2,000 Sergio Pettis: $5,000 (includes $2,500 win bonus) def. Jimmy Jones: $1,000 Chris Holdsworth: $3,000 (includes $1,500 win bonus) def. Tyler Shinn: $1,500 Steve Mocco: $3,000 (includes $1,500 win bonus) def. Tyler Perry: $1,500 Cory Galloway: $1,000 (includes $500 win bonus) def. Jerry Shapiro: $750 Jordan Isordia: $1,350 (includes $600 win bonus) def. Joey Angelo: $750
WORLD SERIES OF FIGHTING 1 Results
Preliminary Card Results:
Dave Branch def. Dustin Jacoby via unanimous decision (29-28, 29-28, 29-28) –Gesias "JZ" Cavalcante def. T.J. O'Brien via submission (heel hook) at 1:03 of the first round –Josh Burkman def. Gerald Harris via unanimous decision (29-28, 29-28, 30-27) –Steve Carl def. Ramico Blackmon via submission (rear naked choke) at 2:11 of the first round –Brian Cobb def. Ronys Torres via split decision (28-29, 29-28, 29-28) –Tyson Steele def. Gregor Gracie via TKO at 4:52 of the first round
Main Card Results:
TYRONE SPONG VS. TRAVIS BARTLETT-Spong via KO at 3:15 of the first round
MIGUEL TORRES VS. MARLON MORAES-Moraes via split decision (30-27, 28-29, 29-28)
ANTHONY "RUMBLE" JOHNSON VS. D.J. LINDERMAN-Johnson via KO at 3:58 of the first round
ANDREI ARLOVSKI VS. DEVIN COLE– Arlovski via TKO at 2:37 of the first round
"UFC on FX: Belfort vs. Bisping" (or numbered, UFC on FX 7) will take place Jan. 19 with a four-fight main card and eight fights on the prelims. Middleweights Vitor Belfort (10-6 UFC) and Michael Bisping (13-4 UFC) will headline the card, with a co-feature between C.B. Dollaway (6-4 UFC) and Daniel Sarafian (0-0 UFC). Also on the main card are heavyweights Gabriel Gonzaga (8-5 UFC) and Ben Rothwell (2-2 UFC), plus a lightweight bout between Thiago Tavares (7-4-1 UFC) and Khabib Nurmagomedov (2-0 UFC).
Leonard Garcia vs. Cody McKenzie booked for UFC 155 preliminary card this December
Bellator grants Eddie Alvarez early release, now officially a free agent
UFC on FUEL TV 6 fight card and early-morning start times
Preliminary-card kickoff at 7:15 a.m. ET (4:15 a.m. PT) and a main card at 9 a.m. ET. UFC on FUEL TV 6 takes place at CotaiArena in Venetian Macau Resort Hotel. The main card, including a Rich Franklin (14-5 UFC) vs. Cung Le (1-1 UFC) middleweight headliner, airs on FUEL TV, and Facebook carries the prelims. A main-card replay airs later in the day at 7 p.m. ET. The full UFC on FUEL TV 6 card includes: MAIN CARD (FUEL TV, 9 a.m. ET)
Rich Franklin vs. Cung Le
Stanislav Nedkov vs. Thiago Silva
Dong Hyum Kim vs. Paulo Thiago
Mac Danzig vs. Takanori Gomi
Alex Caceres vs. Motonobu Tezuka
Jon Tuck vs. Tiequan Zhang
PRELIMINARY CARD (Facebook, 7:15 a.m. ET)
John Lineker vs. Yasuhiro Urushitani
Tom DeBlass vs. Riki Fukuda
Jeff Hougland vs. Takeya Mizugaki
David Mitchell vs. Hyun Gyu Lim
Watch the full Rich Franklin vs. Chuck Liddell fight in the video below.

Video courtesy of FuelTV and the UFC..