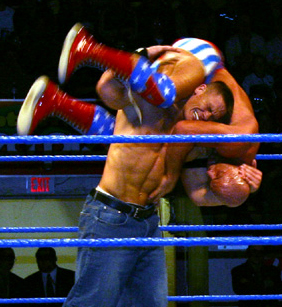 After a wild night on Raw, what's next for Daniel Bryan and The Authority? DB was handcuffed and beat down Monday Night on Raw.
Reports say that Bryan suffered a shoulder injury. Whether this is real or just story, DB was not on Smackdown this week.
Dark Match: Alexander Rusev beat Xavier Woods. Set for tonight: 4 way tag team match for number one contender spot. Plus, John Cena vs. Luke Harper
Kane comes to the ring and talks about what Triple H did to Daniel Bryan. He claims it was best for business. Video shown of the beat down. Kane yells at crowd. Kane then presented and read a letter from Triple H. The letter talked about having respect for the Authority.
Fernando def. Fandango. Poor Fandango has been resorted to these boring/filler/comedy matches. El Torito chased Summer Rae around the ring cause she was wearing a red dress. This caused a distraction and allowed Fernando to roll up Fandango for the win. Fandango and Fernando had a little dance off to start the match.
Bray Wyatt and Luke harper cut a promo on the Screen for the Cena match.
Dolph Ziggler def. Damien Sandow in a short match. This is just to keep up Ziggler's momentum for WrestleMania 30.
The Shield vs. Real Americans vs. Rybaxel vs. 3MB for the tag team number one contendership. Late in the match, Kane came down and attacked Roman Reigns putting the match at a no contest. Reigns and Kane battled on the stage until the New Age Outlaws came out to help Kane. The heel teams then beat down Rollins and Ambrose. This seems to be setting up The Shield vs. Kane and The NAO at Mania.
Miz TV. Miz announces he is entering the Battle Royal. His guest was The Big Show. Miz calls out wrestlers entered in the Battle royal: Kofi, Cody Rhodes, Del Rio, Titus, Big E, Goldust, Mark Henry and Sheamus. This led to an impromptu battle royal. Show eliminated Sheamus and Miz to win.
Backstage comedy skit with Santino Marella and EMMA. More filler. They do have decent chemistry together though.
Del Rio beat Big E in a non-title match in less than 5 minutes.. Del Rio is rumored to be leaving soon, so this makes no sense. Big E was getting pushed. Now, it looks like he is being pushed aside. The IC title feels stale.
Bella Twins def. Natalya & Summer Rae in a Divas match. The crowd seemed bored and broke out in a brief  "CM Punk" chant. Nikki tried to keep the crowd into it.
In a backstage segment, Kane meets with all the heel teams who assisted him in beating down The Shield earlier and Rybaxel and the Real Americans are rewarded future tag team title shots. 3MB are all entered in the Andre the Giant Memorial Battle Royal. The New Age Outlaws seem to be Kane's new body guards/muscle. I'm pretty sure that the NAO still get their tag team title rematch as well.
Lana and Alexander Rusev cut promo. He's coming soon…..
John Cena def. Luke Harper in a very short main event match before Bray could do anything. Cena ended up on the stage while the Wyatt family ended up in the rind. This is how the show ended.
Undertaker appeared in a dark match again like he did on Raw. Pretty much doing the same thing. Cena and Taker hit finishers to Harper and Rowan.
Ben McPhee (@mmawriter Twitter)