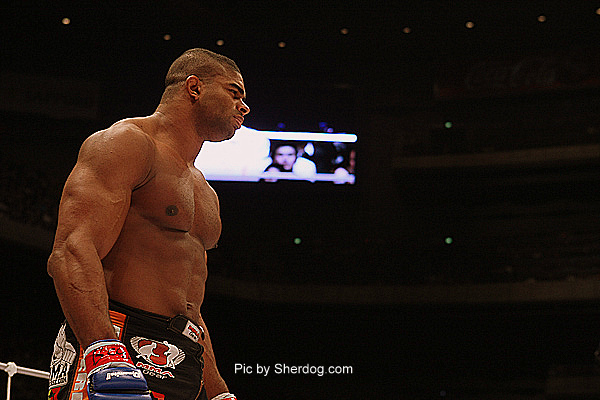 Alistair Overeem made his UFC debut back in December 2011 against Brock Lesnar and has long been at the center of controversy regarding performance-enhancing drug use accusations since then.  He was suspended by the Nevada State Athletic Commission earlier this year when a a pre-UFC 146 drug test was flagged for a 14-to-1 testosterone-to-epitestosterone (T/E) ratio, more than twice the 6-to-1 ratio allowed by the commission.
Rumors have it that Overeem might be back in the hunt for the heavyweight title sooner than later though. "The Demolition Man's" return to the Octagon at UFC 156 will be contingent on him getting licensed by the Nevada State Athletic Commission, but that's not necessarily going to be an easy task for him.
Overeem failed a random drug test from the commission back in March, leading to a nine month license denial that expires on Dec. 27. He will need to appear in front of the commission once again after he applies for a license for the event, and there's no guarantee. Optimistically we should expect to see him back in no time. I don't see him getting denied but you never know.
UFC President Dana White in October revealed Overeem is still considered the division's No. 1 contender and is welcome to wait for the Dec. 29 bout between current champ Junior Dos Santos and former title holder Cain Velasquez to determine his next appearance, which would be for the UFC heavyweight title. Overeem has since been called out by Antonio "Bigfoot" Silva. The former EliteXC title holder Antonio Silva (1-1 UFC) has been granted his wish, and the two are now expected to meet at February's UFC 156 event.
Silva recently told MMAjunkie.com he'd be happy to welcome Overeem back to action.
"If Overeem really doesn't want to have to wait for a fight after his suspension is up, I am here ready to welcome him," Silva today told MMAjunkie.com. "I respect him as an athlete. After all, he was K-1, DREAM and Strikeforce champion. But I am not worried about titles or belts right now. Overeem is big and strong, but I know I can beat him. Even if was created in the lab, I can beat him."
It looks like "The Reem" has one more obstacle in his way before he returns to octagon. The real question is, will he get re-licensed?
"Come Dec. 27, he's like any other fighter," NSAC executive director Keith Kizer said in comments made to the Las Vegas Review-Journal. "He's free to apply for his license. The commission will not do it administratively, however. He has to appear at a commission meeting."
"The commission can go any way they want to at that meeting. They could say yes, they could say no, they could say yes with conditions. All of that will be on the table, but nothing can happen as far as licensure until after (Dec. 27)."
View the devastating highlights of "The Demolition Man" in the video below.

Video courtesy of FlyWinEvolutionsEnt and all respective brands within the video.