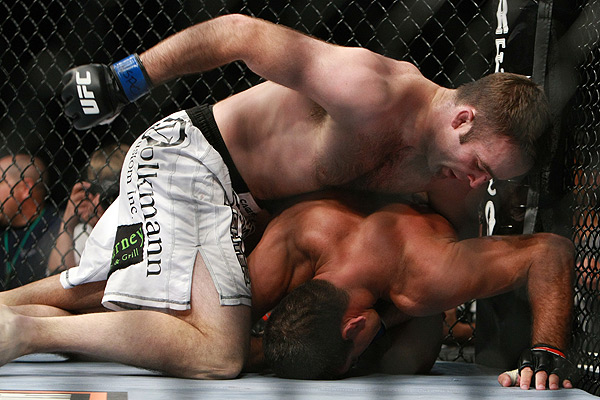 Recently, I was volunteering for a marathon at Fort Snelling when I saw UFC lightweight Jacob Volkmann get out of his car with his three kids near the checkpoint that I was assigned to. I couldn't believe my luck running into a fighter who had just had a five fight win streak snapped at UFC 146 to Paul Sass. He didn't seem bothered as I approached him. In fact, he seemed happy to be with his family and graciously agreed to let me interview him.
"I would like to fight right away because I got some bills to pay. I didn't get too damaged last time so there's no reason for me not to fight," said Volkmann. As a small business owner, Volkmann probably doesn't need to fight to pay the bills like many other fighters. "Well I like training, training is the fun part. The hard part or the worst part is the nerves from getting in the cage. But training is fun, and to get paid to train is great," said Volkmann.
In a sport that is relatively new, some still feel it is a blood sport and don't understand the level of professionalism, skill, and dedication it takes to work as a professional mixed martial arts fighter.  "I had one guy tell me he would never come in [for an adjustment at Volkmann Chiropractic] again when he found out I was a fighter. I got one client from fighting so it kind of evens itself out," said Volkmann.
Most of the fighters in title contention at the moment have losses throughout their careers. This is evidence of a very competitive and dangerous division. Many big names are squeezed in to the title picture at the moment and the pressure to fight big names can make the difference between a fighter who is ranked and one who is forced to trudge through the pool of middle talent for a while at first. But the ranking system exists for a reason. In this case, I believe Volkmann was simply caught by a dangerous opponent and should feel justified in asking for a name this time. "Well I don't really know anybody other than the main ones that make the cards, I don't really watch too many fights." He went on to explain that fighting keeps him up at night from the stress of watching the event and with a busy schedule of training for fights, running his chiropractic service, and raising a family on top of it, I can understand why he needs his sleep. "The only ones I know again are like Guida, Diaz, and all those other guys, including Maynard and Cerrone. I don't think they would give me one of those guys right after the loss though," said Volkmann.
Big changes in the UFC Light Weight division loom in the near future when on FOX4 on June 22, Gray Maynard will fight Clay Guida and at UFC 150 in Denver on August 11, the light weight championship will be determined between Ben Henderson and Frankie Edgar in a rematch. Both fights will headline their respective events. "Edgar doesn't have a prayer. He's too small. Edgar is now in the same situation as Maynard was after their second fight," said Volkmann who believes that Edgar was mentally defeated by Henderson in the same way Maynard was unable to put Edgar away in the second fight and ran in to the same problem in the third. "You could see it in his eyes," said Volkmann. Strangely I felt like I knew exactly what he was referring to. After the first round of their second fight, Maynard seemed to be hunting for the knockout shot, resigned to searching for a homerun hit against a man he couldn't find or exploit a weakness in. "Maynard kinda resorts to standing up in his fights when his strength is wrestling. Unless he goes back to being a wrestling based fighter I don't think he has a chance against Guida," said Volkmann.
Honestly, I have to say I would love to see Maynard vs. Volkmann. Both fighters have yet to be out muscled in the cage and regardless of the outcome between Maynard and Guida, it would make sense for both fighters at this stage of their careers. Besides, even though Volkmann was caught in a submission, it's hard to say he should start over in the rankings when he had just tore it up with a 5-0 win streak in arguably the toughest division in the UFC.
Volkmann is confident in his abilities and should not be overlooked by anyone who is placed in his path. At this point his opponents must be thinking one thought when watching tapes on Volkmann, "Can I stop him from taking me down?"
"Well I'm comfortable on my feet. Whenever I see an opportunity for a takedown I go for it. And there is always an opportunity. I don't really see anyone stopping the take down. They might stop the initial one but especially if I don't get it I'll switch it up and get it with a second shot or a body lock. I don't really feel like anyone can stop it," said Volkmann.
Politics is a subject Volkmann feels very invested in. And why not? He probably pays more taxes than most of us and has a family to consider on top of that. He's not happy with the Obamacare and doesn't believe Mitt Romney is the candidate to run against Obama and win. Romney was too much of a superficial middle of the road candidate to take enough votes at the end of day.
Many people have voiced criticism of Volkmann's political beliefs by saying that he wasn't qualified to discuss politics. I wonder how many people are harboring this sentiment? Unless they are a small business owner, taking care of a family of four, and working full time as a professional athlete, they probably aren't qualified to question his investment.
Check back with mma-freak.com for more exclusive news and interviews in the future.