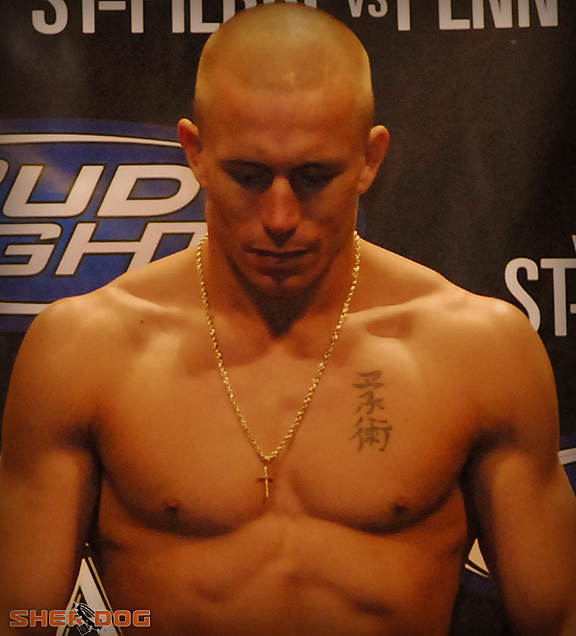 Last night GSP successfully defended his title for the first time in a while against Carlos Condit at UFC 154. Of course it wasn't exactly an easy accomplishment for the champ since he accrued more damage in this fight than he has become accustomed to in his recent title defenses. "I found the fire back, I had a lot of fun," said GSP at the post fight presser. "This time in the octagon I had a blast tonight. I was getting hit and it was painful but I had a lot of fun and I love my job."
While the undisputed welterweight champion was established last night, so was the next number one contender in the division. Johny Hendricks floored Martin Kampmann in the co-main event at the 46 second mark in the first round in almost the same manner he dispatched John Fitch in at UFC 141.
"It feels great to get this win," said Hendricks to Joe Rogan after the fight. "Martin Kampmann is a tough dude. I trained with him before and knew what he could do. I knew I had to go out there and beat him. I just started hitting that combo a few weeks ago. I want a shot at the title."
UFC President Dana White confirmed in the post-fight presser that Hendricks was the number one contender in the division. He also said he planned on calling GSP in 10 days to discuss possible match ups for him in the future. GSP seemed very reluctant to discuss his future much less a possible super fight with Anderson Silva. He even became irritated at a question asked by a reporter at the presser about what weight he would agree to fight Silva at, in the event the fight would be booked next.
"You know I'll fight anyone at 170 but the thing is what's pissed me off a little it is I haven't even came back yet," said GSP. "I'm fighting Carlos Condit and everybody talks to me about fighting Anderson Silva you know? This is disrespectful for me because it's disrespectful for my opponent you know? Give more credit to the challenger I have you know?"
GSP seemed open to fighting Silva if the middle weight champ could drop down to 170lb's and fight him at his natural weight class. He even brought up the fact that Silva had fought at an even lighter weight than 170 previously in his career. Therefore in his summation, a catch weight is not only unfair for him as the smaller opponent, but also unnecessary.
I believe GSP is telling the truth when he says he has an ectomorphic body type and would struggle with a task of fluctuating up to a catch weight. If this is the case, then Anderson Silva will have a choice to make. If he really wants to fight GSP, he's gonna have to drop weight and meet him at 170lb's.
Yet if GSP is sincerely fed up of hearing about a super fight between himself and Silva, he may have to solve this problem in the one way he has proven he can over the years. This isn't his problem. As long as he defends his title against all comers at 170, people need to adjust their expectations of the champ or accept disappointment.
Only in a perfect world will we get to see all the fights we want to, so let's hope that whatever decision is made by those involved with all this super fight drama, that it fits for GSP and Silva. Those two have earned the right to choose their destiny, and we should be content at this point with their performance.
Watch highlights from UFC 154 in the video below.

Video courtesy of the UFC.