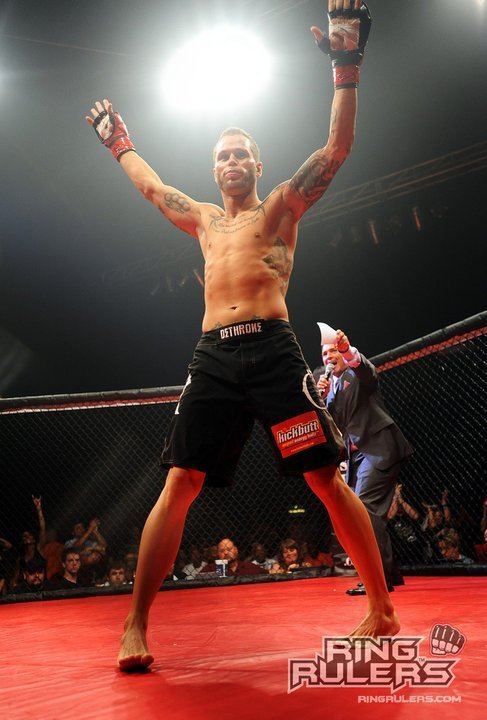 We are sitting here with one of the break out stars of the hit MTV reality show "Caged", Tony "PrimeTime" Kelley. In this interview, we discuss his typical day, the show "Caged," and wrapping things up with how he spends his free time. Prepare yourself as we enter the mind of "PrimeTime."
Q- I'm sitting here with Tony PrimeTime Kelley. How are you today, Tony?
A- I'm doing very well, thank you.
Q- Tony, can you briefly take us through a typical day with you? What's your routine heading into this fight, the week before the bout?
A- A typical day with me consists of waking up in the mornings to train, taking my dog to the park or for a walk, going for a run or workout, and then teach at night..and trying to squeeze some Xbox in when I can. Preparation for this fight is just all of that a lot more..you know the working out part.
Q- How has your life changed since the filming of MTV's Caged aired? Are you still close to any of the guys from the series?
A- Caged has helped me make a name for myself without a doubt, I still speak with all of the guys from time to time. Just got a little distance between us now with me living out here in California.
Q- Tony, how has the MTV show "Caged" helped or hindered your MMA career? 
A- I would say it's def helped with getting a little recognition for my career..and that's always a plus!
Q- Since the show aired, there has been many rumors about a "Caged" season 2. Was there ever any truth this?
A- I haven't heard anything about a season 2.
Q- After the show ended, you decided to pursue a professional fighting career versus your successful amateur fighting career. How hard was it to make this decision? 
A- Not difficult at all, I surrounded myself with people that are driven to success and work hard everyday for it and that is my goal..to be successful. Making the transition into the professional circuit was the best move in my opinion..working harder than ever consistently to get to where I'm destined to be.
Q- You have been successful since turning pro. Your next fight comes up at the The Pontchartrain Center in Kenner, LA, on April 26, 2013. What do you know about your opponent?
A- Yes sir, Unfortunately I don't know much at all, we have had a rough road with opponents leading up to this fight. I'm just thankful to have an opponent and be fighting back in my home state, Louisiana!! I'm fighting a guy named Kody Thrasher, I've prepared very well and I'm in very good shape, so I am ready to go!
Q- Have you done anything different to prepare for this fight?
A- Just pushed training harder and dieted much better.
Q- How do you see this fight playing out for you?
A- I see this fight going quickly…my way.
Q- If you could choose one opponent in the UFC, who do you feel would be a good matchup for you?
A- I feel like Hatsu Hioki would be a great matchup..right now as a 45er..as a 35er hopefully in the future I'd like Scott Jorgenson.
Q- Where do you see yourself in 5 years in this sport?
A- Top 3 Bantamweight.
Q- What do you do when you are not training for a fight? What do you do to relax and enjoy yourself?
A- I love to travel, spend time with my pooch, family and friends. I'm a thrill seeker so anything involved with adrenaline or fun count me in. I'm a nerd so I like Xbox and movies too.
Q- Anything else you would like to add?
A- Big thanks to my training partners in preparation for this fight
Reign
Michael Frison-Rampage Fitness Academy
Tyler Wombles-Kings MMA
Cotton Heritage
Pro27 Athletics
Elliott Fight Dynamics
Ritmo Mundo
Intimidation Clothing
James Burton Music Foundation
And thanks to all my family, friends, girlfriend, and all my fans who support me and stay reppin Team PrimeTime!!
Thank you, Tony. I really appreciate your time during this busy part of your training camp and just a week out from your fight. Seems the young fighter has come a long way since his days on the show by turning professional in his career and relocating with a strong team.
Remember to tune in or purchase tickets to his fight at The Pontchartrain Center in Kenner, LA, on April 26, 2013. Remember to follow my guest on Twitter at @TonyKelleyMMA and myself @MMADocket.
Tony, again I thank you for your time.