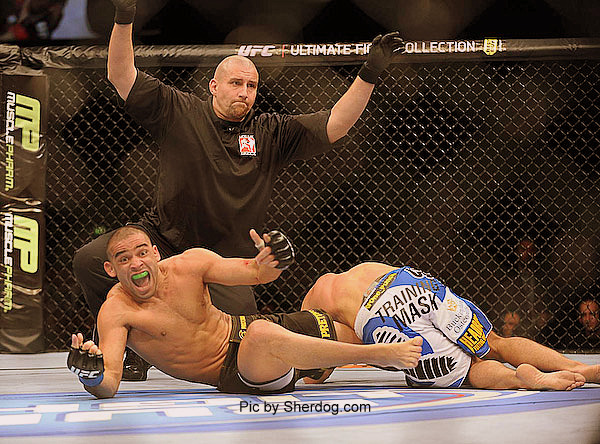 It was recently reporter that current UFC bantamweight champion Dominick Cruz injured his knee again and will be out even longer than scheduled.
"I was going in with the guy I was training with many times, all the time and we were moving, we were doing 50 percent movement drills with each other were basically working with each other shadow boxing … And on the mat that I was on, with my brace, I don't know man, I was moving and I went to hit a pivot, and the tissue just popped, I had some thoughts like, no way [this happened] just moving, because I've done so much more than that in [physical therapy] with my PT guy. I was shocked that it happened and it just popped. I had my couple days of crybaby time per se. I allowed myself to be mad and be sad and be depressed. And, you know, you reach this stage and there's no point, I've seen these tweets and it's been nonstop since the news broke. I would say 95 percent of the tweets are very positive and very uplifting and they have your back… If the fans out there could know how much that helps me, thank you guys so much … I do this for you guys and I'm in a hurt spot right now… The love that I get from the fans right now is really keeping me up and keeping my optimistic. The glass is full right now, the fans want to see me back and that means everything to me."
At the UFC 154 post fight presser, Dana White mentioned a possible title fight between current UFC Interim bantamweight champion Renan Barao and young prospect Michael McDonald if Cruz was going to be sidelined.
"I was ok with the news because a lot of people were already speculating that I wasn't going to face Cruz," Barao said in an interview with MMAJunkie.com. "I wasn't that focused on him. I'll be prepared for whoever they put against me. My goal was to fight [Cruz] because I wanted to unify the belts, but unfortunately he isn't in any condition for that."
The Interim UFC Bantamweight Championship will be defended in early 2013 with a yet to be determined date. In a report on Tuesday's new edition of UFC Tonight on Fuel TV, UFC President Dana White confirmed that current Interim Champion Renan Barao will defend his title against top prospect Michael McDonald sometime after the new year. McDonald put himself on the radar with an impressive knock out of Miguel Torres at UFC 145, and now will be given the chance to become the youngest champ in UFC history.
"I already had it in my mind that I could fight McDonald," Barao said. "He's coming off of good wins and good knockouts. It makes sense. I really wanted to face Cruz, but this injury doesn't affect me in any way. I never stop training, and I'm here to fight anyone. I will always give it my best."
Watch Barao take out Brad Picket (also pictured above) in the video below.

Video courtesy of the UFC and YouTube uploader Renan Barao.
With Cruz sidelined, Should this fight happen?