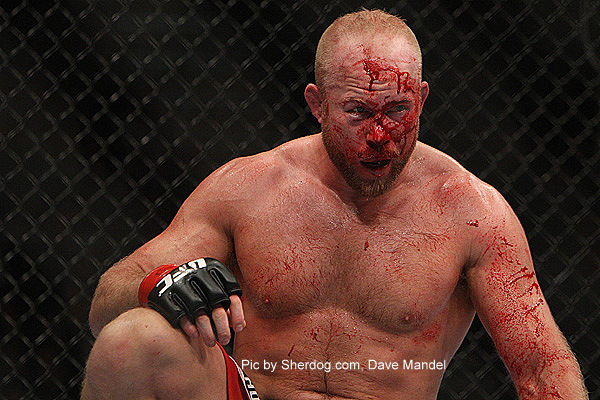 "[The middle-weight] division where there were so many guys coming up,[where people were saying] this guy should get a shot, that guy should get a shot," said Dana White at the UFC 155 post fight presser last night. "You know a couple of the guys lost tonight. If Bisping can beat Belfort, that's a tough fight for Mike, he deserves the shot at Anderson."
Talk about the middle-weights sprang up last night when two of the division's top contenders lost decisively, seeing two dominant four fight win streaks snapped. Firstly, Tim Boetsch dropped a TKO loss in the third round to Constantino Philippou after beating the likes of Yushin Okami and Hector Lombard.
What's sad is he looked good initially in his fight with Philippou. He took the first round through a dynamic and balanced wrestling attack that Philippou didn't seem to have an answer for at first.
During the one minute break between the first and the second round, Joe Rogan said he overheard Boetsch's corner say, "I know it hurts, but take him down before it gets worse."
Everything went wrong for Boetsch in the second round when an accidental head-butt and an accidental eye poke had turned him in to a fighter who was fighting for survival.
It became painfully clear Boetsch was struggling physically when he began pulling guard and in the third round, the referee stepped in to stop Philippou from a ground attack since Boetsch wasn't intelligently defending himself and just didn't seem to have anything left.
Even though Philippou had a great performance tonight, he will need to string together a few more of these types of wins to make a case for a shot at Silva. "Yah he did he stopped Tim Boetsch," said Dana when asked about Philippou's place among the middle-weights. "The first two fights were horrendous. I was going to throw a chair in there. Beating Boetsch tonight was big for him. That was a big fight."
Alan Belcher was also in the mix for a title shot right up until Okami put his hands on him, which began a one sided wrestling match for three round. Miraculously, Belcher threw an elbow from underneath Okami's mounted position and appeared to have dropped Okami unconscious on top of him. But the fight ended and the ref stopped the action. Okami walked away with the victory, and Belcher will have to go back to the drawing board.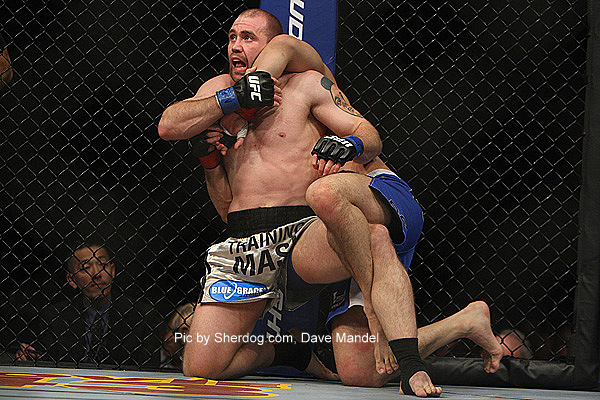 Now that the middle-weight division is a little thin at the moment, it didn't take long for the press to ask Dana White on his thoughts on Anderson Silva and the title picture. "Weidman is still going to come back," said Dana. "He's hurt and he'll come back, you know." Of course until then, Silva may want to take a fight since he just signed up for a longer contract than any UFC fighter in its 19 year history.
"He'll sign a ten fight deal," said Dana. "I don't think we've ever done a ten fight deal. Maybe we did one with Forrest once or something like that. But Anderson said, 'I want a ten fight deal not an eight fight deal.' I'll give him a one hundred fight deal if he wants one."
Fans may be surprised to hear that Michael Bisping seems to be the only plausible choice for the UFC to pit against Silva right now. Therefore it's very important he beats Vitor Belfort at the UFC on FX event on January 19th, if anyone wants to see an Anderson Silva fight anytime soon at least. Especially considering Belfort doesn't look like he will get the nod if he wins that night.
"I don't know," said Dana on Belfort's place in the division should he beat Bisping. "That fight was so one sided and so fast and so decisive, it's tough to throw Vitor back in there. Especially when you're dealing with Anderson. Anderson's gonna wanna fight new guys and new challenges."The Spider himself said he believes Bisping would be next in the division, when he talked to Airel Helwani in an interview for Fuel TV at UFC 154.
Everyone is forgetting about one man apparently. He's undefeated, and a champion himself. A champion without a home. That's right, Luke Rockhold will be coming over and if history repeats itself, champions under the Zuffa banner are generally granted a title shot upon entering the UFC. Of course nothing is for certain in a sport where hype, titles, and win streaks are all factors taken in to consideration when choosing a candidate for number one contendership.
Watch Dana White share thoughts with the media, right after UFC 155.
Video courtesy of mmaheat.com