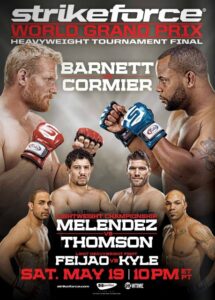 This next week is easily the most active for the heavyweight division in all of combat sports of all time. Strikeforce will be finishing up the Heavyweight Grand Prix at the HP Pavilion in San Jose, California, at 10PM ET/PT on Showtime. Josh Barnett and Daniel Cormier will vie for the position of Tournament champion and a red carpet introduction in to the dangerous heavyweight division in the UFC.
Then next Saturday UFC 146 will host most of the top ten heavyweight fighters in the world as some battle it out for title contention and others to simply keep their job. The event will be headlined by Junior Dos "Cigano" Santos who will be defending his belt against Frank Mir. A lot will happen in the next week and a lot will change. The ranking system for one will see a huge shift. I'm sure everyone's top ten lists will be completely different soon. This leads to some interesting situations.
Let's take the Josh Barnett vs. Daniel Cormier fight.
These two are not fighting for a belt but considering the chaotic and highly competitive heavyweight environment in the UFC, they could be fighting for a valued contender position within their future home for all we know. The MMA scene is just brimming with talent. Fighters are fighting to keep their contract with the UFC while others are fighting to get in. These are some of the highest stakes in any sport around the world. What other sport will see athletes lose their job after suffering a couple lost matches? The UFC for one is notorious for basing its decisions on performance, and it should.
In my opinion, this is a pick-em fight. Daniel Cormier has outstanding wrestling and in his last fight proved his hands are heavy as well as he walked through "Big Foot" Silva. On the other hand Josh Barnett has enough experience and high caliber wins under his belt to be a threat to anyone, especially someone who is relatively new in the sport. But if I'm a betting man I would have to choose Cormier as the victor, and I'm going with a second round knockout. Don't get me wrong I would never rule out Barnett, especially with the impressive tare he has been on. I just don't think he has much left to offer honestly. Cormier's wrestling pedigree will allow him to dictate the pace and his punching power is hard to avoid in a three round war.