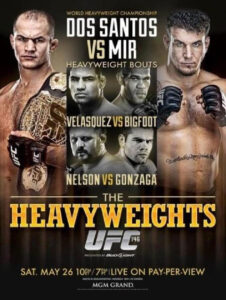 The entire main card of UFC 146 will feature heavy weights. For those that don't know where Alistair Overeem is on Saturday's fight card, well a random drug test found a testosterone / epitestosterone level of 14-1 ratio in his system. The average human has a 1-1 ratio and athletic commissions only allow 6-1. Once this happened the fighters had to adjust since Frank Mir was pulled from his title elimination match with Cain Velasquez to fight Dos Santos and everyone else was shifted accordingly to accommodate the situation.
I'm sure Dana White and Joe Silva had their reasons to make a bunch of changes for the heavy weight match ups and I'm sure they were thinking about the heavy weight rankings while making these tough decisions. Keep in mind every heavy weight on the card is ranked and therefore each win or loss affects what level of competition they are placed in. Once a guy ranked as high as Alistair is completely removed from the picture, a major shakeup is necessary to preserve the integrity of the rankings.
Before I go on to discuss the fights here is the last bit of sad news. Mark "The Super Samoan" Hunt and Gabriel "Napao" Gonzaga both withdrew from there respective fights due to injury. Hunt was originally scheduled to fight Stephan "Skyscraper" Struve. His story is a very interesting one these days and is one of the most compelling come back stories in recent MMA history. Enter the heavy weights…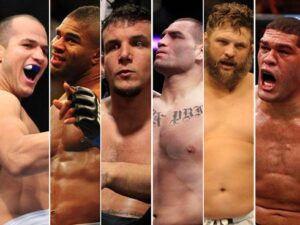 Headlining the event this Saturday will be Junior "Cigano" Dos Santos vs. Frank Mir. To me the issue is simple. As Junior put it in an interview with the UFC on Primetime, Mir just isn't fast enough. The reason Mir has this title shot is because he is the easiest to hype. Technically, Cain Velasquez is a better option in my opinion even though he just lost the belt and Mir is on a three fight win streak. The reason is because Mir has created an illusion. He has everyone convinced he is a top heavy weight fighter these days when in reality, he is a top heavy weight gate keeper. He destroys midlevel competition but then every time he is given a top five level opponent he is crushed. His submission game is scary but to transition from standing to the ground he will have to accomplish two things against Junior on Saturday. Number one: Establish his striking game to set up take downs. Number two: Move quicker than he has in years. My Prediction: When Junior Dos Santos catches him with a punch he won't be able to get lucky like he did with Big Nog. I hope the best for Frank Mir but I think he is going to get hit and go down hard.
Cain Velasquez vs. Antonio "Bigfoot" Silva is the second to last fight of the night. Both men need a win and both are coming off a loss. Initially Dana White said the winner of Cain Velasquez vs. Frank Mir would decide the next challenge for the champ. Now that Bigfoot has stepped in to take Mir's place, I doubt he is given the same opportunity. I'm giving this one to Cain. He was running through the heavy weight division before he was caught with a punch by Junior. Bigfoot has never faced a top five fighter, much less the second most dangerous heavy weight in the sport in my opinion. I'm giving this one to Cain by ground and pound.
Roy "Big Country" Nelson vs. Dave "Pee-wee" Herman should be an interesting fight. Both fighters are notorious for hanging in there when other fighters might have gassed out or finished. I still don't understand how a six foot fat guy can hang in there with giants but somehow big country has done a decent job at it. Unfortunately he hasn't done as well as he could've and I think other fighters are going to continually capitalize on the size disadvantage. My prediction: Dave Herman by unanimous decision.
Stipe Miocic vs. Shane Del Rosario is a very interesting matchup. Both fighters are young, dangerous and undefeated. Stipe's fight record is impressive. At one point he was riding a ten fight knockout spree. I refuse to pick a winner in this one. As long as Shane has adequately recovered from his car accident, then I see this fight being a competitive one.
Stephan "Sky Scraper" Struve vs. Lavar Johnson will feature two men who would rather stand and bang in the middle of the octagon before considering going to the ground. I'm giving this one to Lavar. Stefan has been getting drawn in to slug fests his whole career and if he chooses to go down that road with Lavar it will be a mistake in my opinion. My prediction: Lavar by knockout in the second.
This wraps up the heavy weight tustles. My favorite aspect of this sport is every man has an opportunity to prove all the doubters wrong on Saturday night. May the best men win.