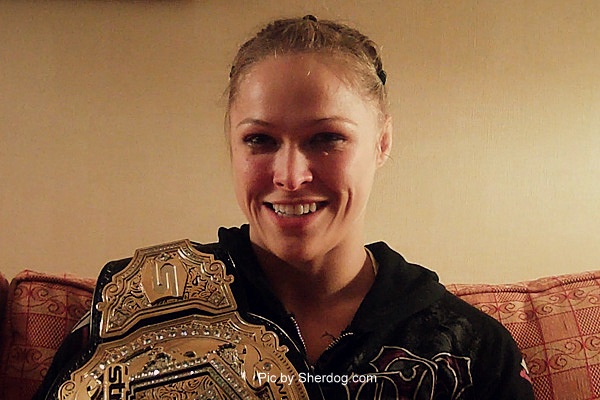 Big news broke last night through TMZ that Ronda Rousey (6-0 MMA, 4-0 SF) will become the UFC's first female champion, with her 135-pound Strikeforce title now becoming the UFC's women's bantamweight title.
An opponent for her first title defense in the UFC will need to be taking care of and will make that opponent the second female UFC signee. Report came out from Miesha Tate via her twitter that she was the second signed UFC female fighter, but there is no news to confirm that at the moment.
Invicta Fighting Championships, also known as Invicta FC, is an American mixed martial arts (MMA) organization focused on female fighters.It was founded in 2012 by Janet Martinand former King of the Cage, World Fighting Alliance, International Fight League, Affliction Entertainment, UFC and Strikeforce executive Shannon Knapp.
Invicta is the top and only organization dedicated to women's mma. Now the big question is, what will Invicta do without the top female fighter in the world? Invicta has some top fighters in Marloes Coenen, Romy Ruyssen, Shayna Baszler and Sara McMann, but none of them are Ronda "The Arm Collector" Rousey.
Invicta's ratings and fan base has been decent but nothing to write home about as of late. Even if you're not an mma fan, you know or have heard of Ronda Rousey. She is a house hold name whether anyone likes it or not, and the fact that she is now with the UFC tells me that Invicta might die out sooner than later.
The UFC has signed Rousey and it seems like they are just going to use Rousey for potential "super" fights with Cristiane "Cyborg" Santos etc.,  and not actually start a woman's UFC weight-class. This is actually good news for organizations like Invicta. Reports broke last night as well that Strikeforce's last event will be held in January, so that leaves a lot of woman Strikeforce fighters looking for jobs and what a better place to land than in Invicta.
It sounds like Invicta will be the "prep" school for Rousey's next victims. I think the fact that Invicta will never see fighters like Cyborg or Rousey will hurt them in the long run though.
The UFC didn't start a home for woman's mma but instead just gave Rousey the "penthouse," which makes me confident that woman fighters will still call Invicta FC home for awhile longer. They should have nothing to worry about unless they have to face "The Arm Assassin" later in their career(s).
Watch the poetic highlight reel of Invicta's first event in the video below.

Video courtesy of Invicta FC and MMAFighting..