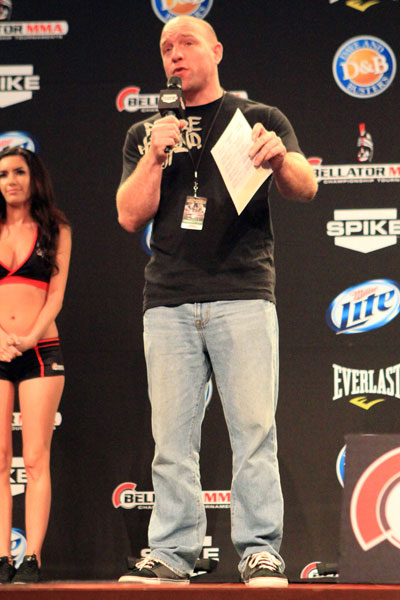 Jimmy Smith at Bellator 86 Weigh-ins. Pic by SHERDOG.COM -click for source- Credit: Jeff Sherwood
The weigh-in and pre-fight press conference for Bellator MMA will take place Thursday at 5:00 p.m. CST at Exhibit Hall A & C inside US Cellular Center (370 1st Ave E, Cedar Rapids, IA 52401). Bellator MMA will take place from the US Cellular Center on Friday, October 18th with the first fight taking place at 6:00 p.m. CST and streaming LIVE on Spike.com. The televised portion of the night will begin at 8:00 p.m. CST and will air LIVE on Spike TV. All participants from Friday night's event will be on hand, as well as Bellator CEO & Chairman Bjorn Rebney.
The event will be emceed by Bellator cage announcer Michael C. Williams and Bellator color commentator Jimmy Smith. As always the weigh-in is open to both the public and media.
MAIN CARD:
Bellator Welterweight Tournament Semifinal: Brent Weedman (22-8-1) vs. Rick Hawn (16-2)
Bellator Welterweight Tournament Semifinal: Ron Keslar (10-3) vs. War Machine (14-4)
Middleweight Feature Fight: Kendall Grove (18-13) vs. Joe Vedepo (14-6)
Heavyweight Feature Fight: Eric Prindle (8-3) vs. Peter Graham (8-5)
PRELIMINARY CARD:
Welterweight Feature Fight: Paul Bradley (20-5) vs. Karl Amoussou (16-5-2)
Lightweight Feature Fight: Rod Montoya (15-15) vs. Paul Sass (13-2)
Featherweight Feature Fight: Rob Emerson (12-10) vs. Jared Downing (9-3)
Catchweight Feature Fight (160lbs): Brandon Girtz (9-3) vs. Mike Estus (3-0)
Featherweight Feature Fight: Derek Loffer (4-1) vs. Cliff Wright Jr. (7-5)
Featherweight Feature Fight: Andrew Tieva (6-0) vs. Chris Lane (8-10)