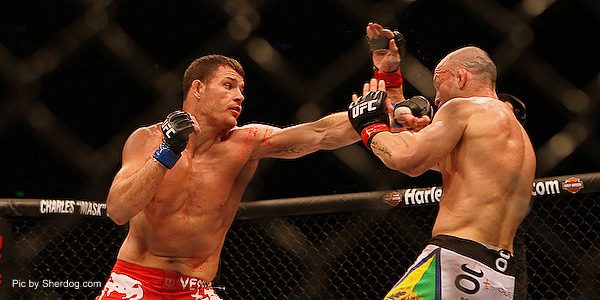 The UFC just announced Michael Bisping vs. Vitor Belfort is set for an undisclosed fight card sometime in 2013. Personally I believe Bisping is up for a title shot and with Belfort's three fight win streak in the middleweight division (albeit a recent loss to LH Champ Jones), this would set up a perfect elimination fight for a shot at "The Spider" Anderson Silva.
Of course Tim Boetsch vs. Chris Weidman is also easily a fight worthy of top contender status in the middle weight division as well. So it will be interesting to see what happens when those two face off in the co-main event at UFC 155: Dos Santos v. Velasquez 2 on December 27th.
I would love to see Bisping vs. Belfort in the co-main event on a stacked card. I'm still a little spoiled from the gold ol' days when fight cards in the UFC would easily host two or even three big fights per card. If you are still hung up on my initial statement about Michael Bisping's place as the number one contender, I'll explain myself.
Bisping has been fighting and winning consistently at the top level of the mixed martial arts world for a long time in a division historically known for not allowing contenders to maintain dominant footholds for long. It's bad enough Anderson Silva continues to routinely defeats anyone put in front of him since he took over in 2006. Yet if you discount a close decision loss to Chael Sonnen that arguable should've went the other way, Bisping has been wrecking contenders with a 5-1 record in the last couple years and he knows it.
For someone to dethrone the champ, they will need a special type of confidence I believe Bisping possesses at this point in his career. The reason cheaters like Stephan Bonnar and Sonnen lose to Silva is because they know they can't beat him. That mindset is betrayed by their choice to use steroids.
If you don't believe Bisping will make take it to the champ, then read this statement he made below in a candid conversation reported by mmamania.com after his latest win against fellow top contender, Brian Stann.
"The winner of Boetsch v Weidman is the natural fight and if I was playing it smart, I'd sit on the sidelines and fight one of them," Bisping said. "I match up really well with both of them. Weidman's stand-up is very very poor, it's not good at all. He's a very good wrestler, very good grappler, but I do well against those guys. I'd get back to my feet and knock him out. Boetsch I don't particularly rank at all. He's just a tough bastard! I'd have my way with him all day. So if I played it smart I'd wait for them to fight at the end of the year, maybe fight the winner in March/April, but I'm not prepared to do that. This is the way I make a living and I want to fight. I want to fight somebody else in the meantime. I'll take my chance. If I win, great. If I lose, I don't deserve a title shot anyway. I want to fight in January or February. I'd like to fight three or four times a year." (mmamania.com reporting)
Listen to Bisping's hilarious thoughts on Anderson Silva's lack of quality opponents and Hector Lombard's inadequacies as a top contender in the video below.

Video courtesy of mmafighting.com..
By Gabe Keith ~ Senior Editor
Follow the FREAK on Facebook!