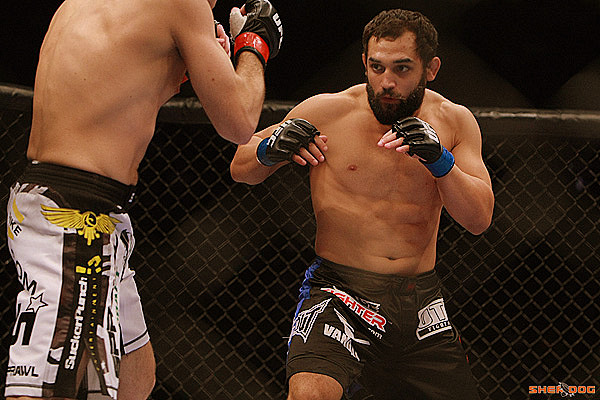 Alright MMA Fans, it's that time again to get your coffee ready or grab your Hungry man TV dinner out of the microwave and get caught up on all the MMA news you might have missed this past weekend.
It was a great weekend of fights and we witnessed the long-awaited return of UFC welterweight champion GSP, and then witness him say he needed a vacation. Vacation? Really? You haven't fought in over a year and now that Condit actually made you fight and almost finished you to boot, you need a vacation?
That is the most pathetic thing I have ever heard. Anderson Silva said in a post-fight interview that he wants GSP next and does not want the Jon Jones fight, but in the long run he is a company man and will do what his company and boss wants to see.
"Georges St-Pierre for my next fight? Maybe," Silva said. "Jon Jones? No. This is not real. But this is not my decision. It's Dana's decision. I'm here for fight. I work for UFC."
Dana White said in a post-fight interview on Fuel TV that he's eyeing a potential May date for the "super fight" between GSP and Silva, possibly in Toronto, Dallas, or Brazil, though, he added, "I wouldn't rule out that Georges fights one more time and then fights Anderson."
GSP may want a vacation, but White says differently and believes to be a true fighter in the UFC, you need to keep fighting to stay in fight shape.
"I don't think 'GSP' is too jazzed about anything right now," White said. "His head's all lumped up, his hands hurt. He was tired in that fifth round. He said it tonight, what I've been saying leading up to this fight, the only way you stay in fighting shape is by fighting."
Watch the highlight of Condit's kick on GSP and the post fight interviews with Joe Rogan in the video below.
Video courtesy of the UFC.
UFC 154 Results:
Darren Elkins dominates Steven Siler to take unanimous decision
Ivan Menjivar taps Azamat Gashimov with armbar in the first round
Matt Riddle outstrikes John Maguire to take unanimous decision
Antonio Carvalho earns narrow split over Rodrigo Damm
John Makdessi jabs his way past Sam Stout via unanimous
Cyrille Diabate stuns Chad Griggs and gets early submission win
Illegal strikes give Patrick Cote DQ win over Alessio Sakara
Pablo Garza survives thrilling first, grinds out Mark Hominick unanimous
Rafael dos Anjos dominates Mark Bocek for unanimous victory
Francis Carmont escapes with controversial split decision win over Tom Lawlor
Johny Hendricks crushes Martin Kampmann with one-punch KO
GSP defeated Condit via unanimous in anticipated return
Headline Re-caper:
Johny Hendricks, Ivan Menjivar, Georges St-Pierre and Carlos Condit each earned $70,000 bonuses for their performances at Saturday's UFC 154 event. Hendricks earned the "Knockout of the Night" award, Menjivar won the "Submission of the Night" bonus, and St-Pierre and Condit picked up "Fight of the Night" honors.
Saturday's "UFC 154: St-Pierre vs. Condit" card drew an announced attendance of 17,249 fans for a live gate of $3.143 million
John Maguire plans return to middleweight following UFC 154 loss to Matt Riddle
UFC 154 KO of Kampmann puts Hendricks next in line for welterweight title shot
UFC boss says Renan Barao to defend interim belt, possibly against Michael McDonald
Dana White not taking Bonnar's call after positive test, Dave Herman agrees to treatment
Rousey first UFC women's bantamweight champ, 'Cyborg' not invited unless at 135
Nick Ring and Constantinos Philippou awarded show money
Dana White calls for Cote vs. Sakara rematch
Cage Warriors 50 adds bantamweight bout between Wilson Reis and Owen Roddy
UFC boss Dana White confirms move to Hard Rock was retaliation for credit cut at Palms
Nick Diaz to Georges St-Pierre after UFC 154: "I am not impressed by your performance"