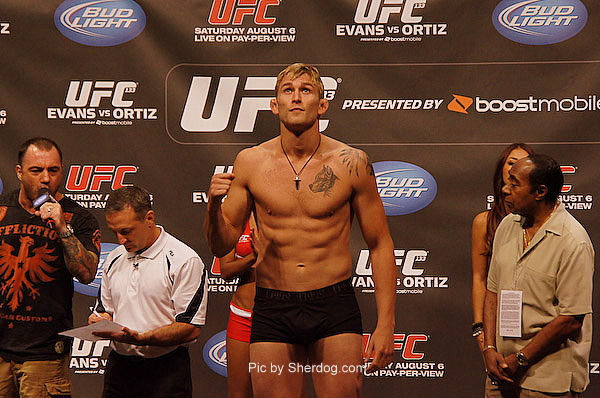 This past weekend we witnessed the best, free/televised UFC card, a wild XFC card with Nick Newell, plus other exciting news. I also want to take this time to thank all my true fans for all their support this past weekend as some wannabe mma fans were hating on my great articles. For all you "fake-ass" fans who can't even tell me what the UFC stands for, go back to your day job of criticizing everybody for doing something that you yourselves can't. Thanks you to all my real fans for their support everyday.
So sit back, grab your coffee or your after work beverage, and get ready for another edition of the MMA Weekend Recap brought to you by MMA-Freak.
UFC on FOX 5 Resutls:
Main card: Benson Henderson def. Nate Diaz via unanimous decision retaining lightweight title
Alexander Gustafsson def. Shogun Rua via unanimous decision
Rory MacDonald def. B.J. Penn via unanimous decision
Matt Brown def. Mike Swick via second-round KO
Undercard:
Yves Edwards def. Jeremy Stephens via first-round KO
Raphael Assuncao def. Mike Easton via unanimous decision
Ramsey Nijem def. Joe Proctor via unanimous decision
Daron Cruickshank def. Henry Martinez via second-round KO
Abel Trujillo def. Marcus LeVesseur via second-round TKO
Dennis Siver def. Nam Phan via unanimous decision
Scott Jorgensen def. John Albert via submission (rear-naked choke)
XFC 21 Results:
Nick Newell defeated Eric Reynolds by submission (Rear Naked Choke) at 1:22 of the first round to become the new XFC Lightweight Champion.
Ryan Thomas defeated Corey Hill by Submission (Arm Bar) at 2:34 of the first round.
Stephanie Eggink defeated Heather Clark by Unanimous Decision 29-20 30-27 30-27
The rest of the card main card was as follows:
Marcus Finch defeated Dustin West by knockout (strikes) at 0:46 of RD1
Ricky Rainey defeated Donny Wallace by TKO (punches) at 1:42 of RD1
Jarrod Card defeated Keith Richardson by submission (guillotine choke) at 0:24 of RD2
Non-Televised:
Gerric Hayes defeated Jason Blackford by TKO (strikes) at 2:56 of RD2
Tommy Roberts defeated Josh Phelps via TKO at 3:07 of RD1
Jorge Medina defeated. D.J. Sidthilaw-Browning via submission (rear-naked choke) at 2:36 of RD2
Cromwell Stewart def. Zachary Hicks via split decision
Headlines:
USA TODAY: After brutal beating, B.J. Penn should hang up gloves
UFC on FOX 5 ratings: Overnight numbers show 3.41 million viewers
Diaz credits Henderson for vision-blurring punch, says Melendez next in line
Following UFC on FOX 5 win, MacDonald wants to reclaim what Condit stole away
Penn goes to hospital after loss to MacDonald, UFC boss White wants retirement
UFC on FOX 5 draws announced attendance of 14,412 fans for $1.5 million gate
UFC on FOX 5 bonuses: Jorgensen nets $130,000, Edwards, Albert get $65,000 each
Dana White thinks Anthony Pettis deserves Ben Henderson fight
Fight News:
Ronda Rousey vs. Liz Carmouche Headlines UFC 157
Bader vs. Matyushenko, Mitchell vs. Thoresen added to UFC on FOX 6 in Chicago
Gustafsson not waiting for title shot, could replace Henderson vs. Machida
Ex-UFC champ Andrei Arlovski books December return to Russia vs. Mike Hayes
Tyrone Spong vs. Remy Bonjasky GLORY kickboxing fight moved to March
Daly-Kankaanpaa, James-Philpott added to December's Cage Warriors 51 event
Brandon Hempleman to meet Paul McVeigh in Cage Warriors 50 headliner
With champ Melendez out, Healy vs. Masvidal expected at 'Strikeforce: Champions'
Brendan Schaub vs. Lavar Johnson now targeted for UFC 15
TUF semifinalists Neil Magny and Jon Manley targeted for UFC 157
Yaotzin Meza replaces Hacran Dias, meets Chad Mendes at Friday's UFC on FX 6
Quotable's:
Dan Henderson refutes Dana White, says he's "slowly picking training up" for expected UFC 157 bout with Lyoto Machida
Ben Henderson: "If you want this title, you have to take it from me, I'm not going anywhere".
Rory MacDonald: "People could love me or hate me. I fight for myself because I love it. I don't care (about people booing). As long as I fight well, and I think I did, if they don't like me, I can't do anything about it. I just have to be me."
Cesar Gracie on Ben Henderson/Melendez: "I think that's the fight they should make," Gracie said about a possible Melendez vs. Henderson title bout. "Obviously it's not up to me … Gilbert's the champ over there, he's been in Strikeforce forever, and that would be a great fight. He's beaten the guys: he's beaten the Clay Guida's and all these other guys and he's a tough guy. I'll tell you: that would be a scrap. He's kind of like a Ben Henderson with that scrappy, fighter style … I think it would be a really good fight."
Misc:
After UFC on FOX 5 title defense win, Henderson mostly mum on toothpick issue
Mike Dolce takes issue with GSP trainer's comments on No. 1 contender
UFC Champ Ben Henderson credits Alex "Bruce Leroy" Caceres for knee punch employed against Nate Diaz
Fights to make after UFC on Fox 5:
Dennis Siver vs. Cub Swanson
Abel Trujillo vs Daron Cruickshank
Joe Proctor vs. John Cholish
Ramsey Nijem vs. John Makdessi
Mike Easton vs. Brad Pickett or Yves Jabouin
Raphael Assuncao vs. Bryan Caraway
Yves Edwards vs. Jacob Volkman
Aaron Simpson vs. Mike Swick or a rematch with Paulo Thiago
Matt Brown vs. Mike Pierce or Dan Miller
Rory MacDonald vs. Carlos Condit II or MacDonald & Koscheck or MacDonald and Hendricks
Gustafsson vs. Machida or Machida/Henderson winner
Nate Diaz vs. Gray Maynard II
Ben Henderson vs. Cerrone/Pettis winner or Gilbert Melendez
Question's of the week:
Should Dominick Cruz be stripped of his title?
Should B.J. Penn hang it up for good?
Who should Ben Henderson Fight next?
Watch the UFC on FOX post fight press conference in the video below.
Video courtesy of ufc.com.