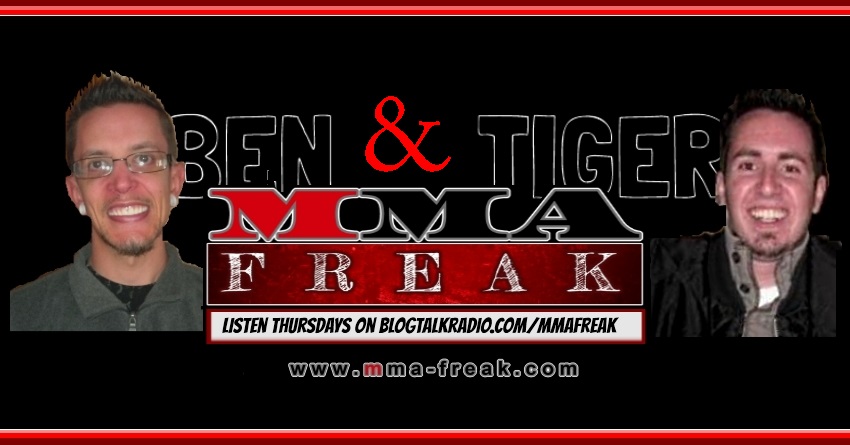 Welcome back fans! It make your momma's proud time once again. Myself and my badass co-host Tiger Taylor have an awesome show planned for you guys tomorrow. We have had some problems with our current provider and hope our reception is on par tomorrow. We will be going live at 7 pm ET/4 pm PT.
Also tomorrow, we will have our first give-away sponsored by one of our twitter buddies Aggressive Athletics @Agrsv_Athletics. Make sure to follow them on twitter. In the span of an hour tomorrow we will be giving away two Aggressive Athletics shirts. The winner gets to choose his or her size as well.
~ How do you get a shirt ~
I will ask some trivia questions, then the first caller that calls in with the correct Answers will have a chance to win a shirt. The number to call in tomorrow is (213) 816-1647, so be ready. Hope your MMA knowledge is top notch cause I don't mess around. My questions will be aggressive!
~ Tomorrows line up ~
UFC 159 Recap- Sonnen/Jones, what the future entails, etc.
'Special Aggressive Athletics give away
Tiger's Uncaged: Tune in to see what Tiger has in store this week. He never disappoints.
MMA-Freak of the Week Voting
Plus much, much more!
You don't want to be sitting around the water cooler on Friday with your thumb up your butt when everyone is talking about MMAFreak Live from the night before. So don't be left out! Tune in Tomorrow by clicking on the link below.
http://www.blogtalkradio.com/mmafreak/2013/05/02/mma-freak-live-with-ben-tiger