An MMABURNER.COM exclusive interview.
Upon the cancelation of UFC 151, Charlie Brenneman was out of a fight against Kyle Noke on the same card and decided to join many other fighters and fans and lay some blame at the door step of Jon Jones's twitter account. "U can send my check to PO box 198 EH NJ." tweeted Brenneman to Jones. "Rent is due the first, so preferably by then. Thanks."
Former UFC fighter Paul Bradley responded to Brenneman when he saw the tweet. "U turned down a fight on 2 days notice against me. Don't hate @JonnyBones @ufc. U coward."
"To clarify, i did turn down a fight once." Brenneman responded over twitter. "Reason, it was out of my wt class. Two days later, i fought rick story." Needless to say, that isn't exactly the whole story according to Bradley.
Since the short twitter correspondence, Bradley has no animosity towards Brenneman. "Honestly I didn't think it was gonna explode like this," said Bradley. "My whole goal in this situation was just to be like, dude, don't throw stones when you live in a glass house you know?"
Here's what happened. In June of last year, Brenneman's opponent dropped out of their scheduled bout at UFC Live 4, just days before the event. Bradley recalled the phone call he received from the UFC. They offered him the fight with two days noticed and he accepted.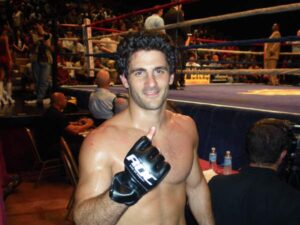 "Everyone's saying that the fight was out of his weight class. Well, I actually accepted the fight at 170. Then the UFC came back to me and said we're gonna give it to you at 175 cause you're going to be cutting weight so quick we accepted that. Which [Brenneman is] saying now that well, 175 wasn't his weight class. Well had I been told that I would've made 170."
The problem with what Brenneman is saying according to Bradley, is that he seems to be allowing people to fall into the trap of thinking he made the decision to fight Rick Story over himself essentially, when in fact Marquardt hadn't been removed from the card yet. "Yeah he actually turned me down on the Wednesday before the fight like I said. Marquardt didn't get popped until right before weigh-ins."
This wasn't the last of Brenneman's story weaving apparently, but only the beginning. "So I wanted to jump in and say something because he was writing on his twitter… sorry to all my friends and family, it looks like I'm not going to have a fight, the UFC couldn't find me anybody," said Bradley.
After starting out his career with a 5-0 professional record, Bradley earned a shot at fighting on season 7 of The Ultimate Fighter Show. Unfortunately his short stint ended on the show and back to the minor leagues it was. Paul had waited a long time for another opportunity and was disappointed when Brenneman made a personal decision that wasn't in his best interest but accepted the situation for what it was at the time and moved on with his life.
"Right after he turned down the fight, I mean it's childish, the kid defriended me on facebook," said Bradley, "[He] wouldn't even look me in the face when I actually fought on the Philadelphia card two weeks later." Bradley fought twice in the UFC, dropping a unanimous decision in his first fight and coming up on the wrong end of a razor thin split decision against Mike Pierce in his second fight.
Bradley seems more annoyed by the untruthfulness surrounding Brenneman's statements more than the actual decision he made to not take the fight at the time. "I don't know if he thought we had some sort of friendship," said Bradley, "Cause we did train together a couple of times or one of those things. But I'll fight my teammate if it gets me back in the UFC. It's not gonna stop me. It was a weird situation like I said."
It's interesting to think that Brenneman had criticized Jones for a situation he was put in that was very similar to the one he had inadvertently caused for Bradley. It made me wonder if Bradley might want a crack at Brenneman after all of this. "Yeah absolutely," said Bradley. "It really just rubbed me the wrong way when I kept seeing him. I get what he's trying to do. He's trying to get attention through the whole thing."
In an interview with Sherdog.com, Brenneman brought up his friend former lightweight champ Frankie Edgar as another fighter who didn't understand Jon Jones' decision not to fight Chael Sonnen at UFC 151. Interestingly enough, Bradley also had a friend who weighed in on the issue and currently wears UFC gold around his waist.
"Discussing it with one of my teammates who is the current bantamweight champ, Dominic Cruz, he was saying as a fighter he would take it but here we are, we don't know how much money is at stake," said Bradley on Cruz's and his sentiments. "I mean that's gotta play a part. [For example] he's got a Nike sponsorship. That Nike sponsorship depends on wins and losses. It could mean the difference between, you know, a 500,000 dollar check and a 20 million dollar check. We don't know what all plays in so there's probably a lot of risk for him taking that Chael Sonnen fight. He's a fighter and everything, but like I said at the same time, we don't know everything behind [his decision] either."
With two decisive finishes since leaving the UFC, Bradley would like another shot in the organization, and if it was up to him he'd gladly take a fight with Brenneman, of whom he says, dodged him the first time around.
We would like to thank Paul for taking time to do an exclusive interview with MMABurner.com.