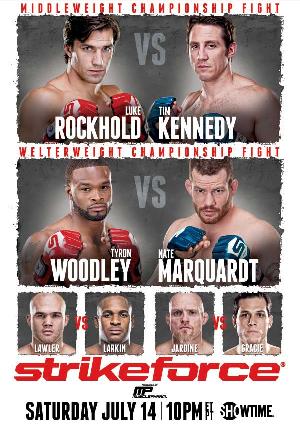 Two important Strikeforce (SF) championship fights will air at 10pm Eastern on  Showtime tonight. Luke Rockhold will defend his SF middleweight strap against Tim Kennedy and Tyron Woodley will welcome Nate Marquardt to SF and his new weight class as they battle it out for the vacant SF welterweight  title. Also, Keith Jardine will attempt to climb back in to contention in the Middleweight division against Roger Gracie while Robbie Lawler will face semi-undefeated (I'll explain later) Lorenz Larkin. In case you noticed these aren't UFC fights, here is something you should know about this event:
These fights matter..
From the Main event on down, here are the first four fights of the evening…
Luke Rockhold (9-1) vs. Tim Kennedy (14-3)
I like Luke Rockhold's chances at defending his title. At the same time my heart goes out to Tim Kennedy. "When I enlisted [in the army] I had fear I would never end up back in MMA," said Kennedy (Strikeforce.com). "I was scared that uh, the sport would move beyond me." After training most his life in one martial arts or another, he went on a 5-1 run in MMA after high school. After the towers fell, he joined the Army. "While I was in deployments watching Chuck Liddell win his title and watching Jake Shields win his title… it was a bitter sweet irony as I'm sitting their eating an MRE in a god forsaken FOB in the middle of nowhere in Afghanistan," said Kennedy. It's interesting to contemplate if he would've been considered one of the greatest of all time if he had stayed in the sport when it was younger. He's definitely a top contender at this point and yet I can't imagine how he would've faired with his dominant skill set back in the day. Prediction: I believe Rockhold will control the distance, stop Tim Kennedy's takedowns, and walk away with a decision victory over the Army Ranger Vet.
This is a great spoof of the two fighters as Frank Shamrock tries convincing them to not be friendly and to act more manly to sell the fight.
….

Video Courtesy of Shosports and Strikeforce..
 Nate Marquardt (31-10-2) vs. Tyron Woodley (10-0)
I don't see how Tyron Woodley can pull this one off. Nate "The Great" Marquardt is too dominant and experienced for the young prospect. Then again I didn't think Chael Sonnen stood much of a chance when he handled Nate in their fight. This is why I believe the only chance Woodley has is to dominate with his wrestling. Nate's not too handy on his back. On his feet it's hard to deny Nate being the more dynamic striker. Prediction: Nate Marquardt by Knockout in the second round.
Lorenz Larkin (12-0, 1 NC) vs. Robbie Lawler (19-8, 1 NC)
Robbie Lawler is consistently one of the most dangerous fighters in MMA. After a strong run in the UFC and the last man to hold the belt in the now defunct EliteXC promotion, Lawler is ready to put together another run in a sport he has proven time and again cannot afford to over look him. Lorenz Larkin's only blemish is the no contest fight he had with "King" Mo Lawall. King Mo soundly knocked him out but was then busted for steroids. Prediction: Robbie will most likely catch Larkin and I believe it will happen late in the first round.
Roger Gracie (4-1) vs. Keith Jardine (17-10-2)
Keith "The Dean of Mean" Jardine's saving grace in this fight is that he finally has more of a chance of getting submitted than knocked out for once. Maybe he can even turn back the clock one more time, shake off the cob webs of old age and injury and rally for a come-back of the year performance against a man who is riding off the hype of his name in Roger Gracie. Of course his name does mean something and we will see where both fighters stand in the dangerous world of MMA after tonight. Prediction: Gracie finishes Jardine in some fashion in the first round, most likely by submission.