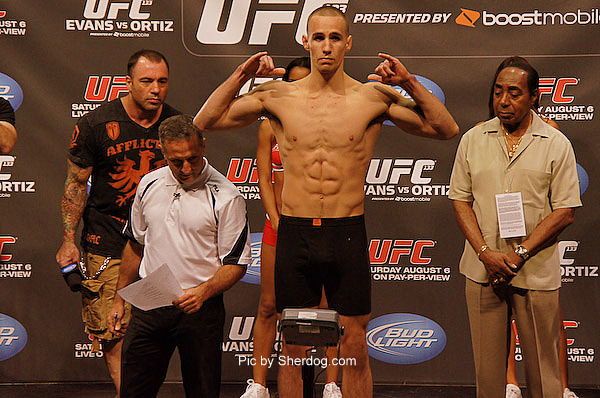 Ask and you shall receive seems to be the theme of the UFC as of recently. UFC 158 has already been rumored to host a main event for the welterweight title between GSP and Nick Diaz because GSP asked for it. After last Saturdays dominate decision win over B.J. Penn, Rory MacDonald asked for a rematch to avenge his only loss against Carlos Condit, and it looks like Condit has accepted. It was reported on Fuel TV that Condit agreed saying, 'The fight makes sense right now for the division and the fans'.
MacDonald (5-1 UFC) on Wednesday told MMAjunkie.com Radio he's been granted the rematch with Condit (5-2 UFC), and UFC President Dana White confirmed the booking to MMAjunkie.com.
The  rematch is expected to take place March 16 in Montreal, although, the  UFC has yet to officially confirm its return to "La Belle Province" on  that date. Condit defeated MacDonald via TKO with just 7 seconds remaining in their UFC 115 fight, even though it looked like Condit would have taken the decision either way. Many still believe that MacDonald may have been given the nod if it went to the judges', but I disagree.
I had Condit winning a unanimous if it went all the way, but Rory looked overwhelmed and joked at the end instead. "I was humiliated and embarrassed after that fight," MacDonald told FUEL TV Saturday night. "I think about that  fight all the time. It haunts me, and I really need to get past that  chapter in my life." Condit responded to MacDonald's challenge with two words: "I'm in."
Killer Quote's:
MacDonald told MMAjunkie.com Radio calling out Condit and asking for the rematch in Montreal, where he trains. "In Montreal – I got exactly what I wanted," MacDonald said. "You can't get what you don't ask for. I'm very, very happy. I've been waiting for this day for two and a half years. It's something I've wanted more than anything since that night. It was embarrassing. I got beat up in front of my friends and family. It was just a very sad moment for me. It changed who I was, and I just want to get back to it."
~Final Thoughts~
This is a very highly anticipated rematch with the winner staying in the hunt, and the loser dropping down. I have respect for Condit accepting the rematch, but I don't think that it is a very smart decision.
Condit is coming off the title loss to GSP and another loss could push him way back in an already stacked division. Rory is motivated for every fight, and you can bet that he will come into this fight knowing he will win. Condit can beat anybody, but can anybody beat a motivated/dangerous Rory MacDonald? I can't wait until UFC 158!!!!
Watch Rory talk about win against Penn and his challenge for Condit.
Video courtesy of KarynBryant