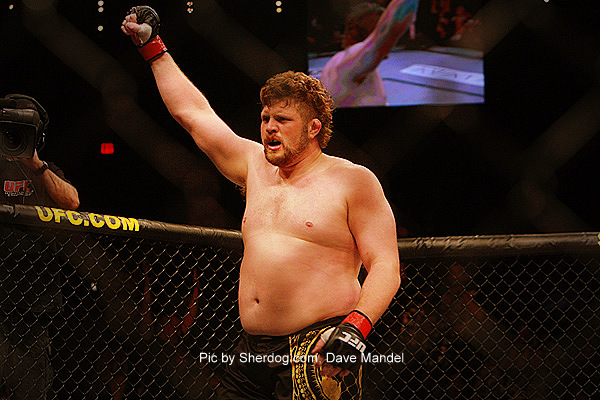 Roy Nelson may appear as a fun gimmick in a heavy weight division full of killers at times, but after knocking out Matt Mitrione in The Ultimate Fighter Finale last night, his bid for a top five opponent in the post-fight interview is more than fair.
Mitrione was not out classed initially as he danced in and out of the pocket while landing a few well timed jabs and rights in to Roy's face. It wasn't until about half way through the first round when he consciously or unconsciously decided to stand in the pocket and trade blows and was caught with a looping upper cut from Roy, which had him rocked and stumbling backwards.
Roy followed up the uppercut with a left hook that landed flush in Mitrione's face since he was stumbling sideways at that point and an over hand right which glanced off the top of Mitrione's head as he fell in to the cage.
Roy has been known for a heavy right hand, but combinations are something new for a man who said to Joe Rogan at one point that he began training stand up in 2009. "Just been practicing combinations instead of just one punch," said Roy in the post-fight presser. "Just trying to better myself and be an all-around mixed martial artist."
Watch Roy Nelson's interview with Joe Rogan after the fight, plus the highlight reel knockout.
Video courtesy of the UFC.
The fight was stopped by the referee with Roy dropping bombs as Mitrione turtled up in to the cage. Mitrione is a true warrior and immediately after the fight was over he sat up, recovered, and then went over to congratulate Roy.
"I think that I wasted a good opportunity," said Mitrione in the post-fight presser. "Roy landed a good punch. I got dropped and I didn't act accordingly. I didn't turn in to him… you know I didn't do what I was supposed to do. I got to cocky and stood in front of him, which I said before hand wasn't the right game plan. You know I gotta be athletic and move, you know don't stand in front of him. You know I threw my kicks well, I just didn't pull the trigger when I needed to and I stood in front of him when I needed to jump out of a train. Stupid mistakes on my part."
Initially TUF 16 Finale was supposed to be headlined by the coaches facing off in Roy Nelson and Shane Carwin. Since Carwin was out and Roy finished Mitrione last night, questions at the post fight presser were asked of Roy if he felt like he missed out on fighting Carwin and if he would like that match up next.
I moved passed it," said Roy. "I think it was four weeks ago when I had uh, Matt.  Like I said I wasn't going to think about Shane after I was done with him.
Bad blood between those two began when a list of athletes who had purchased certain illegal body enhancing substances were produced by the media, and Shane Carwin's name was on the list. It didn't take long for Roy to call Carwin out on twitter and begin the war of words that unfortunately ended with one man injured and the other taking a fight with another.
Looking forward, regardless of what Roy said after his fight with Mitrione, he would probably step back in to the cage against Carwin in the future. Although there are other attractive match ups for him now as well since he is on a two fight KO streak and steadily becoming a top draw in a UFC heavyweight division that has more depth than ever these days.